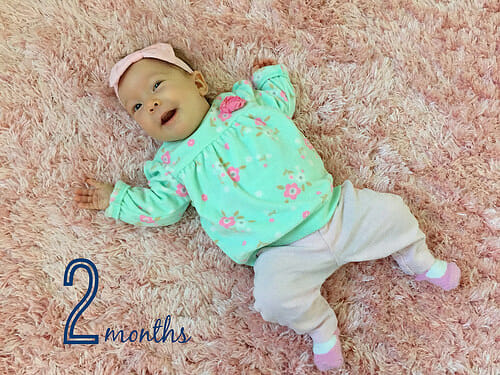 We celebrated 2 months of Clara on Saturday…
She's getting chubbier, she's losing a bunch of hair on top (but NOT in the back!), and she's starting to make all kinds of cute sounds and noises.
She also SLEEPS A LOT!
I know her schedule will continue to change for the next 18+ months, but I am beyond thrilled with how well she has been sleeping the past 3 weeks. She usually falls asleep for the night between 10 and 11pm and sleeps straight through the night, until about 6 or 7am! Then she eats and goes right back to sleep until about 10 or 11am!
I can hardly think of a better sleep situation for our family right now.
The evenings do feel long — especially since I previously used the hours between 7 and 11pm to tackle most of my to-do list, but it's so nice to be able to focus on the older kids in the morning without holding, rocking, and feeding a baby, and then have one-on-one time with miss Clara in the evenings.
And I certainly don't need to tell you how fabulous it feels to sleep 7-8 hours straight at night!
Like I mentioned above, this could all change any day, but I'm soaking up the sleep while I can.
In the grand scheme of things, I would have to say everything has gone better than I expected!
My labor and her delivery were quick and without any complications.
My time offline and away from work were fantastic.
I've been getting more sleep than I ever imagined.
I've been keeping up with housework fairly easily — thanks to lots of planning ahead and a very full freezer!
Physically, I feel great — a little squishier, but not in any pain or discomfort!
Emotionally, I am doing well too — I know more of what to expect so it doesn't seem nearly as overwhelming for me this time around.
Even the older children are handling the change so well. They all have their moments, but for the most part, they play well together, they love on Clara whenever she's awake, and they are quite helpful around the house.
Yes, I am thrilled with how well things are going so far and really have nothing to complain about.
However, since I've been asked many times what I feel is/was the hardest part of transitioning to 4 kids, I thought I'd share — especially since I know EXACTLY what the hardest and most challenging thing has been for me!
The hardest part of transitioning to 4 kids is the additional mental load!
Honestly, my brain feels like it's fried by 3pm (sometimes earlier on the days Nora is home from school).
There are so many little things to remember, so many to-do's to get done, and so many questions to answers ALL DAY LONG!
Did Nora remember her library books?
Is Simon's dentist appointment at 9:30 or 10:00?
Who is coming to watch James while I go to the dentist with Simon?
They rescheduled Clara's 2-month Dr. appointment, so now I won't be home when Nora gets home from school, so I need to remind Dave to hustle home on that day.
Is Nora's "school shirt" washed for her field trip?
Did Simon go to the bathroom before we left or not?
Did James eat enough for dinner or will he wake up hungry?
When was the last time I fed/changed Clara?
What nights does Dave have meetings this week?
Did I remember to buy _______ for tonight's dinner?
Did I remember to defrost ___________ for tomorrow's dinner?
Add ________ to the grocery list.
Call/email/text ___________.
Can I see Simon and James playing outside while I feed Clara inside?
Remember to switch the laundry when we get back inside.
Remember to fold the laundry when it's dry.
Don't forget the dishes in the dishwasher.
Remember to schedule tomorrow's post on social media.
Remember to take pictures for the sponsored post next week.
The neighbor kids are over and everyone wants a snack.
The phone is ringing, Clara is screaming, and the other kids are running around like crazy people.
I could go on and on!
I have a feeling it's a combination of a new baby with a new schedule and new needs AND Nora being in school with a new schedule and new needs that has made the last 2 months seem so mentally taxing for me.
I need to get up on time to make sure Nora gets on the bus (I usually feed Clara before Nora wakes up), then try to get Nora ready without waking the boys up. The boys usually wake up right as Nora is ready to leave for the bus, so I get them ready, feed them breakfast, and hope that Clara stays sleeping throughout that whole process.
Once Clara is awake, it's just a daily "dance" of feeding, changing, wiping, rocking, and entertaining 3 or 4 kids every day — all while trying to get a few things done and have dinner almost ready shortly after Dave is home so he can then "take over" and play with the kids while I have a few moments to breathe before we start the bath and bedtime process.
.
I do want to reiterate that my life is NOT stressful or "too busy" — in fact, I've worked diligently to simplify most aspects of my life over the past 6 years. However, there are so many people who rely on me for so many decisions each day that it's easy for my brain to be overloaded.
I know this is just a season of life and I'm honestly not upset or annoyed in anyway. Just brain-dead some days!
I will find my groove eventually as we work to find a "new normal" and a new routine that works for this stage of life — but until then, I'll just continue sleeping as much Clara lets me and doing as few extra things as possible (that's not so easy during the holiday season!)