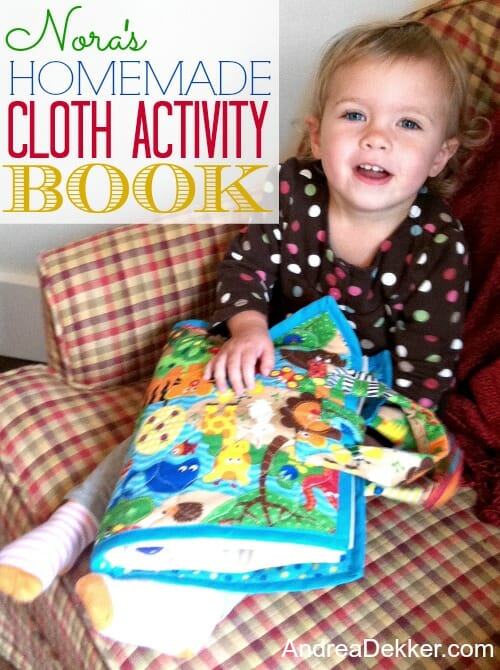 Now that it's officially October, I find myself frequently thinking about Christmas gift ideas for family, friends, and even making my own Wish List so I can start to give others ideas for me.
Two gifts I've ALWAYS been an advocate for are clutter-free gifts and educational gifts — especially when it comes to gifts for kids.
I love the idea of children being able to open a fun gift, but I also don't complain if the gift is something they can either use up or continue to learn from long after the gift is given 🙂
Recently, Dave's mom made Nora a fabulous educational gift "just because" she made one for Nora's cousin when he was around the same age. It's a super cool cloth activity book that requires various fine and gross motor skills to complete the activities on each page.
Nora LOVES her book!
We get questions about the book wherever we take it — and with Christmas still several weeks away, I thought this might be a fun educational gift for some of you seamstresses to make!
Here's a closer look at the different pages inside Nora's book.
Page 1: Velcro Balloons
Not only are balloons one of Nora's favorite things in the whole world right now, she's also obsessed with naming/matching colors. The Velcro pieces turn this page into one of our favorite "games" to play.
Page 2: Velcro Stop Light
Nora knows this is a stop light, but she calls the Velcro pieces "baby circles" because they are smaller than the balloon. She loves removing them and sticking them in the "baby pocket" 🙂
Page 3: The Mitten
Nora loves hiding her hand in the mitten and then excitedly removing it and shouting "found it" as if she actually lost her hand!
Page 4: Sleeping Teddy
I'm honestly kind of surprised we haven't lost the "baby teddy" yet. It's Nora's favorite stuffed animal for the time being (not to out rank her baby and tiny baby though). The baby teddy comes along on many adventures with us, but always needs to be tucked into bed at the end of the day.
Page 5: Sunny Clock
Every time we are outside, Nora tries to find the sun and/or the moon. Unfortunately in West Michigan, the cloudy fall and winter days can sometimes make this activity a challenge. So her "sunny clock" has halted many tantrums after not being able to find the sun outside on cloudy days.
She can't tell time yet, but she does enjoy moving the clock hands around the "sun".
Page 6: Comb and Mirror
This is another of Nora's favorite pages. She's always loved looking in mirrors and more recently, she loves to comb her hair (and mommy's hair). These pockets have a small snap on the inside of the top to prevent the comb and mirror from falling out — and to add another activity to the page.
Page 7: Zippered Ladybug
A couple months ago, my parents took Nora to our local county fair and she had a ladybug painted on her leg. Ever since that day, Nora has been in love with ladybugs — and she loves anything that has a "mommy" (big version) and "baby" (small version) together.
Need-less-to-say, this zippered mommy ladybug with 8 baby ladybugs inside is another fun page for Nora.
Page 8 & 9: Basketball Abacus
Nora can only count to 3 on a regular basis — sometimes 5 if she's really paying attention — but she LOVES balls of any type. So these "baby balls" (are you sensing a mini obsession with Nora and baby objects yet!) are super fun for Nora to touch, push, pull, slide, etc. We'll work more on counting in a few months 🙂
Page 10: Velcro Fruit Basket
Nora's fruit basket has an apple, grapes, a banana, and an orange. She pretends to eat them as a snack and then pretends that the empty fruit basket is a boat.
Page 11: Doggie Train
We have a train track only a couple miles from our house, so we frequently hear trains — and Nora always has to stop and exclaim, "Train… choo, choo!"
The wheels on this train snap on and off and the window opens up to reveal the doggie conductor.
Page 12: Basket of Cars
Of course, you could put a variety of objects inside of a basket like this, but Nora really likes cars, trucks, busses, motorcycles, fire trucks, etc. so she excitedly pulls out each vehicle and exclaims what it is along with the noises it makes.
Page 13: Button Flowers
Not only does Nora love shouting out the color of each flower, she also loves pulling the flowers off and finding the "baby buttons". She's not quite skilled enough to put the flowers back on the buttons — but soon enough.
Page 14: Dog House
The door on the dog house opens up to reveal a "baby dog" that is secured with Velcro. Simple, but really fun for Nora's favorite game of hiding things and then finding them again.
Page 15: Velcro Shapes
Nora knows all the basic shapes and some of the less common ones too — so along with her love for naming colors, this page has quickly become another favorite.
She almost always tries to be silly and slowly put each shape on the wrong base. Then she looks at me, pauses, shouts "nope" and proceeds to place it on the right base with a big smile on her face. Then she giggles like she's so clever and funny!
Page 16: Pad of Paper and Pencil
Nora loves coloring, so this last page has been a saving grace when she tags along with me to doctor appointments. Even if she can't (or won't) do some of the other activities by herself, she will usually be able to sit and color for at least a few minutes before asking for help.
For the record, we usually keep a crayon in the pencil pocket 🙂
One last detail.
I thought it was really cute that on the back inside cover of the book, his mom added a little "With Sew Much Love" tag as another personal touch just for Nora.
Didn't it turn out fabulously!
In case you're interested in making a book for a child or grandchild, Dave's mom said that she ordered the "I Can Do It Cloth Activity Book" pattern from Sew Baby, Inc. She did end up customizing much of the book and adding a few extra pages as well; but the pattern was a big help with knowing what sizes to cut fabrics and general inspiration.
And for the record, Dave's mom is not a professional seamstress. She enjoys sewing and she did devote A LOT of time to this book, but don't shy away from trying just because you aren't an expert!
However, if you don't sew at all, but do enjoy using the computer, you could always try making the ABC book I made for Nora earlier this year.
Both books would be a fabulous Christmas, birthday, or "just because" gift for any kiddos on your gift list!