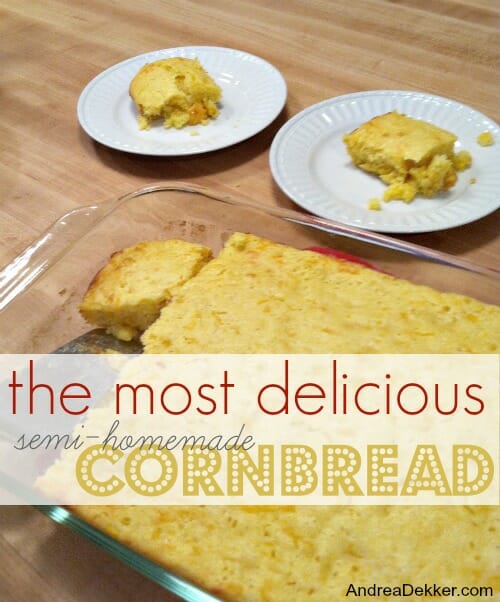 One of my favorite Thanksgiving side dishes (right up there with stuffing and applesauce) is super moist, homemade cornbread. It just makes the meal if you ask me.
However, I really don't love making cornbread from scratch — and I REALLY don't love how dry and stale tasting straight-from-the-box cornbread is. So I figured there had to be a happy medium. Something with great flavor and texture, but a lot easier than 100% from-scratch cornbread.
Back in September, I tried out a few different cornbread recipe combinations in preparation for our Soup and Bread Buffet party. I was a bit nervous as I put this recipe in the oven only about 45 minutes before guests were going to arrive. After all, if it didn't turn out, I wouldn't have time to start over again. However, I'm happy to say that the recipe was a HUGE success and there wasn't even one crumb left at the end off the night!
I recently made it again — and my sister (who was over watching Nora so I could work on a painting project) was shocked that it wasn't totally from scratch 🙂
I'll definitely be making this again for our Thanksgiving feast with Dave's family next week — and I thought now would be the perfect time to share the recipe with you.
If you're looking for a REALLY easy, "tastes-like-it's-from-scratch" cornbread recipe — you'll want to give this one a try!
Recipe for Semi-Homemade Cornbread:
Makes 12-16 servings
INGREDIENTS:
2 8.5 oz. boxes Jiffy Cornbread Mix
1 16 oz. can creamed corn (do not drain)
1 16 oz. can whole kernel corn; drained (optional)
3 eggs
1/2 c. sour cream
1/2 c. butter; melted
1 t. salt
1 c. cheddar cheese; shredded (optional)
DIRECTIONS:
Preheat oven to 375*F
In a large bowl, mix all ingredients until well combined
Pour into a greased 9″ x 13″ baking dish
Bake in preheated oven for 30-35 minutes or until set
Serve warm
NOTE: You don't need to add the entire can of (or any) whole kernel corn if you don't love the corn kernels in your bread.
This cornbread is VERY dense — like a heavy chocolate brownie — but that's one of the reasons I love it so much. You can eat it with your hands or with a fork.
Another thing I love about this recipe is that although the cornbread is absolutely delicious hot out of the oven, it also tastes fabulous cold (or reheated) as leftovers.
And since I know some of you will ask, I did try cutting part of the cornbread into squares and freezing them… they tasted just fine after being frozen 🙂
One tip I often use is to make the batter ahead of time and put it in the pan. Then I can simply pop the pan in the oven about 40 minutes before dinner and enjoy hot-out-of-the-oven corn bread with our meal!
So like I mentioned above, if you're looking for a super yummy, super easy cornbread recipe that will have everyone thinking you made it from scratch… give this one a try!
.
A Few More of my Thanksgiving Favorites: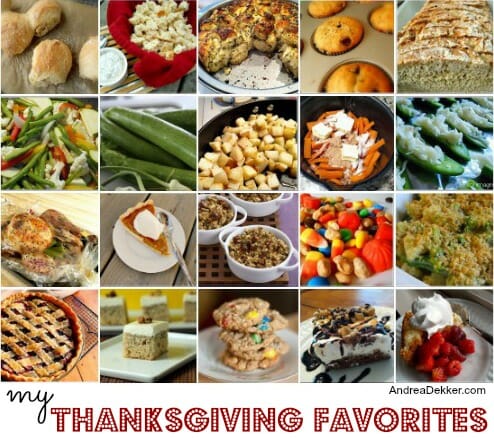 Since Thanksgiving is next week, I thought I'd share links to a few more of my favorite Thanksgiving foods — all nicely organized in once place for your convenience.
BEVERAGES:
BREADS:
Don't forget about the cornbread 🙂
SALADS:
SIDE DISHES:
MEATS:
DESSERTS:
SNACKS:
I'm getting hungry already 🙂
What foods will be on your Thanksgiving table this year?
Visit my virtual recipe box for more simple, delicious, family friendly recipes!