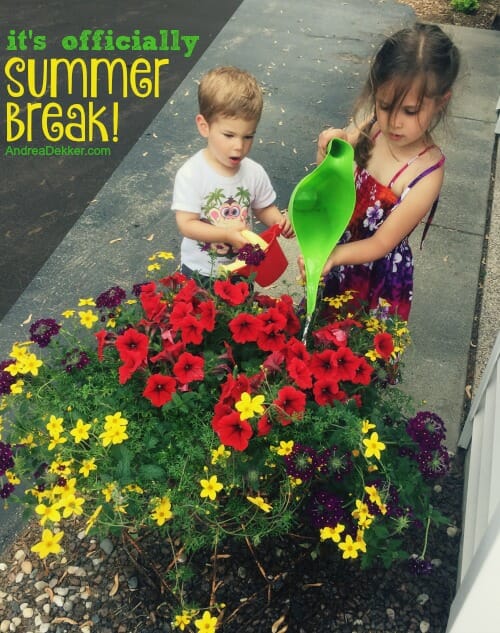 After giving a few exams this past week and hosting his staff party on Wednesday, Dave officially starts his summer break TODAY! Honestly, I think I'm more excited than he is 🙂
I love that he loves his job so much… but I also LOVE that his job allows him to be home for 10 weeks every summer!
The summer months are always such a great change of pace for our family… an opportunity for Dave to be home more, for me to get out of the house more, and for everyone to rest a little bit more.
There might be future summers when he chooses to get a summer job (or maybe not) but for right now, we'd much rather sacrifice a little extra income to enjoy several weeks at home together — especially while our kids are young and still think it's fun to be with us ALLLLLL day long!
In the past, we have often managed to fill Dave's 10-week summer break — sometimes with fun activities like family vacations, weddings, and traveling to visit family members; and other times with not-so-fun-but-definitely-worth-it activities like our massive kitchen renovation or our 3-year landscaping project!
I do not regret any of the house and yard projects we've worked on or any of the time spent with family and friends — however, I think Dave and I are both looking forward to this summer just a little bit more because we truly have NO summer plans!
No vacations, no weddings, no reunions, and no traveling at all!
In fact, as I flip through the next 10 weeks in my planner, the only things I have written down are:
Dr. and Dentist appointments for Dave and for me (all next week)
1-year Dr. appointment for James in July
Simon's speech therapy sessions on Mondays
Story hour at the library for Nora on Wednesdays
A full-family sleepover at Dave's parent's house later this month
A bridal shower for my cousin in August
A parent's night for Nora's school in August
THAT'S IT!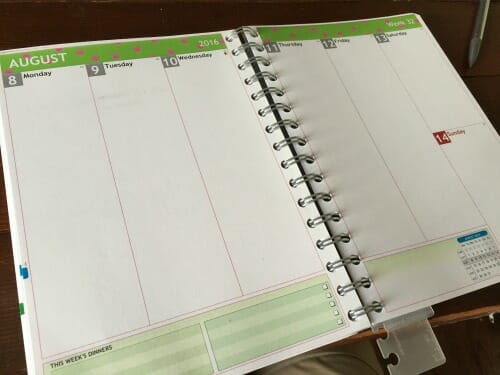 My planner is empty… but I doubt we'll be bored!
Of course, I'm sure activities, events, play dates, backyard BBQ's, and special outings will be prevalent this summer, but it sure feels good to have a wide open calendar with no pressing obligations, to-dos, or timelines (especially since I know how busy the summer will be once our kids are a little older).
We do have a few smaller yard projects to work on, we'll need to pick and weed our vegetable garden, and we'd like to put a new window in our living room, but other than that, we'll enjoy playing outside, hanging out around the kiddie pool, catching up on some Netflix after the kids go to bed, and hopefully catching up on some sleep!
I told Dave I was worried I might not have enough blogging content to write about all summer long — but he suggested that maybe if I have lots of extra down time, I might come up with some fun ideas.
We'll see….
(NOTE: If you have any blog post topic suggestions, ideas, or requests, feel free to leave them in the comments or email them to me directly!)
In the meantime, my first order of "summer business" is to weed through everyone's closet and purge everything that's too small or isn't suitable for summers in Michigan. Maybe a good purging project will give me a few extra ideas for upcoming summer blog posts.
Happy Summer!