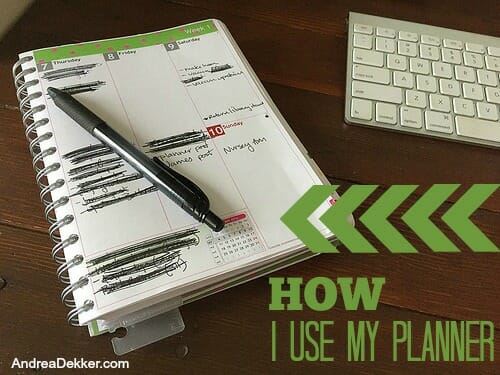 Planners, calendars, schedules, and to-do lists (both paper and digital versions) are hot topics this time of year… and for good reason!
The start of another New Year is a "new beginning" and a fabulous opportunity to ramp up your productivity, better organize your schedule, make a few short and long-term goals, and start plugging away at your various to-do lists.
I have personally shared several posts about the planners I have used over the past 5+ years, as well as my printable daily to-do lists… but now that I've successfully been using the exact same planner and the exact same planner layout for the past 3 years (even with the addition of more children and different jobs) I thought it was time to share exactly HOW I use my planner… and why this method works so well for me.
Obviously, I don't expect my method to be the perfect system for everyone else. However, I think it's often helpful to see and understand how other people use their planners and organize their schedule… so who knows, maybe what works for me will spark a few new ideas that will work better for you!
.
First things first, I use the A5 Planner from Personal-Planner.com
I'm positive there are many other planners out there that would work for me — but I REALLY REALLY like this one, and I love how I can customize it to fit my exact needs. Plus, Personal Planner has been doing giveaways on my blog for the past 3 years so I like supporting them. (Note, this post is completely unsponsored. They don't even know I'm writing it!)
I like the A5 size because it has enough room for me to write long lists, but it's small enough to fit inside a purse, diaper bag, computer bag, etc. (although it rarely leaves my desk!)
Also, as a side note, I like that Personal Planner works with many different countries, so you can easily get the correct holidays and other national differences (see drop down box on the top left corner of the home page).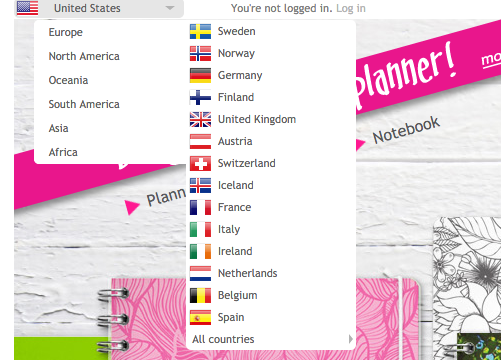 .
How I Use My Planner:
One of the newer features of the A5 Personal Planner is that they have a "month-at-glance" spread at the beginning of each month.
I use this spot to write any long-term obligations (Dr. appointments, meetings, weddings, next year's holiday parties, etc.). Then, whenever we start a new month, I'll look through the month-at-a-glance section and transfer those items to the individual days.
Many of my daily squares are completely blank, but the month-at-a-glance feature has been nice for scheduling long-term things.
I have my planner set up as vertical columns for each day — mainly because I use my planner as my daily to-do list, so vertical columns work better for listing (at least in my opinion).
The pictures below are of last year's planner, but this year's planner is set up exactly the same way.
I use the top half of the daily column to write down appointments, meetings, or any plans specific to that day (some of these are transferred over from my week-at-a-glance section).
Then I use the bottom half of the daily columns (the lined portion) to write my daily to-do lists. I do this every night before I go to bed, so in the morning, I can just look at that day's list and dive right in.
At the very bottom of the left page, there is a blank rectangle where I can list any weekly t0-dos, ideas I have, or anything else I want to do that week but doesn't need to be completed on a specific day.
FOR EXAMPLE:
The top half of my daily column lists all scheduled to-dos and appointments:
James 6mo. doctor's appointment ( 9:45am)
Apple one-to-one appointment (4:30pm)
Dave meeting at church (7-9pm)
Then, the bottom half of my daily column lists the specific items I want to do THAT day:
Clean main floor bathrooms
Make snack for Nora's class
Wash dishes
Bring books back to library
Write 1 blog post
Do VA work for _______
Wash towels
NOTE: I will put stars by the most important items on this list and the starred items will be my "top 5 list" for the day.
Finally, the larger rectangle at the very bottom of the page lists tasks I'd like to do at some point during the week:
Send monthly invoices
Update this month's pictures in the digital photo album
Go through Nora's clothes
Wash bathroom rugs
Clean out the garage (like just sweep and pick up a bit)
Clean out the car
Return item to Target
Post something on Craigslist
Place an Amazon order
Then, throughout the week, I'll insert those weekly to-do's into my various daily to-do's as time allows. Sometimes I complete everything in my weekly to-do section, sometimes I don't… but these projects usually aren't as pressing as the daily to-dos.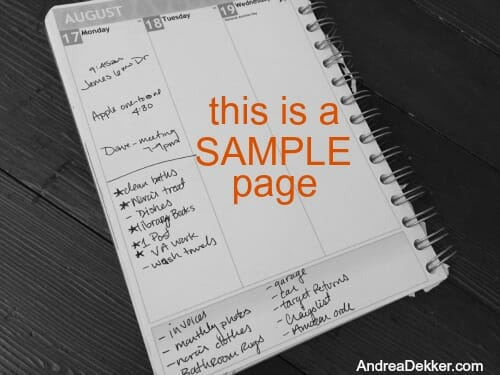 And yes, I vigorously cross off the items as I accomplish them 🙂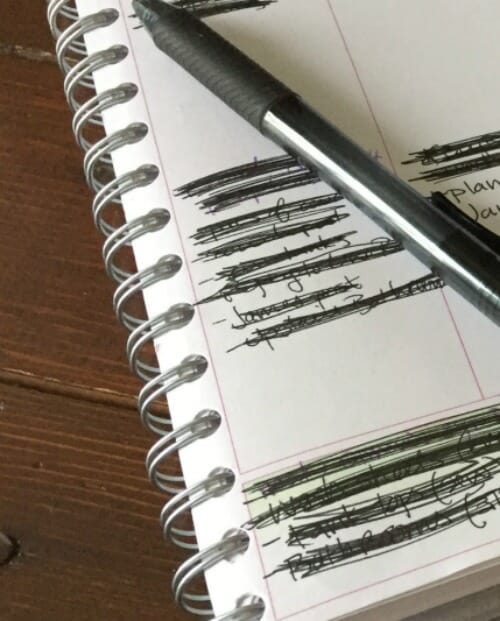 .
One of my favorite parts about the Personal Planners is that they have an optional menu plan section at the bottom.
Sometimes I list out specifically what we're going to eat each night of the week, but often, I'll just use this box to jot down 5-7 meal ideas that we could make on any night of the week. Then, when I'm making my daily to-do's the night before, I'll choose one of those meals to put on my list for the next day.
As we get further into 2016, I'll start using the 2017 Overview pages in the back of the planner to mark upcoming parties, vacations, holiday events, appointments, etc. This is another optional feature — you can get overview pages for 2 full years in advance!
I also choose to have several lined pages in the back of the planner. I use these to write random information that I need at my computer on a regular basis, and to track my working hours for billing purposes.
I also keep various sticky notes on those blank pages with lists of things I want to buy, gifts I need to give, blog post ideas, recipes I want to search for, etc. I'm a VERY visual person, so writing things down really helps me remember it (this is probably why I love lists so much).
.
This system has been working very well for me for the past 3 years.
In fact, it's been working so well that I no longer use my daily printable to-do lists in conjunction with my planner (I used to do this for several years before I found the Personal Planner).
I'm always on the look-out for new and better systems that will help me simplify and organized my daily, weekly, and monthly schedules… but for now, I'm extremely satisfied with how well my current system is working for me!