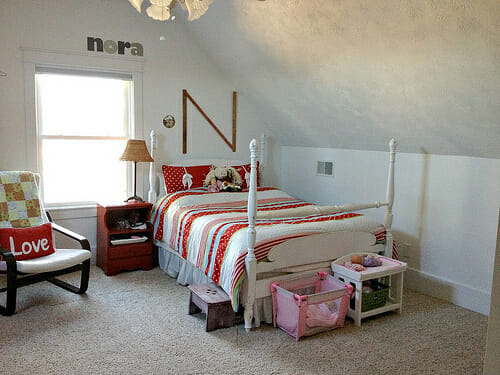 For the first time since becoming parents, Dave and I finally feel like we have an awesome bedtime routine for all 3 of our kids.
It took us a while to develop this "new" bedtime routine (and it certainly won't work indefinitely), but for the past 3 months, all of our children have all been consistently asleep (or at least quietly in bed) by 7:30pm. This means Dave and I can enjoy several hours of peace and quiet every single night!
We can work on house or yard projects without being interrupted, we can sit and watch a Netflix movie in peace, or I can work on blog posts while he watches the NBA finals (ahem, this is what we've been doing more of lately!)
Honestly, I don't even care what we do (or don't do) — it's just SO nice to know that we'll have a couple kid-free hours to re-group at the end of every day!
This new bedtime routine started back in March when we hired an online sleep consultant to help us with James' awful sleeping habits. Within 2 weeks, we got James into a much better sleeping routine AND we completely revamped our bedtime process for the older kids as well.
It might sound a little over-the-top, but Dave and I both agree that the new bedtime routine has been a huge "game changer" for us in our current stage of life.
In previous months and years, we had a basic bedtime routine — but nothing super specific. We'd almost always give the kids a bath, then feed them some type of snack, and then we'd read a couple books or watch a quick Netflix show (usually something about animals).
However, there was so much "unknown".
What time would we start the bedtime process?
Would we give them a bath?
How long could they "play" in the bath?
What pj's would they wear?
What would we do for a snack? How many snacks?
Where would we eat the snack?
Would we watch a show? How many shows? What show would we watch?
Would we read books? How many books? Which books would we read?
What order would we do things in?
Who would put each child to bed?
Etc. etc.
After talking with the sleep consultant about James, I realized that our current bedtime routine for Nora and Simon was taking WAAAAAAAY too long – usually over an hour just to get Nora and Simon in bed every night, and James was going to bed much later at that time.
Dave and I were often so pooped by the time the kids were finally sleeping that it was hard to get excited about doing anything on our to-do lists or working on projects of our own.
So, after we got James into a better sleeping routine, I told Dave I wanted to try to create a new (shorter and much earlier) bedtime routine for Nora and Simon too. Dave was totally on-board, and it only took about a week to put my plan into action.
Since then, we've enjoyed a much simpler, more streamlined bedtime process and many hours of kid-free time in the evenings.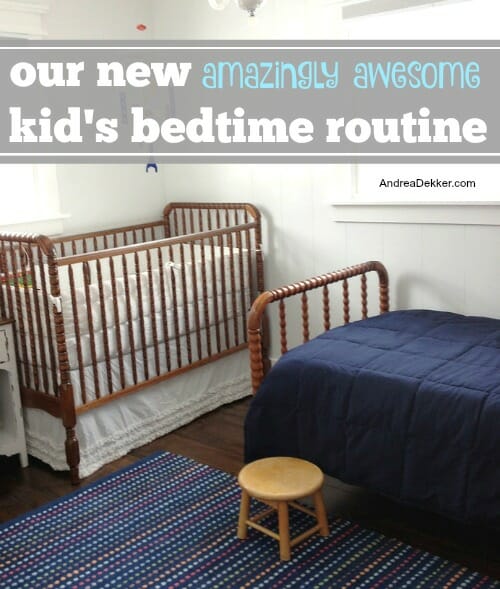 Our New Bedtime Routine:
Please note that the times below are estimations — I don't really live in 5-minute intervals, but we do usually start the clean-up / bedtime process around 6:30pm and the kids are almost always in bed by 7:30pm.
The reason I included times below is to show how quickly we move through the bedtime process with all 3 kids.
6:30pm = I feed James while Dave starts the bath and picks up the upstairs with the "help" of Nora and Simon.

6:40 pm = I quickly pick up the main floor while waiting for James to poop (he almost always poops at this time!)

6:45pm = I give James a super quick bath (literally 2-3 minutes just to rinse off) and get him all ready for bed.

6:50pm = Dave gives Nora and Simon a relatively quick bath (5-10 minutes).

6:55pm = I look at a couple books with James and put him to bed (he will sometimes play in his crib for a few minutes before falling asleep).

7:00 pm = I go upstairs to get either Nora or Simon from the bathtub (Dave gets the other one). We quickly put PJ's on and brush their hair.

7:10pm = Nora and Simon each pick out 2 books for us to read to them while they eat a banana on the couch in the living room. After their 2 books, they brush their teeth and Nora goes to the bathroom.

7:20pm = We bring the kids upstairs and each put one to bed.

7:25pm = We enjoy the rest of the night in a picked-up, cleaned-up house with no children!!!!
While our new bedtime routine is still almost an hour from start to finish, it staggers James' earlier bedtime with Nora and Simon's later bedtime, so each routine is only about 30 minutes long. Plus, this timeframe also includes picking up and decluttering the entire house!
I cannot tell you how amazing it feels to walk downstairs after putting Nora and Simon to bed and know the entire house is already picked up and relatively clean.
It's GLORIOUS!
Sometimes we still need to wash dishes, empty the dishwasher, or fold laundry after they are sleeping, but that's not a huge deal in my opinion.
Oh, and one more benefit of the earlier bedtimes — James quickly switched from taking 2 naps each day to only one nap per day with more sleep at night. Now he and Simon almost always nap at the same time every afternoon, and Nora will often take a short 'rest' on the couch or watch a show on the iPad in our bed.
Although I love my children dearly, it is amazing how refreshed I feel after a little "free-time" during their naps and in the evening.
Obviously, I realize our routine won't work for every family or in every situation, but I also know there are lots of parents looking to streamline and simplify their kid's bedtime routines, so I'm sharing what works for us right now in hopes that pieces of it might work for YOU too!
In my opinion, there are a few reasons this routine works so well for us right now — please consider these before you let yourself feel frustrated that our routine isn't working for you.
5 reasons our new routine works so well for us:
1. We eat dinner VERY early (around 5:00)
Since Dave is often home from school by 3:30, we can easily eat dinner by 5:00 every night. This gives us plenty of time to eat, have dessert, clean up the kitchen, and even let the kids play for a little bit before we start the bedtime process around 6:30pm.
Although the summer weather is so nice, we usually stick to playing inside after dinner because our kids get much more hyper (and sweaty) when they play outside. Plus, they get plenty of outside playtime during the day.
2. We don't mind waking up early.
In general, Dave and I are both "morning people" and don't mind waking up early. In fact, Dave is almost always up by 5:30 every day!
Since Nora and Simon (and sometime James) are usually awake around 6:30 or 7:00am, we really can't sleep in even if we want to. We figure that the evening hours will be our "alone time" and our "productive time", and the earlier the kids go to bed, the better!
Plus, we realized that no matter when our kids went to bed, they would still almost always wake up at the same time each day, so now they get more sleep overall and we get more kid-free time!
3. Dave and I are both almost always home for the bedtime process.
If you are a single parent or if your spouse works in the evening, it will most likely be much more difficult to simplify and streamline the bedtime process (especially with very small children).
In fact, on nights when Dave is gone, it takes me much longer to get through everything and I usually end up cleaning up the house after the kids are already sleeping.
Bedtime is definitely a tag-team effort in our house and it wouldn't go nearly as fast or be quite so efficient if one of us was gone.
4. Our kids are "old enough" but not "too old".
I honestly think we're in a little "sweet spot" right now where all 3 of our kids are old enough to be able to fall asleep on their own, to sleep in their own beds, and to understand bedtime "cues" but not too old to be out late playing with friends or doing other evening activities.
Plus, as I mentioned above, Simon and James are both only taking 1 nap a day (at the same time) and Nora is old enough to understand why I'm asking her to take a short rest in the afternoons.
We still have 100% control over all 3 of their schedules and since they aren't really old enough for school or community activities, we can easily keep them home in the evenings, eat dinner together as a family, and get them to bed on time.
I don't think it's realistic to assume tiny babies could understand a "bedtime routine" yet; nor do I think it's reasonable to expect 9 or 10 year olds to be in bed by 7:30 every night. We are right in the middle of the "old enough but not too old" phase of toddlerhood and it is WONDERFUL for our early-to-bed routine!
5. Our entire family is very "task oriented" and thrives on structure.
In general, Dave and I are both very structured and task-oriented — and all 3 of our children are so much happier when there is a basic rhythm to their days (and nights).
We all know what to expect in terms of the bedtime routine, and although the kids are never overjoyed to stop playing and go to bed, they know that it's just part of life and the sooner they go to bed, the sooner they will wake up and be able to play again the next day.
I know there are lots of opinions about when young children "should" go to bed, how many hours of sleep they "should" get, and what an appropriate bedtime routine "should" look like — but I don't really listen to any of that.
Over the last 4.5 years, we've ranged from Nora regularly staying up until midnight or later (and waking up all night long) to Simon going to bed at 5:45pm and sleeping all night long. We've had different bedtime routines for different children and in different stages of life, and they have all worked…. it's just that our current routine is working the BEST of any routine we've had in the past!
I honestly wouldn't be completely surprised if this bedtime routine doesn't work for us in another year or so — but for right now, in this season of life, I couldn't be MORE THRILLED with how well it's working for our family.
As with all systems and routines, they need to be constantly reevaluated and tweaked, but since I am regularly asked about our bedtime routine, I wanted to share exactly what is working for us RIGHT NOW, and why I feel it's working so well.
What are your thoughts on bedtime routines?
I hope some of you can glean a few tips or ideas from our bedtime routines… and if you also have (or had) a great bedtime routine for your kids, I'd LOVE for you to share why it worked so well in the comments. You never know who might read it and benefit from YOUR words of wisdom!