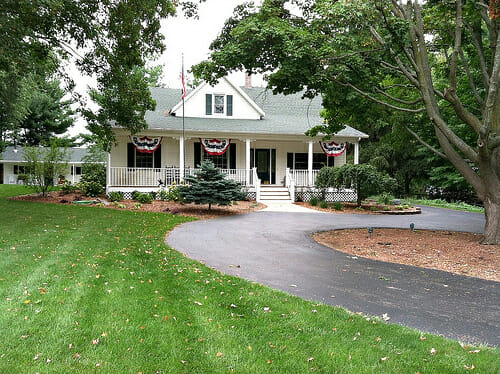 When Dave and I purchased our home back in December of 2010, we knew it was WAY bigger than we needed at that time. After all, we were just a young married couple with no children (and really no plans to have kids for a couple years yet) — why would we need a 5 bedroom, 3 bathroom house with TWO 2-stall garages (one also being a heated outbuilding), and an acre of land?
Honestly, we didn't.
BUT… since we had already been looking at old farmhouses for a few years and had our list of EXACTLY what features we were looking for, we couldn't overlook this seemingly PERFECT house (minus all the necessary renovations!) in nearly a PERFECT location, and right smack dab in the middle of our budget (we did consider the cost of renovations in our budget too).
No, we certainly didn't NEED all of it, but we also knew that eventually we would want to start a family, and this house just seemed like the perfect place to do that.
We would have plenty of room to grow and expand, the layout of the house was almost exactly what we were looking for, the property was laid out just like we wanted (with the house set back off the road), and the heated outbuilding + extra garage were just added bonuses!
And like I mentioned above — it was totally in our budgeted price range!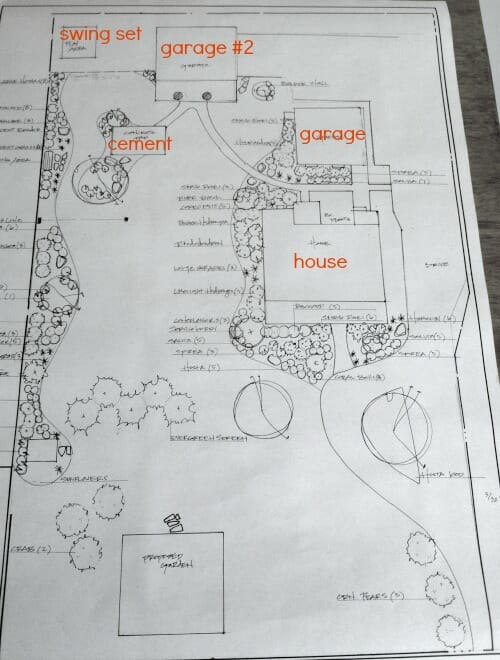 The photo above was for our landscaping projects so most of the information is irrelevant for this post — however it gives you an idea of how our property is set up.
The photo below is showing our house from the street.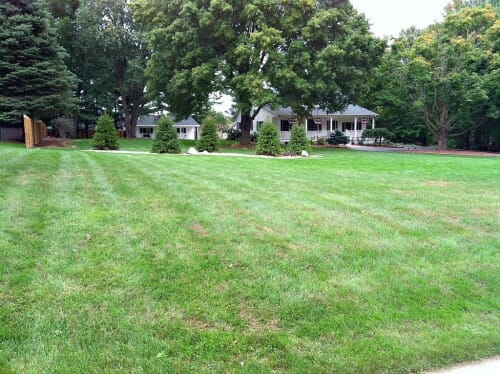 The building below is a 2-stall garage on one side and a "man cave" hang-out area on the other side. It's heated and has a TV, couches, table, refrigerator, etc. inside and it's what I refer to as our "outbuilding".
We were fortunate enough to sell our current house for our asking price in 3 days (more on that here) and everything else just seemed to fall right into place — which obviously helped us feel very confident about our decision to move into a bigger home with more expenses and more upkeep.
But for the first 3 years we lived in our house, we never actually USED all of the space.
First we just lived in the upstairs while we renovated the main floor. After about 9 months, we moved down to the main floor and our international students took over the upstairs. After another 9 months, they moved out and the upstairs literally sat empty for the next 18 months — we even kept all the heat registers on the 2nd floor closed and hung a heavy blanket at the bottom of the stairs during the winter months.
We just didn't need that space — and I certainly didn't want to get into the habit of using the upstairs (or the extra garage, for that matter) as a dumping ground for anything we didn't have a home for.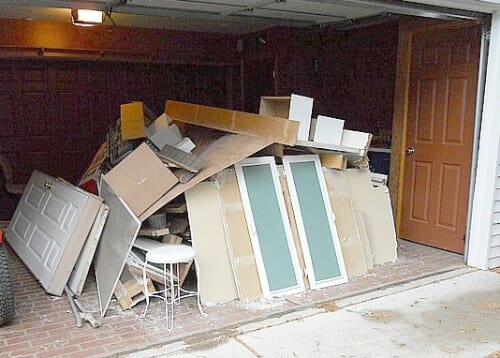 Ahem… OK, so we used the extra garage as a dumping ground during our bigger renovations — but that was only to save money since we ordered a dumpster once the garage was full and only had to pay for the dumpster for one weekend 🙂
.
Anyway… over the last few years of sharing our home renovations and lots of pictures of our home and yard, I've received MANY emails from readers alluding to the fact that it's kind of hypocritical for me to tell others to purge and live simply when we have a much bigger house than we need with extra garages and outbuildings for storage.
I get it — I'm not offended (even though some of the emails were pretty rude!)
As with all of things I share on this blog, no one REALLY knows the entire story because there's just no way I could possibly ever share THAT much information or THAT much detail on a daily basis — you would all be bored silly if I did.
Now normally, the questions I answer from readers are all about how to maximize their too-small spaces; however, I was recently asked by a few different readers how to simplify and resist bringing on extra clutter even though they had plenty of extra space to store it — so I thought it might be time for a blog post about living with lots of extra space.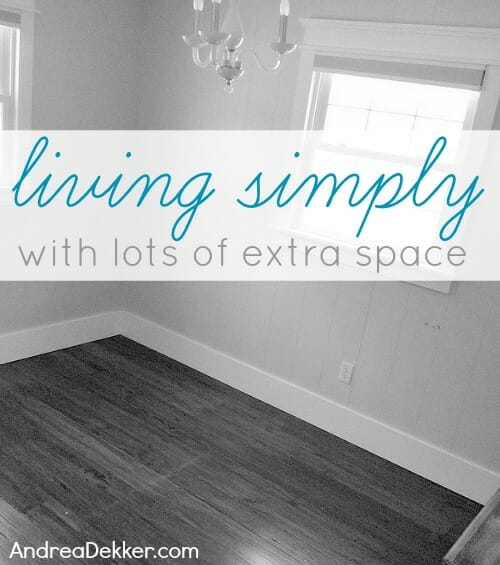 And before those of you living in small homes or tiny apartments click away, let me just say that the information in this post can apply to many different people in many different living situations.
Even if you don't have a big house or tons of extra storage space, you might have one closet or even just one cabinet that you really don't need — and because of that, it has become a catch-all junk area full of clutter. The suggestions I'm sharing below should help you reclaim those smaller areas too!
These are 5 tips that have been helpful as we've tried to live simply despite our extra space.
1. Set limits.
You know what you "need" to live comfortably in your home — and you also know there are many things you can easily do without. So although you might have the storage space for _________ and it's just such a great deal right now, don't buy it.
Don't bring that stuff into your home, because if you do, it makes it that much easier to bring the next thing, and the next thing into your home — because after all, you have plenty of space for it!

2. Embrace the emptiness.
As I mentioned above, there were YEARS when we had completely empty closets, cabinets, and even fully bedrooms (like absolutely nothing in them at all) and although it did feel weird, I was actually OK with it. We didn't need the space, we didn't have furniture to put in the space, and I certainly wasn't going to spend a lot of money buying furniture for a space we didn't need or use.
Plus, the more furniture and stuff I had filling up those empty, unneeded rooms, the more stuff I would have to dust and clean. No thanks!
We actually JUST started using the upstairs about a month ago when we finished the play room and Nora's new bedroom. Before that, the upstairs was basically empty. We actually still have one empty bathroom and a couple empty closets up there, but I'm OK with that for now.
I realize that eventually, as we add more children, our home will get more "full" and we will most likely use up all that blissfully empty space; but right now, we don't need that space and I honestly love that it's totally clutter-free!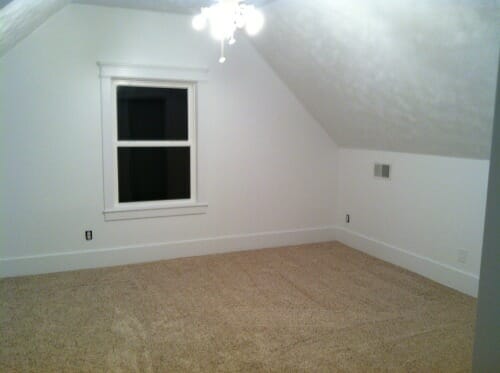 3. Learn how to politely say "no".
This is a tough one — but I'll tell you what, the second people found out we had an extra garage and outbuilding, we were getting requests to store stuff left and right.
Some of the requests were legitimate and we knew the people just needed a quick short-term storage place. But there were plenty of other requests that we KNEW would turn into long-term storage needs, basically taking advantage of our space and cluttering up our home because they didn't have room at their home (or any intention of getting rid of something to make room).
Some of the requests we got were down-right ridiculous — and even still, we have people who try to make us feel guilty by saying things like, "but you have plenty of space and our house is so crowded." News-flash, we work REALLY hard to keep our house relatively neat and clutter-free… and if we keep giving in to all these storage requests, our house will be just as crowded as yours!
4. Keep purging.
So this might sound like a really odd tip if you already have SO much empty space — but after a few weeks and months of sitting empty, random things have a way of creeping into those empty spaces. I'm still not exactly sure how it happens — but I'm speaking from experience here!
It might be when those unexpected guests stopped by, or when we moved things around for a renovation project, or when we rearranged the furniture and had an extra chair and lamp. I don't know — but somehow, those empty spaces start filling up again… and when that happens, it's time to purge (at least in my opinion).
If you don't purge, or at least reorganize, those empty spaces will simply continue to fill up (because that's what empty spaces do) until you have entire closets and even bedrooms FILLED with stuff. At that point, things seem super overwhelming, to the point where you don't even want to think about tackling the mess.

5. Continually evaluate your needs.
It's easy for me to get so excited about all the empty space that I don't want to fill it… ever! I'll reason with myself and say, "if we just purge _____ we can fit everything into this smaller space and continue to have empty rooms and closets."
We even considered making a few changes with how things were arranged on the main floor so we could keep Nora in her old room and still make a tiny nursery area for the new baby while continuing to leave the upstairs empty and "closed off".
But then we realized that we didn't buy this house so we could only live on the main floor forever! We bought this house so when the time came, we would have room to expand — and that's what we've finally started to do.
Since we have the space, we figured we'd finally set up a play room, a new bedroom for Nora, and a proper guest bedroom with an actual bed (not an air mattress), a couple end tables, a desk, and even some lamps!
For the first time since we've lived in this house, we are using every single room and space (except the upstairs bathroom and a couple upstairs closet) and it feels nice.
Although our home still has plenty of "room to grow", it also feels a bit more homey now that we're using more of it on a regular basis.
So while I definitely think that empty space is 100% OK, I also think it's important not to get too caught up in keeping everything totally clutter-free that you don't use and enjoy the space you have.
our new "official" guest bedroom!
I realize there are many of you who might not be able to relate to the issue of "too much space" — and that's OK!
If I'm really honest, there are plenty of times when I think about what life might be like if we sold everything except the bare necessities and lived in a tiny house (or even a motor home). Life could potentially be even simpler. However, we love our house, we love our big yard, our extra garage and outbuilding, and having that extra "room to grow" and entertain.
I'm not going to apologize for having a lot of space to store things or pretend like we're living an ultra minimalist lifestyle — we do have a lot of space and that was one of the selling points for us. However, I will say that I DO practice what I preach here on the blog.
I continually purge anything we don't need, use, want, or love.
I consciously try not to bring anything into our home unless it's absolutely necessary.
I constantly evaluate everything that comes into our home.
We have enjoyed our extra space, but we don't abuse it or use it to hoard cluttery things that don't serve a purpose or that we don't need.
And if you don't believe me — take a look at our garage, our basement, and our kitchen. The garage has nothing on the floor, the basement is practically empty, and the kitchen has a handful of empty cabinets and drawers.

Also, we have an entire walk-in closet upstairs that's 100% empty and our extra garage just stores our bikes, our lawn tractor, snow blower, and a few tools. I promise we're not even close to filling up all the space in our house!
Do you have any other tips for living simply with lots of extra space?