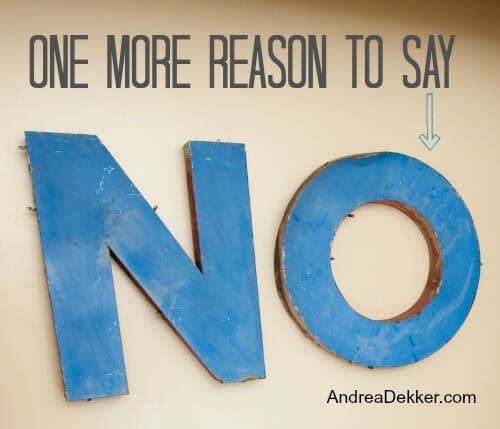 A few weeks ago, a neighbor friend asked to borrow something of ours. We weren't using it, so I offered to bring it over later that day. When I dropped it off, she thanked me and said, "I always ask you first because I know you'll actually say 'no' if you can't help me out."
As I was thinking about what she said, I realized there are a handful of people in my life that I don't hesitate to ask for favors from because I know that even if they really want to help me, they will say 'no' if they can't. They will not inconvenience themselves or completely rearrange their schedule just to help me, and they won't grudgingly say "yes" only to resent me for asking later on.
I never feel bad asking these people for help because I know my request won't make them stress out about trying to please me or accommodate me even though it doesn't work for them.
I also have a mental list of VERY kind and genuine friends and family members who I rarely ask for help because I know they will almost always say "yes" even if they really don't have the time, energy, or resources to help me at that time. Although their intentions are almost always good, it ends up causing more hassle and stress (for both of us) and even though they might not admit it, I think they sometimes resent me asking for help in the first place. All of this ends with me feeling badly for inconveniencing them — when they could have (and should have) said no in the first place.
.
Of course, there are always situations when our help might be needed whether we have the time and energy to help or not — specifically within our immediate families and with close friends. That's just what we do — we help out when help is needed, even if it's not 100% convenient for us at the time.
However, there are many other situations when it might be a lot more helpful to simply say "sorry, I can't help you right now" instead of agreeing to something you don't really want to do .
As I mentioned a couple months ago, saying "no" is often a sign of respect — both for your own time and for the other person's time… and I think that statement holds true for the examples in this post as well.
My friend who asked for my help felt confident asking me because she knew I respected my own time (and her opinion of me) enough to say 'no' if I couldn't help her. And I often choose not to ask certain people for help because I feel they don't respect their own time enough to actually say 'no' if they are too busy.
It's one thing to be a very helpful and generous person… it's another thing to be a push-over who always says 'yes' to everyone and every request.
If you are the push-over type, you probably know that about yourself and you probably don't like it. Although it might be terribly difficult for you to say 'no', I promise that it does get easier with a little practice 🙂
And it might be a bit easier for you to practice saying 'no' if you consider the fact that, in the long-run, your friends and family members might respect you and value your opinions MORE if you say 'no' when you actually can't help them out.
This does not mean you should suddenly start saying no to everyone and anyone's request for your help, time, talents, etc. but it IS something to think about when you're feeling bad because you just can't squeeze one more thing into your schedule.
And speaking of schedules… if you simply cannot muster up the courage to say 'no' to someone's face, just tell them you need to check your schedule first, and then email your 'no' response!
.
Again, I don't want anyone to think that I'm against helping friends, family members, neighbors, coworkers, or even complete strangers — that's not the point of this post. Rather, I want to note that if we say 'no' when we can't help and reserve our 'yeses' for when we can actually help, those yeses will be A LOT more helpful than if we say 'yes' to every single request without considering our own personal needs.
Although I'm generally a "quantity over quality" type of gal, I'd rather offer fewer QUALITY yeses than unlimited quantities of guilt-ridden yeses because I'm too shy or nervous to say 'no' and potentially disappoint someone in my life.
Was there ever a time when you said 'yes' and should have said 'no'?
How did you feel? Have you done anything to make it easier to say 'no'?