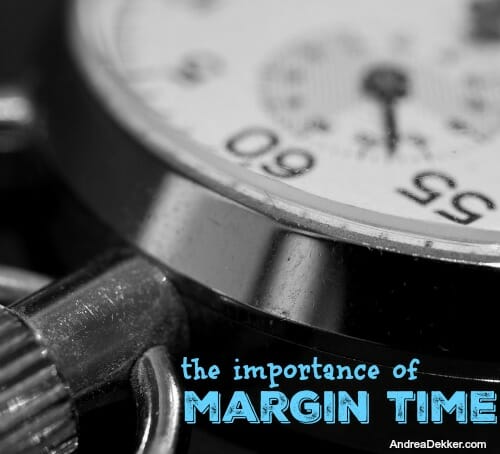 Over the past few years, I've come to realize how crucial it is for me to allow PLENTY of "margin time" in my daily schedule.
I cannot pack my schedule nearly as full as I used to (before kids) because there are SO many more delays, so much more waiting, and so many more "hiccups" — plus, as many of you know, doing anything with small children in tow takes at least twice as long as it does without them.
Even something as seemingly simple as getting everyone into the car can easily take 15 minutes or more (yes, I realize how ridiculous this sounds).
Get everyone's shoes on (coats, gloves, and hats too if it's cold)
Get my own shoes/coat/gloves on
Grab the diaper bag that is already packed and ready to go
Bring all children out to the van and start buckling everyone up (this alone takes 5 minutes!)
Load up the stroller or any other necessary "gadget" we might need
Close all the doors and get in the driver's seat
Turn on the van and find some type of music both Nora and Simon can agree to
Get out of the car and run back into the house for "that one thing" I forgot
Run back into the garage, get back into the car, get different music playing as they don't want the first choice anymore
Pull out of the driveway
Have I mentioned we stay home a lot! 🙂
In all seriousness, I have gotten really good at incorporating 10-20 minutes of margin time into my schedule at various point of the day — and it's amazing what a difference it has made in my life.
.
For me, allowing adequate margin time in my daily schedule is often the difference between feeling successful, proactive, and happy or feeling stressful, reactive, and very disheartened at the end of the day.
.
Even if you don't have small children, I wouldn't be surprised if adding a little margin time to your day could make a HUGE difference in your attitude, your mood, and your overall outlook on your day.
Let me explain…
Early Morning Margin Time:
Nora is usually the first child to wake up — anywhere between 6:30 and 7:15ish (and when she's awake, she is AWAKE!) After almost 5 years of mornings with Nora, I know she will be awake within this timeframe 99% of the time — so if I want to wake up early in an effort to get dressed, ready, eat my "first breakfast" and get a little work done BEFORE kids wake up, I know I need to get up by 6:00 at the latest.
I also know that if I wake up at 6:00, I'm really only guaranteed about 30 minutes before Nora wakes up — but I could potentially have just over an hour if I'm lucky.
After I wake up, I immediately make the bed, get dressed, get ready, and eat something small (like yogurt or fruit). Then, I make sure the diaper bag is packed, breakfast foods for the kids are ready, the house is generally picked up, the kitchen is cleaned up, and I have my to-do list ready to go.
I can do all of that in about 30 minutes and when it's finished, I'm ready to start my day and can tend to Nora whenever she decides to wake up. If she wakes up at 6:30, I'm ready for her and will not frantically need to rush around trying to get myself ready and make breakfast while she wants my attention. However, if she sleeps in past 7:00, I will blissfully work on quiet computer tasks until she wakes up and consider anything I accomplish to be "extra".
I know from experience that if I don't give myself that 30 minutes of margin time before Nora wakes up, the start of my day will be much more frazzled, stressful, and chaotic — and I don't know about you, but I hate it when my day starts out this way!
Margin Time During the Day:
A couple weeks ago, Dave's parents took Nora and Simon for a full morning and my parents took Nora and Simon overnight a couple days later. I knew exactly what time Dave's parents and my parents were bringing the kids back… and I had a super long list of things I wanted to accomplish while James was sleeping.
I worked quickly, but even though I didn't accomplish everything on my list, I made a point to STOP working on my list about 15 minutes before I knew the kids would be home.
This gave me time to quickly pick up the house, go to the bathroom (without "helpers"), refill my water bottle, get snacks ready for the kids when they got home, and be 100% completely "ready to go" when the kids got home.
If I hadn't given myself that margin time, I would have most likely been right in the middle of a project when they burst into the door ready to show me and tell me every exciting thing they did while they were gone. I would have been flustered and frustrated that they were bugging me in the middle of my productive moment and I would have tried to quickly wrap up what I was working on while they anxiously waited for my attention.
I would have been annoyed that a few dishes were still left on the kitchen counter and that a few toys and books were left out from before James' nap. And when snack time came, everything would have felt more frazzled since I had nothing prepared ahead of time.
I do the same thing when Nora is coming home from school, when Dave is coming home from work, etc. etc. By working 10-20 minutes of margin time into various points of my day, I'm able to simplify and de-stress my days at home with kids.
Margin Time at Work:
When I worked outside the home, it always amazed me how many people arrived 5-10 minutes late EVERY SINGLE DAY — usually with no excuse at all. They were just running late, trying to do "one more thing", and didn't arrive on time.
Obviously, I'm type A and usually very "on time" but it just boggles my mind that someone could drive to the same place from the same place on the same roads every day… and always be late!
Anyway, my point is, if I knew I had a meeting at 10:00, I would stop whatever I was doing at 9:50, go to the bathroom, refill my water, look over the agenda, and be sitting in the meeting room at 9:59. I would wait (somewhat impatiently) for the select few who were always 5 minutes late to come rushing in, apologize, and sit down looking frazzled and distracted.
I don't think I ever said anything, but I always thought about how the main difference between them feeling frazzled and distracted and me feeling calm and organized was a matter of 5-6 minutes of margin time… 5 to 6 minutes! That's it!
Margin Time during Travel:
I already mentioned how long it takes us to get all the kids out the door, into the car, and ready to go — so I always try to leave the house about 15 minutes earlier than what I think is necessary to get anywhere. However, if I'm really on top of my game, I'll leave 20 minutes early to compensate for traffic, trains, or any other potential delays.
I personally know how frazzled and chaotic I feel when I'm running behind and rushing (especially if the kids are with me) and I absolutely HATE that feeling. I would much rather allow a few minutes of margin time once we reach our destination than be running in the door with 3 kids, strollers, diaper bags, sippy cups, and baby carriers hanging from me and sweat dripping from my forehead.
Also, I'm positive our kids adjust better if we allow a few minutes of margin time for them to get used to the new destination.
In fact, about a year ago (right after James was born) we started getting to church about 20-30 minute early to allow the kids to check out books from the library, "run" around the hallways, see all the other people, and get excited about going to nursery or Children and Worship. It made a HUGE difference for our family as Simon no longer cried about going to nursery, Nora happily went to Children and Worship by herself, and I could feed James right before church started so I know he'd sleep in my arms during the service.
It was by-far the least stressful I had ever felt since bringing kids to church, and (for the most part) we've continued arriving early.
Margin Time at Bedtime:
Several months ago, I shared our "new" amazing bedtime routine and how we were getting our kids in bed by 7:30 almost every single night. We had a few late nights over the summer, but for the most part, our 3 kids have been in bed right around 7:30pm every night — and yes, it has been GLORIOUS!
However, the only reason we have been able to stick to this fabulously early bedtime routine is because we add in a little margin time to our routine.
As I mentioned above, EVERYTHING takes longer with kids — including the bedtime routine! So by starting the bedtime routine earlier than we thought necessary, we were able to finish by 7:30 instead of inching closer to 8:00 (or even 8:30 at times).
Margin time gave Dave and I our evenings back and is allowing our kids to get almost an extra hour of sleep every night — win, win!!!
.
Just as the margins of books, newspapers, and magazines give our eyes a break from all the words on the pages, margins in our life give us a break from all the busyness, stress, and chaos. In my opinion, margin time is one of the simplest and most important things I do to alleviate that frazzled feeling that often shows up if I have even the slightest notion that I might be running behind.
I realize not all of you are working around the crazy schedules of small children — but I'm confident that no matter our age, our career path, our family structure, our personality, or our energy level, we could all enjoy a simpler, less stressful, less chaotic life if we made a point to plan adequate margin time into our days.
What do you think?
When have margin times been most beneficial for you?