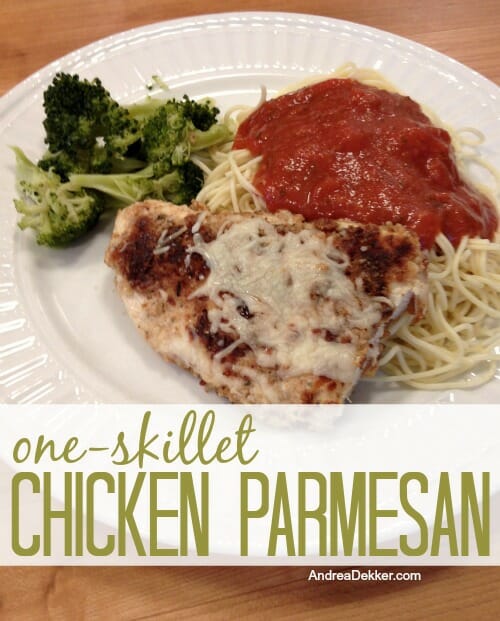 Due to the rising cost of meat, I don't make large cuts of meat as often as I used to (I'm more of a casserole, soup, stew, pasta person). However, my recipe for Chicken Parmesan uses chicken breasts that are cut in half crosswise so they are very thin.
Because of this, I can get 6 good-size servings from 3 chicken breasts AND the thin cuts cook faster so the crispy coating doesn't burn before the insides are fully cooked.
Oh, and it's a one-skillet meal, meaning less dishes to wash and no oven required.
If you're look for a relatively simple, yet very hearty meal, add this Chicken Parmesan to your upcoming meal plan!
Recipe for One-Skillet Chicken Parmesan
Serves 6 adults.
INGREDIENTS:
1 egg
1 c. bread crumbs
1 c. Italian blend or parmesan cheese
Italian herbs and seasonings** (I used 1 t. basil, oregano, garlic powder, and onion flakes)
Salt and Pepper to taste
3 boneless, skinless chicken breasts; sliced crosswise (to make 6 thin cuts of meat)
3 T. cooking oil
** Note: if you use Italian bread crumbs, you probably don't need the seasonings.
DIRECTIONS:
In a shallow dish, beat one egg
In another shallow bowl, mix bread crumbs, cheese, seasonings, salt, and pepper
Slice chicken breast in half crosswise so you end up with 6 thin breasts instead of 3 thick breasts
Dip both sides of each breast in egg wash, then in bread crumbs, and lay on a large cutting board or platter
In a large skillet, heat oil over medium heat
When oil is hot, place 6 breasts in oil and cook uncovered for 3-5 minutes
Flip and cook uncovered another 3-5 minutes
Make a small cut in the center of one breast to see if it's cooked through. If so, you're ready to eat. If not, continue cooking (uncovered) and flipping until the chicken is no longer pink
Top each breast with another Tablespoon of cheese.
TO SERVE:
I've seen Chicken Parmesan served with pasta, rice, potatoes, or just veggies and a salad — so whatever you prefer.
I made one 16 oz box of Angel Hair pasta and this pasta sauce (with added canned tomatoes). We also had broccoli, applesauce, and garlic bread to round out the meal.
Any type of chicken and any type of pasta are always BIG "winners" in our house — which is probably why this is one of our favorite meals.
Oh, and I should mention that although almost all the recipes I've seen for Chicken Parmesan involve simmering the already cooked chicken in pasta sauce, I purposely do NOT do that as it makes the crispy chicken breading super soggy.
Plus, if you're going to eat it with rice or potatoes (which we do at times) I feel like the pasta sauce is a weird addition. So, I just make the chicken and then pasta + sauce separately — we enjoy the crispy coated chicken on the side 🙂
What are your favorite chicken recipes?
Visit my virtual recipe box for more simple, delicious, family friendly recipes!