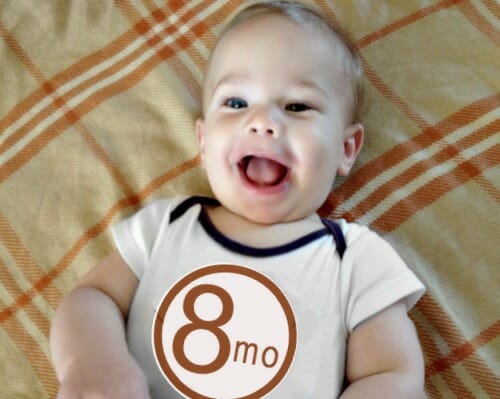 Simon is 8 months old today — and he's changed so much since last month.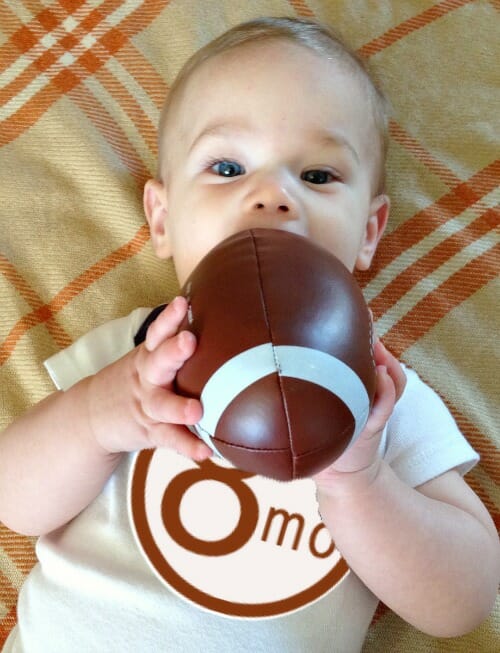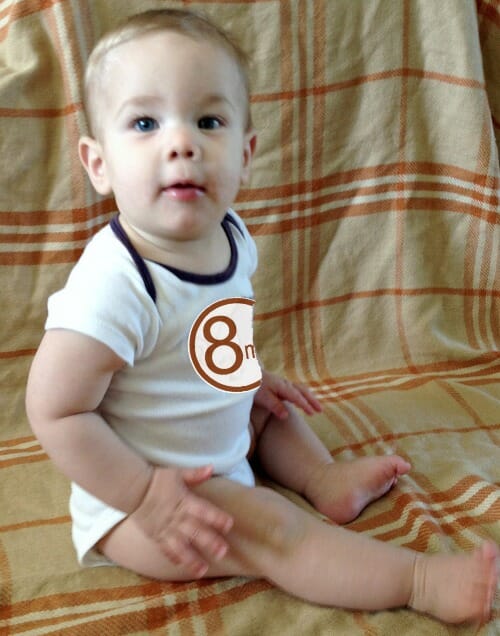 For starters, he is now standing up and pulling himself up on EVERYTHING – which means he's also falling a bunch.
He's a great sport though and rarely cries unless he really gets hurt (like falling from the 3rd step).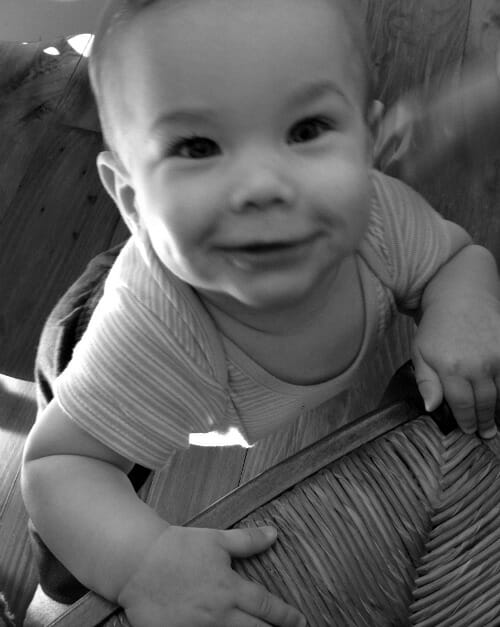 Also, he's teething.
After two weeks of a runny nose, horrible diaper rash, and over-all crabbiness, ONE measly little tooth popped up a couple weeks ago.
See that tiny tooth in there!
I was hoping 3 or 4 teeth would pop through all at once, but just ONE.
Oh, and for the record, one of those Amber Teething Necklaces just arrived last week. Here's hoping it alleviates some of the pain associated with the next tooth!
.
On a happier note, he's eating food!
This is uncharted waters for me now — but we're having fun mixing different foods and seeing what he likes (which so far is oatmeal, bananas, sweet potatoes, and carrots). He's also starting to feed himself those little Gerber Puffs that dissolve! I realize this is most likely completely normal — but compared to Nora not eating anything, I feel like Simon is just amazing!
He's a messy eater (which I suppose is normal) so bath time usually follows a big messy meal. Bath time is in the sink these days since our blow-up bath tub popped about a month ago.
He really loves bath time — but he's almost as messy with his bath-time splashing as he is with his food!
.
Aside from the teething and all the falling, Simon is usually SO happy — all you have to do is look at him and he gives you a big cheesy grin.
Currently, his favorite activities are clapping, crawling, bouncing, strolling, and "talking" (it sounds like he says "mamamama" but I know that's just wishful thinking).
And if you want to hear him giggle, just get him in the same room with Nora. If she's not pestering him or shoving him (both of which she does regularly) she can really get him going!
She loves "her baby" and assumes that every little girl also has a baby.
Happy 8 months, Simon!