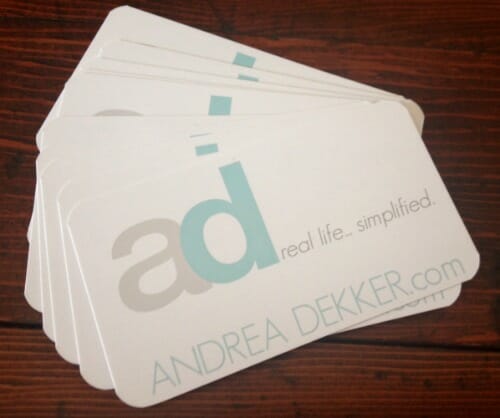 The other day, I was talking with my sister (an accountant) about how her busy season was ALMOST finished and then she would finally be done working crazy insane hours all week — and all weekend.
And as I was thinking about the end of tax season, I remembered that exactly one year ago today (April 15) I launched my brand new blog, business, and brand.
One year ago, I made the humongously scary decision to totally change my blog and business name from Simple Organized Living to AndreaDekker.com. You can read more about the whole process in the following posts –> part 1, part 2, part 3, and part 4.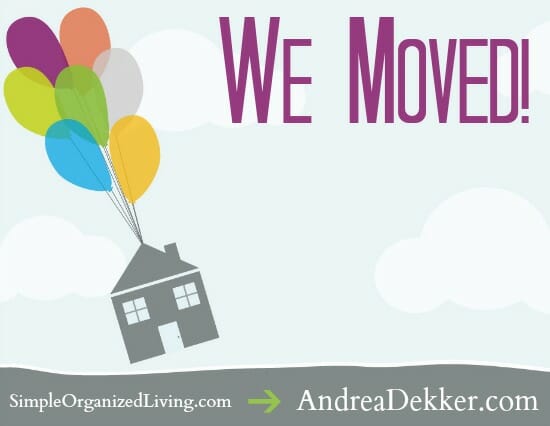 To be perfectly honest, I loved the name Simple Organized Living — but I felt like it was just too long, and I felt like the whole "simple organized" concept was being overused on the internet. Plus, it was just time for a change.
.
Looking back, I'm extremely glad I made the change — but I will also say that there were MANY weeks and months when I worried if it really was the right decision for me.
Even though my tech guys definitely knew what they were doing, and did everything possible to keep my Google rankings and ad dollars up there, I still lost out on A LOT.
Since my name no longer had those huge key words "simple" and "organized" in it, my Google rankings went down (and stayed down for a while) which also meant that my ad dollars went down (and stayed down for a while).
Although I was fortunate to be able to change my name on Facebook (instead of starting a brand new page) I still lost thousands of followers in the process. This was extremely frustrating for me at the time — especially since the numbers just kept falling and falling for many months after I made the switch. I thought I might eventually lose everyone and have to start all over again. Thankfully that was not the case!
However, it's now a full year later, and my Facebook numbers are just finally getting back to where they were before I switched my name. And my Google ad dollars are actually still a little lower than they were before — so a little frustrating, but not the end of the world.
I think with any big change, it takes time to get all the details squared away, and I definitely didn't expect to pull of a total business re-branding without any hiccups or glitches. But since I'm often asked by other bloggers how my name change went, I thought it was important to note that although I'm thrilled with the new name (and I honestly wouldn't go back), it was a fairly involved and stressful process… with a few bumps along the way.
I won't bore you with all the details, but if you have specific questions about my re-branding process, you can ask me in the comments or in an email and I'll try to give you a helpful answer 🙂

It's been a good year with the new blog and brand name — and I'm SO excited for the year ahead.
Thanks for following along — I know there are many of you who have been around since the very beginning, and I appreciate you so much!