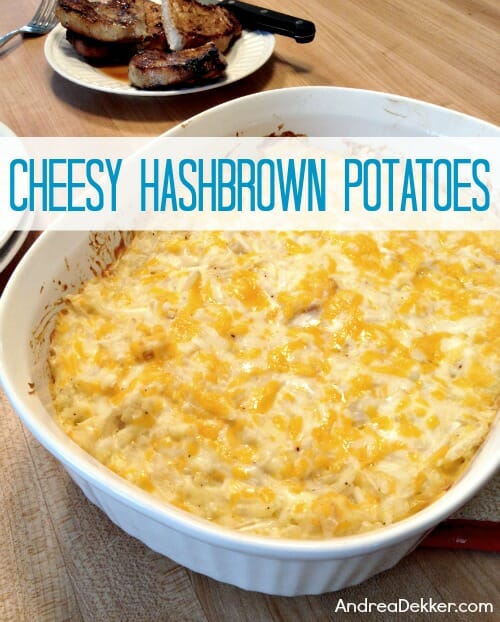 One of Dave's all-time favorite side dishes is something he grew up calling "Funeral Potatoes" — namely because this was a dish that was super easy to prepare ahead and bring to potlucks, funerals, or other food gatherings. Basically, they are just really good, really cheesy potatoes — and they are a perfect side dish for almost any type of meat.
This recipe is super simple, super quick to make, and can very easily be assembled a day in advance.
We made these potatoes for Nora's 2nd birthday party (along with meatballs, brocoslaw, and hot fruit salad) and I regularly make it for potlucks or other family gatherings. The only bad thing about this recipe is we almost never end up with leftovers 🙂
Recipe for Cheesy Hashbrown Potatoes:
INGREDIENTS:
1 30 oz. pkg. frozen hash brown potatoes; thawed (shredded or cubed both work well)
1 11oz. can cream soup (or you can make your own to be less processed)
8 oz. sour cream
2 c. shredded cheese
2 t. minced onion
1 t. salt
1/4 c. melted butter (optional)
2 c. crushed cornflakes (optional)
DIRECTIONS:
Mix all ingredients (minus butter and cornflakes) in a large bowl and dump into a greased 9×13 pan.
Mix crushed cornflakes and melted butter and spread over top of the potatoes (this is optional and if I don't have cornflakes, I just add some extra cheese on top)
Bake at 350 for 1 hour.
I usually make it ahead of time (either that morning or the day before) and store it in the refrigerator. Then I just pull it out and bake it an hour before we're ready to eat.
I made it without the cornflake topping this time.
Unless you don't like potatoes or cheese (I can't even imagine not liking either of those) you should love this side dish. And I promise, it really is as simple as it sounds.
I've personally never tried freezing this dish (mainly because I'm already using frozen potatoes) but since it can easily be made in advance, it's still a big winner when it comes to feeding a hungry crowd — or just your family!
What are your favorite potato dishes?
Visit my virtual recipe box for more simple, delicious, family friendly, recipes!