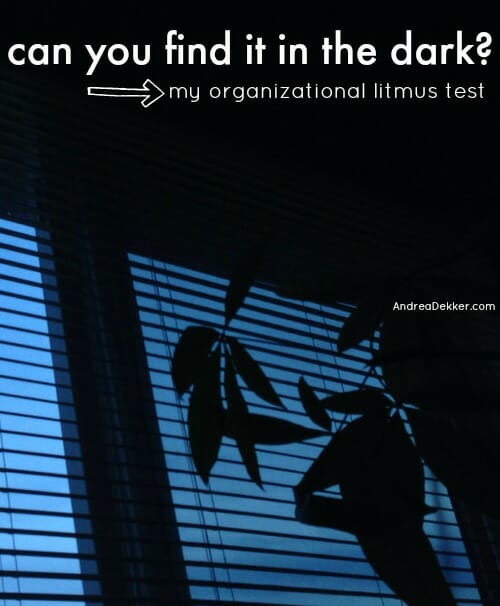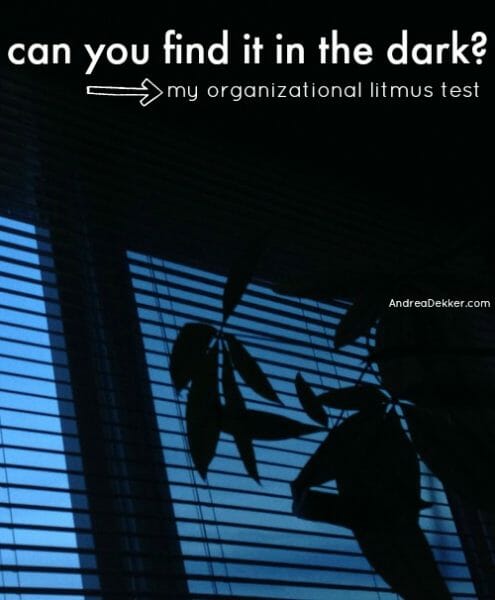 Two weeks ago, a fairly destructive tornado passed through our town… just about a mile from our home. There were many trees down, some flooding, and a bunch of homes without power for a couple of days (Dave's parents were without power for a bit).
Thankfully, nothing happened to our home or yard… but since we had several friends and family members without power, I started thinking about finding things in the dark, and how often I get something out of a closet, drawer, filing cabinet, kitchen cabinet, or toy bin in the dark.
There are so many times (usually when kids are sleeping) that I'll put laundry away in the dark, pick up toys in the dark, find something in a room without turning the light on, find my way through our house in the middle of the night, pull another pair of PJ's out of the drawer when someone pees through their clothes in the middle of the night, etc. etc.
If I were a betting person, I would bet you that I could find almost anything in my entire house (even the basement, the storage closet, and the garage) in the dark.
This is not because I have a photogenic memory or because I spend endless hours organizing, re-organizing, and labeling everything in our house. But rather, it's because we have an organizational system that works for our home and for our family. We have designated "homes" for all of our things, and (for the most part) we do a pretty good job putting all our things back into their homes every day.
.
You might say that my ability to find any given object in the dark is my "organizational litmus test".
If you look up the definition of a "Litmus Test", you'll most likely read something about Chemistry and the use of litmus paper to test acidity or alkalinity of a solution. However, you will also find the following definition: a crucial and revealing test in which there is one decisive factor (source)
In a way, the "crucial and revealing test" is if I can find what I need in the dark — and the "decisive factor" is if our home is neat, clean, and well-organized.
Of course, I don't walk around in the dark just to see if I can find things, but as I've been thinking about this post for the past week or so, I realized that it really is a great test of how organized I am.
If we didn't put the toys and books away every night, there's a pretty good chance someone would step on them, hurt their foot, or trip and fall at some point during the night (I swear, Nora gets up and walks around in the middle of the night without us knowing!)
If we didn't have our clothes neatly organized in the closet or in the drawers, I would never be able to put laundry away in the dark.
If our kitchen cabinets weren't organized, there's no way I could quietly make breakfast or clean up the kitchen in the wee hours of the morning with only a very dim light on.
If we didn't have a designated home for various items like flashlights, candles, batteries, etc. I might have a difficult time finding these items if our power actually did go out.
These are just a few of the many examples I could list… but I think you get the idea.
If I can easily find what I need in the dark, I know my organization system is working well… if I can't find something in the dark, I know I should probably revisit that area to come up with a better, more efficient way to keep it organized.
.
The point of this post is certainly not to encourage you to worry about a power outage or to clean your house in the dark 🙂 but rather to simply stop and think about how organized you are based on what you can or cannot find in the dark (without tearing the entire house apart.)
If you can find what you need, you probably have a decent system for cleaning and organizing your home. If not, it might be a sign that your current system isn't working well for you.
And again, your home does NOT need to be perfectly organized to "work well" for you and your family — you don't need fancy labels, color-coded bins, or expensive storage containers… you just need a simple system that works for you, your family, your home, your stuff, and your lifestyle.
Obviously, finding that system is the tricky party (and unfortunately, I don't have a magical answer that will work for everyone).
In the meantime, I use my simple "can I find it in the dark" litmus test to gauge whether our current organizational systems are working well for us.
What do you think… could you find what you need in the dark?