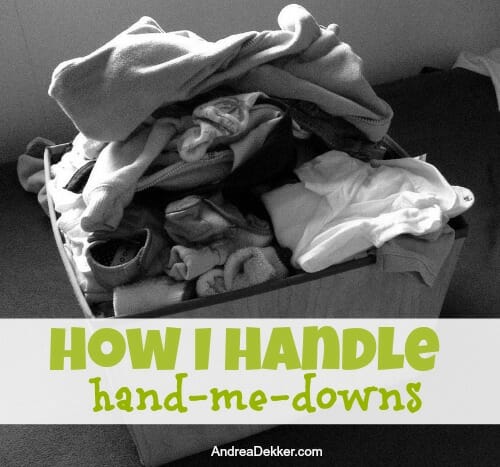 Over the past 10 years, Dave and I have been blessed with an enormous number of freebies and hand-me-downs from friends, neighbors, relatives, and even complete strangers.
Before we had children, people gave us second-hand furniture, decorations, canning supplies, yard tools, plants, and other home goods they thought we would like — based on the fact that we were young, newly married, fresh-out-of-college, and didn't have a ton in savings.
We eagerly accepted EVERYTHING people gave us, until we realized we had no need for anything else. But the freebies kept coming from well-meaning relatives who downsized, grandparents who passed away, neighbors who didn't sell items at their garage sale, etc. etc.
We honestly never asked for anything… it just seemed to find us 🙂
We always just used what we could and either donated the rest or sold it on Craigslist (this is what first helped me get really involved in selling items on Craigslist).
After we started having children, the freebies and hand-me-downs seemed to multiply!
We have several relatives and church friends with slightly older children who gave us SO much stuff with the intention that we would either give it back to them or pass it along to someone else when we were finished with it.
Many of these hand-me-downs were given to us in huge garbage bags or bins stuffed with random assortments of clothing, and we definitely didn't need all of it. Plus, there were several items we couldn't even use based on the gender, size, season, personal preference, etc.
While we were obviously super grateful to get free (or really really cheap) kids clothing, it didn't take long for my ultra-organized, type-A, we-need-a-home-for-everything personality to realize there was absolutely NO WAY we could hang onto all the hand-me-downs we got… especially since I had a feeling more clothing would eventually come our way!
About 6-8 months after Nora was born, I came up with a list of questions I would ask myself to help decide what hand-me-downs to keep and what I would pass on to someone else.
Since I am regularly asked about how I handle kids clothing (specifically hand-me-downs) I thought the back-to-school time would be a perfect time to share the questions that help me control the amount of clothing my kids have without being super minimalistic or feeling like I have to do laundry every other day.
These questions ARE in order of importance — at least for my preferences!
1. Is it in good condition? (No large stains, rips, holes, stretched out elastic, stuck zippers, etc.)
2. Do I like it?
3. Do the kids like it? (Nora and Simon are both fairly particular about what they wear, and clothing is rarely a battle I'm willing to fight!)
4. Will it be the right size at the right time of year? (This is especially helpful for infant and toddler clothing)
5. Will it fit within the next 12 months? (I will not hang onto clothes for years and years)
6. Will be be easy to wash if the kids get really dirty? (No white capris or skirts for Nora, no clothing that needs to be ironed, no special fabrics, etc.)
7. Will it be easy to get on and off? (Only zipper sleepers for babies, no turtlenecks, no pants with zippers and buttons, no lace-up shoes)
8. Do we have space to store it? (Our kids have 25 hangers each plus some room for folded items. However, I usually only designate one drawer to "too big clothing")
9. Do we really "need" it? (NEED being relative, of course!)
.
Until now, I had never actually written the list down, and I don't spend lots of time debating over every question. Instead, I use these questions as guidelines to help me quickly sort through large amounts of hand-me-down clothing and easily pick out exactly what we needed.
Of course, these questions also work when I'm buying new clothing, shopping local garage sales, and even when I'm passing things down from Simon to James — I know so much if Simon's clothing won't work for James based on seasons and the fact that Simon is huge and James is very petite 🙂
Whatever the situation, these 9 questions help me focus on what items would be most useful and most helpful… and then not feel bad about getting rid of (or giving back or passing on) the rest of the clothes. After all, I'd rather let someone else use or buy the clothing I can't use than to have it sit in my home for 2 or 3 years until I realize no one is going to wear it.
Of course, when it comes to kid's clothing, there are a few other factors to consider as well…
How often do you wash your clothing? (If you do laundry more often, you can easily get by with fewer clothes.)
How often do your kids need to change their clothing each day?
Do they wear separate clothes for playing outside?
Do they wear a uniform to school or not?
Do you need clothing for all 4 seasons or just "hot" and "hotter"?
How many special occasion items will you need?
What type of closet do your kids have?
Will your kids be sharing closet and dresser space?
Even if you are not blessed with lots of freebie hand-me-downs, these questions are still a great way to think about how much clothing your kids really need… and yes, many of these questions work for adults too!
I don't go crazy trying to limit my kid's clothing and I don't have a magic number of items each child should have (each child gets 25 hangers and some drawer space)… but at the same time, I also realize we don't need 80 different outfit choices for each child. These 9 questions keep me from going crazy and hoarding all the freebies people send our way (because you know I love a good deal!)
Also, I should probably mention that we donate Nora's clothing when she grows out of it, we pass a lot of Simon's clothing down to James (and donate the rest), and we have a neighbor friend who gets most of James' outgrown clothing. Read more on why I don't sell (or hold onto) our kids clothing in this post.
I'd love to know… how do you handle kid's clothing and hand-me-downs?