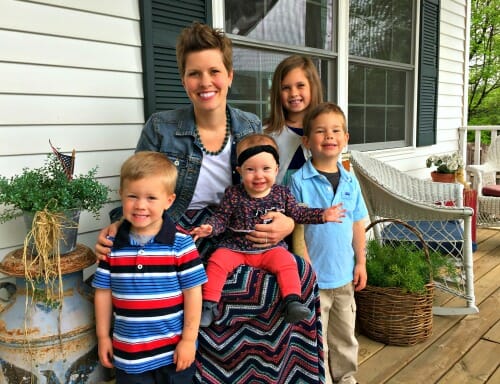 Last week was somewhat eventful for our family (which, I realize, isn't saying much since we normally have a fairly quiet schedule!)
We had dentist appointments for Nora and Simon, we got our entire house, garage, and outbuilding power washed, we had over 20 yards of mulch delivered, we babysat our cousin, we went to a parade for Nora's school, AND we met with the plumbers to officially start our bathroom renovation (yes, we've finally decided on a plan for that space and I can't wait to share it with you soon!)
YAY!!!!!
Since Nora doesn't have school on Wednesdays, it has become my "mission" to plan special things we can all do together on Wednesdays — otherwise, I often feel like I'm going to scream at everyone and lock myself in the bathroom by 10:30am.
This past week, we did hair chalk and temporary tattoos, then we went out for donuts, visited a local greenhouse (with a fun play area for the kids), made homemade personal pan pizzas for lunch, and did a special craft project for Mother's Day gifts for their grandmas.
Of course, I got lots of "mom brownie points" for all of that, and we had a great day together!
The kid's "repaid" me later in the week with my Mother's Day gifts. 🙂
My Mother's Day
I had a nice Mother's Day weekend at home — nothing over-the-top special, but that's not really my style anyway!
We had Dave's parents over for brunch on Saturday morning, and we celebrated with my family on Sunday afternoon.
Dave helped the kids make me a card and he let them each pick something out for me from the Dollar Store (he knows me so well). They couldn't wait to give me their gifts so they gave them to me on Saturday afternoon already!
Nora made me a few things at school, including a coupon booklet which gifted me a free back massage, help with chores around the house, and breakfast in bed (to name a few). So… they brought me breakfast in bed Sunday morning and were crazy excited! 🙂
I'm making mental notes of how sweet these special holidays are with little kids!
.
Nora has turned into a little bookworm and reads constantly — which makes Dave smile because he was exactly the same way growing up.
Nora was in a special school-wide parade this past Friday (she got to help hold the banner for the Kindergarten classes), and she raised over $300 for the school walkathon the week before (she actually called people for donations!)
.
Simon is such a silly kid — as I've mentioned before, it's almost impossible to get mad at him because he turns everything into a joke and makes us laugh.
He absolutely loved going to the 5-week preschool program at our local Early Childhood Center… which makes me even more excited for him to officially start preschool next fall.
.
James has become my kitchen helper when Simon is at preschool and Clara is napping… he LOVES helping in the kitchen (and sampling the foods!)
He is a puzzle pro, he climbs on EVERYTHING, and he sings or hums all day long.
.
Clara is still a little doll baby — and she's officially sitting up!
She loves being outside, she's starting to gnaw on food (not a fan of baby foods or purees), and she is making all sorts of noises these days.
We've had a rough couple of weeks with her not sleeping through the night (yes, I know how spoiled I am) so I think her t0p 2 teeth might be coming in soon. Then she'll hopefully get back to sleeping through the night again!
.
Dave and I are officially counting down the DAYS until school is out for the summer. His school gets out a week earlier this year because they are starting quite a bit earlier next Fall. It will be really nice now… maybe not as nice next fall!
We have a LONG list of projects and fun things we'd like to accomplish this summer — we'll see how far we get on our list!
First up is setting up our 18′ x 9′ Costco pool. I have a feeling it's going to be one of those "small projects" that turns into a massive project… I'll let you know in another couple of weeks.
I spent the majority of my free time last week doing yard work.
I transplanted several smaller shrubs and perennials, trimmed and pruned everything I should have trimmed and pruned last fall (but didn't because I had a brand new baby), and pulled a bunch of weeds.
I still have a few areas where I want to tweak the arrangements of the plants, but overall, I'm very happy with what our landscape looks like this Spring.
.
Last Week's Menu:
As I mentioned a while back, I've been on a mission to eat as many veggies as I can (even eating them regularly for breakfast and many snacks).
I'm not pushing the extra veggies on Dave or my kids, but I HAVE been slowly trying to incorporate more hidden veggies into our family dinners — and I'm surprised with how successful I've been!
MONDAY:
Chicken Broccoli Rice Casserole (I used cauliflower rice, added in a bunch of chopped spinach, and made the sauce from scratch. Everyone loved it and asked for seconds! )
Fruit
Rolls
Brownies
TUESDAY:
Wet burritos (with added black beans and brown lentils and only a small amount of beef)
Guacamole
Salsa
Chips
Raw veggies
Fruit
WEDNESDAY:
THURSDAY:
FRIDAY:
SATURDAY:
Mini vegetable quiches, bacon, and french toast for breakfast
Leftovers for dinner
SUNDAY:
Burgers at my sister's house
I made the desserts and brought Scotcharoos, Lemon Bars, mini cheesecakes, and cookies and cream Oreo bars. YUM!
.
We're gearing up for 2 more busier weeks… and then we'll breathe a sigh of relief because summer vacation will be HERE!
Bring on the sweet slow days of summer!