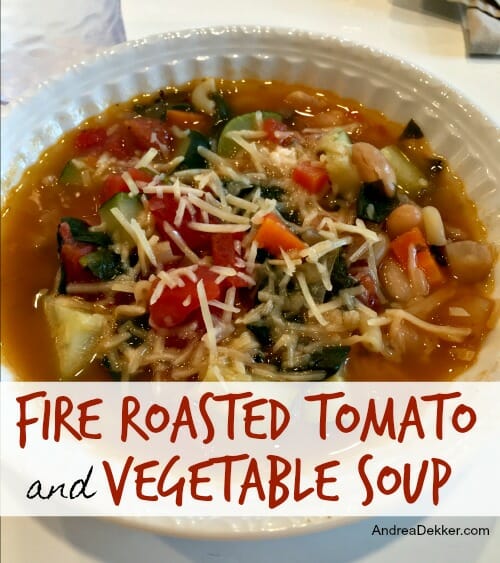 Even though the weather is warming up and we're verging on summer vacation (only TWO more weeks of school for Dave!!!) I still keep soup on regular rotation in our weekly meal plans.
Our kids are fairly good about eating soup (Nora specifically likes it a lot) and Dave and I both enjoy the ease of warming up a bowl of soup as leftovers for lunches throughout the week.
Today's 20-minute recipe is a great way to work a few extra veggies into a meal (just use whatever you have in the fridge that your family will eat)!
Oh, and in case you're wondering about the "fire roasted tomatoes", they were on clearance at Aldi one week during my recent Aldi grocery shopping experiment! I'm certain any can of diced tomatoes would work, but the fire roasted tomatoes do give it a little extra flavor (in my opinion!)
We often eat this soup as a vegetarian side dish — along with sandwiches, salads, or other main dish meats. The picture below is of our favorite layered salad (with a yogurt dressing) and these delicious baked sandwiches!
Of course, as I mention below, you could easily add in cooked ground sausage for a super hearty main-dish meal that would taste amazing with a slice of crusty bread.
Either way… YUM!
Recipe for Fire Roasted Tomato and Vegetable Soup
serves 6
INGREDIENTS:
2 T. oil or butter
1 medium onion; minced
1 t. minced garlic (about 1 clove)
1 t. ground Thyme (1 T. dried Thyme)
1 t. Oregano
1 can (15 oz) fire roasted diced tomatoes with juice– or really any diced tomatoes will work
1 can (15 oz) cannellini beans (drained and rinsed)
1 c. chopped spinach
1 zucchini; medium diced
1 carrot; medium diced
1 c. mushrooms; medium diced
4 c. broth or water
1/3 c. elbow macaroni
1 lb. cooked ground sausage, optional
parmesan cheese, optional garnish
DIRECTIONS:
Pour oil in a stock pot over medium heat. Sauté onions, garlic, ground Thyme, and oregano until onions are translucent (this will smell SO good!)
Add in all the rest of the ingredients except the dry noodles. Simmer for 10 minutes, or until veggies are fairly soft.
Add in macaroni and simmer for 10 more minutes or until noodles are tender.
Serve with parmesan cheese, and enjoy!
Refrigerate leftovers and enjoy all week long!
It's so quick and easy (you don't want to simmer this soup all day long as the veggies will get too mushy) so it's perfect for a quick weeknight meal.
I often make this recipe when I want to 'clean out' the vegetable drawer a bit — but the instructions listed above are what tastes best (in my opinion). I love the zucchini, carrot, mushroom combo — especially with the Thyme and Oregano.
Of course, feel free to mix this up with whatever you have on hand — try different broth, spice, and veggie combos for different flavors. And you can definitely omit the pasta if you want it to be gluten free — just reduce the liquid a bit (maybe 3 cups of broth instead of 4).
I have even eaten the leftovers cold (which Dave finds appalling) but they are very refreshing on a warm day! 🙂
If you're looking for a yummy soup to serve as a side dish or main dish this spring (and all year long) give this veggie-packed soup a try!
Do you enjoy soup year-round too? What are your favorites?
And as always, visit my virtual recipe box for more simple, delicious, family friendly recipes!