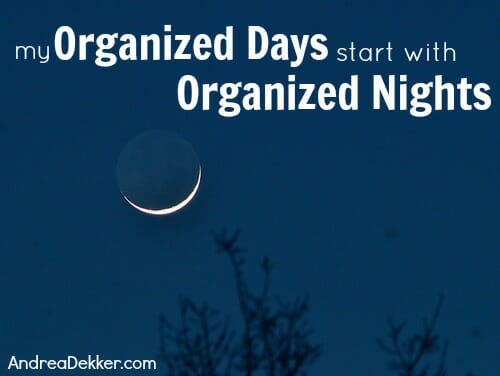 One of the questions I'm asked on a very regular basis is how I seemingly stay so organized and "on top of things" with a toddler, an infant, lots of home projects, and an at-home business.
While I do make a very conscious effort to stay as organized and as "on top of things" as I can, I know it's not always the case. So before we get too far, I'd encourage you to read this post if you feel even slightly defeated by comparing your life to what you THINK I accomplish on a daily and weekly basis. 🙂
Since Simon's birth, and adjusting to a new person and a new schedule, I feel like I've had to get THAT much more organized in order for things to run smoothly. So far, things are going as well as can be expected — and as I thought about what Dave and I have done to help this transitional time continue to run so smoothly, I realized one key factor.
My organized days almost always start with organized nights.
To put it a different way:

The reason I'm able to stay organized and "on top of things" during the day is because I take the time to get organized at night.
You see, every night after the kids are in bed, Dave and I spend about 30-60 minutes catching up on the current day and planning ahead for the the next day. During that time, we don't do any blog or school work; we simply do all those little things that we might not have had time to complete during the day.
For example:
We fold and/or put away any laundry that I might have washed that day. I might also get another load ready to go on a delayed cycle so it's ready for the dryer the following morning.
We finish cleaning up anything in the kitchen, wash/dry dishes, clean out the dishwasher if necessary, wipe down the counters, etc.
We pick up toys, books, crafts, art projects, and any other baby/toddler items that don't need to be sitting out.
We get the mail, take out the trash, respond to any voice messages, and reply to any emails still in our Inbox.
We fold blankets and pick up pillows (a.k.a. Nora's forts), and declutter the main living spaces of the house.
Dave packs his lunch and I defrost anything I'll need for tomorrow's dinner.
Dave packs up his school bag and I make sure the diaper bag is restocked and ready for any activities the next day.
I look over the current day's to-do list and try to cross off any of the little tasks I didn't have time to complete during the day (sweep the floor, dust, file papers, etc.)
We make our to-do lists for tomorrow and "debrief" about anything we feel the other person needs to know.
After we're finished with that, we take showers, get ready for bed, and then Dave works on school stuff while I work on blog stuff until we go to bed.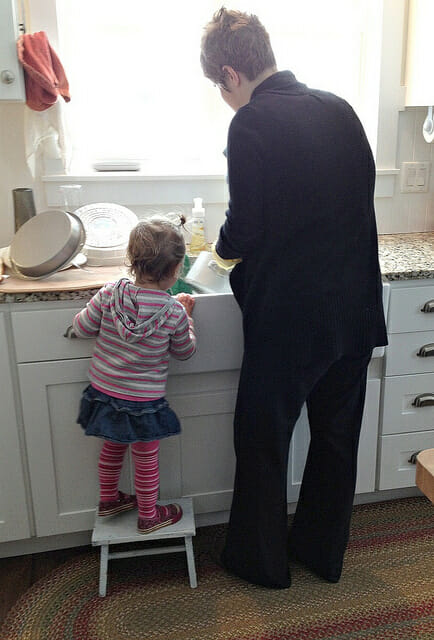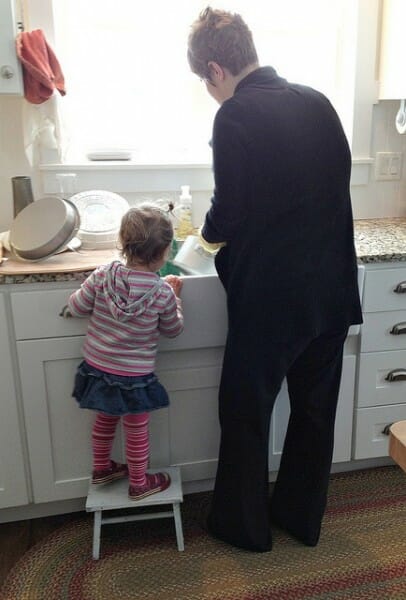 No, it's not the most glamorous life — however, since we both have jobs that require working from home, the evening hours are often the best time we have to get a lot crossed off our to-do lists.
Here's a general run-down of our nights from about 6pm – 11pm
6:00: Finish Dinner + Kitchen Clean Up
One of us cleans up the kitchen while the other one holds/feeds Simon and plays with Nora.
We start the dishwasher if necessary and wipe down all the counters
We stack any dishes that need to be washed next to the sink (we'll do them after kids are in bed)
Dave packs his lunch and I get anything out of the freezer for tomorrow
6:30: Play
If the weather is nice, at least one of us will go outside with Nora or we might all go for a walk
If the weather isn't nice, Dave usually takes Nora upstairs to play while I get some stuff done (Simon often takes a cat nap after dinner)
7:30: Bath time
Dave gets the bath ready and I give Simon a quick bath (usually every other day).
Dave then he gives Nora a bath while I get Simon ready for bed and feed him one more time.
Nora plays in the bath for a while 🙂
8:00: Winding down
I put Simon to bed (we're lucky that he usually goes to bed relatively easy and WAY earlier than Nora!)
Dave usually gets Nora a snack while I take a shower and cross a few more things off my list
Nora gets to watch one show on the iPad while she eats her snack — which allows Dave to finish a couple things on his list, wash dishes, etc.
Dave takes his shower and gets everything ready for tomorrow while I read Nora a few books and we pick up her books and toys
9:00: The bedtime process begins
Since Simon was born, Dave has been taking over Nora's bedtime process — which usually takes well over an hour. Basically, Dave brings Nora up to her room, reads her one book, turns out the lights, and then has to sit there until she falls asleep.
He often watches sports or a movie on his phone — or he'll check his email.
Meanwhile, I'm downstairs folding laundry, cleaning out the dishwasher, and catching up on all those little tasks from earlier today that I didn't have time to get to.
10:00: Back to work
Dave is usually finished putting Nora to bed by 10:00. He might wrap up a couple things and then he starts grading or doing other school work.
After I'm done crossing a bunch of little things off my list for the day, I try to get a few blogging things done before I turn in for the night
11:00: Bedtime
We try to be in bed by 11:00, but sometimes it's a bit later, and sometimes it's earlier — it just depends on how bedtime goes with the kiddos and how much work we need to do.
.
Keep in mind this is just a really general evening schedule. There are definitely nights when we let the dishes sit and items on our to-do list go undone. We don't ALWAYS stay home at night — especially on the weekends or if friends/family are visiting. There are other times we're just tired and go to bed at 9:30pm (honestly, I've been sleeping by 9:30 many nights since Simon was born!)
But for the most part, this is our nightly routine and we do it almost every night (even if we don't necessarily feel like it) because we know how much it helps us to simplify and organize the day ahead. Plus it helps me sleep better knowing that I've finished all those little things and can wake up to a clutter free home the next day.
I realize many of you might think we're too busy or trying to do too much — but this a choice we've made for the lifestyle we want.
This is how I look at it:
Parents who stay at home with their kids sometimes sacrifice income and a creative outlet.

Parents who work outside the home sometimes sacrifice time with their kids.

Parents who work from home (like me) sometimes sacrifice free time.
In many ways, I have the best of both worlds by being able to work from home, contribute to our finances, AND be there for all Nora's hilarious quotes and Simon's milestones. However, something has to give. And for me, I'm MORE than willing to sacrifice some of my free time in the evening to help the rest of my day, my family, my home, and my business run smoothly.
After all, I usually get at least some sort of afternoon nap these days 🙂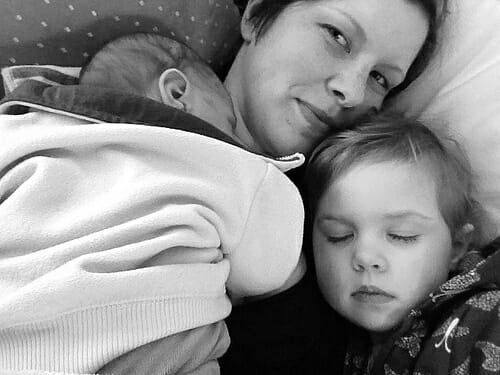 As I mentioned in this post, daily maintenance is key — so by doing these things EVERY night, they just become routine and really don't seem like a huge chore. In fact, after a long day of dealing with poopy diapers, toddler temper-tantrums, and lots of tears, I often look forward to this super productive time of day.
For those of you who find it difficult to be productive in the evening, you could try waking up earlier and doing some of this in the morning. I just personally like to get it done before I go to bed. Also, as a former "morning person" it took me a while to switch over to being more of a "night owl" — simply because I realized this often is the ONLY time of day when I could get a lot accomplished (you can read more about that process here).
I know some of you might think this is crazy — but I honestly do think my "crazy" evening routine is one of the key reasons I'm able to keep the rest of my home, life, and business simplified, organized, and running smoothly.
In my experience, it's not necessarily EASY to stay organized and live a simplified lifestyle. It takes work, hard work, but it's 100% worth it if you ask me… and I KNOW Dave would agree too!
Do you have any other "staying on top of it" secrets?