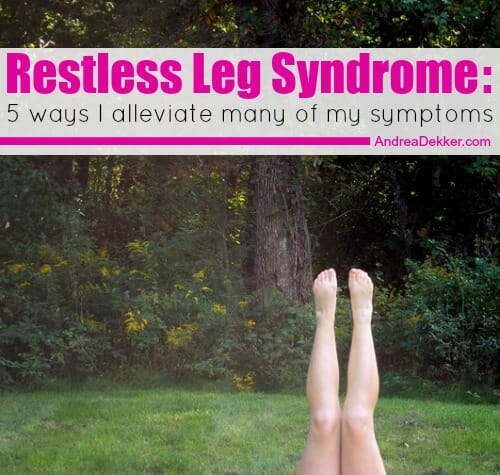 For most of my life — even as a very young child — I've struggled with occasional to regular Restless Leg Syndrome (RLS). It's worse when I'm pregnant, and also when the weather is very hot and humid.
I've read that roughly 10% of adults are affected by RLS, and nearly 20% of pregnant women!
What is RLS?
Restless Leg Syndrome is a poorly understood neurologic disorder that triggers pain, twitching, burning, crawling, tingling, and other unpleasant sensations in the legs (mainly at night), sparking an urge to move them constantly.
My mom and my grandma have both struggled with RLS (it is hereditary), and Nora sometimes complains about her legs "hurting". I believe my mom has fewer symptoms now, and my grandma takes medication since her symptoms were continually getting worse.
Personally, my RLS symptoms are less than ever before — to the point where I can't even remember the last time I woke up (or couldn't fall back asleep) because my legs were so restless. Maybe it's due to the fact that I'm not pregnant anymore or maybe it's because I know what seems to work for me to alleviate so many of the symptoms… which is what I'm sharing more about in today's post!
DISCLAIMER: There is NO CURE for Restless Legs Syndrome. The ideas I'm sharing in today's post simply help ME to alleviate many of the symptoms associated with RLS… they will not cure someone with this disorder.

Also, in my unprofessional, non-medical opinion, I would definitely talk to a doctor about taking medication if your symptoms get worse. I know the meds have helped my grandma quite a bit!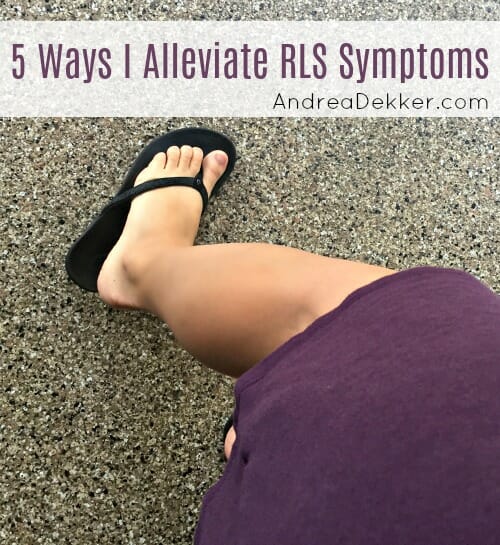 This is a photo I took while almost dropping my phone… I figure it works for this post! 🙂
1. I stretch daily.
I talked about this a few months ago in my post about how I try to move more throughout the day — but I'm confident that regularly stretching my legs does wonders for reducing my RLS symptoms.
I stretch for 10-15 minutes every morning, and then usually again before I go to bed.
I specifically focus on my calf muscles, my hamstrings, and my lower back — I gently massage my calf muscles as I stretch.
.
2. I move regularly.
On days when I'm sitting more, my RLS symptoms tend to be worse. On days when I'm out and about, moving and walking around, I have almost no symptoms. However, if I do lots of more "strenuous" leg exercises (biking with the kids, running at the park, bending to weed the garden) I've noticed that this can sometimes make the symptoms flare up again.
So there's a balance — and I obviously don't plan my day around how my legs might feel at night, but it's just something I've noticed and try to be aware of.
If I'm going to be sitting for a while (like in the car or on an airplane) I try to consciously flex my feet and ankles to activate my calf muscles, and I try to take breaks to get up and walk around as often as possible. On the flip side, if I know I'll be doing lots of extra leg exercises in one day, I'll make sure to rest my legs throughout the day, put my feet up in the afternoon while reading books to the kids, do extra stretching throughout the day, massage my calves in the shower, etc.
NOTE: If you'll be sitting for an extended period (like on a long flight) consider wearing compression stockings to help with the circulation and prevent all the blood from pooling in your feet and ankles (which will definitely make RLS symptoms worse).
.
3. I drink lots of water.
I've talked about how I drink tons of water before, and I know it can't solve all of life's problems, but I am continually amazed at how HUGE of a difference it has on my body! (This post shares more about the water bottle I use)
I've read that a good goal for adults should be to drink half our body weight in ounces of water each day (kids should drink even more).
For example:
100 pounds = 50 oz. of water each day
150 pounds = 75 oz. of water each day
200 pounds = 100 oz. of water each day
If I don't get enough water I feel so much more fatigued, I get headaches, I get muscle cramps, and… my RLS symptoms are much worse.
So, considering water is free and readily available, I drink lots and lots of water every day. Of course, this usually means I'm up once in the middle of the night to go the bathroom — but I fall right back asleep again without any annoying RSL symptoms to keep me awake.
NOTE: I've read that caffeine and alcohol consumption can trigger RLS symptoms, so it's advisable to stay away from those types of beverages in the evenings.
.
4. I keep my feet "hydrated" and smooth.
This might sound really weird, but if my feet feel dry, my RLS symptoms are worse.
I use an electric foot file on a fairly regular basis to make sure my feet don't get crusty or dry. Then I slather my feet and calves with cream every night when I hop into bed (I keep the cream in my nightstand drawer).
I usually massage the cream into my feet and calves for a minute or two, which also helps to calm any restlessness before I drift off to sleep.
If I don't put cream on my feet, I'll almost always wake up at some point in the middle of the night with the feeling that my feet are very dry (so I'll put the cream on at that point).
It's also probably worth noting that I always shower in the evenings — often right before heading to bed, so my feet are clean and my legs have been exposed to nice hot water, which is always very relaxing for me.
.
5. I got my iron levels up.
I have taken iron supplements in the past (they helped with my RLS symptoms, but also caused constipation). However, I haven't taken iron in a while… and at my physical last month, my blood work showed that (for the first time ever) I'm not boarder-line anemic — even though I'm NOT taking iron.
I don't know for sure, but this could be due to the fact that I've been cooking almost all our foods with cast iron pans for the last 6+ months.
If you have RSL, there's a chance that adding more iron to your diet could help alleviate the symptoms. Here are some signs you might have an iron deficiency (as well as a few ways you can naturally get more iron in your diet).
.
There are a whole slew of other tips and recommendations you can find online (or by talking to anyone else with RLS). Many of them might work very well for you; others might not. The 5 listed in today's post are the ones that have worked well for me over the years (and I have tried lots of different suggestions).
My grandma swears by taking hot baths and drinking 1 cup of carrot juice every night.
I have a friend who mixes orange juice with club soda and drinks that every night.
I have another friend who wears these RLS Tamers (a local company) and insists they work wonders.
I know people who eat gluten free or dairy free due to RLS, but I honestly can't see how that correlates at all!
The point is, there are lots of things you can try in attempts to alleviate your RLS symptoms — so if something you currently do isn't working, do a little research and try something else.
If you get to the point where RLS symptoms are having an abnormally negative effect on your life, I'd highly recommend talking with your doctor about starting medication — you might be surprised how big of a difference it will make on your whole life (you know as well as I do how important a good night of sleep can be!)
I'm curious to know… if you have RLS, what seems to work for you?