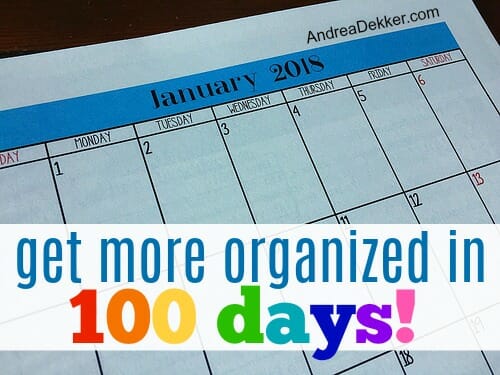 As we near the end of December, I can't help but get excited for a fresh start at the beginning of the New Year!
I love breaking out my new planner (I'll share more on this after January 1) and flipping through the blank pages just waiting to be filled. I love packing up all the Christmas things and purging decorations I didn't use. And I love the fact that the beginning of every New Year is often PRIME TIME for decluttering and organizing my home.
The cold weather often keeps us inside, the busyness of the back-to-school and holiday seasons have passed, and the kids have new toys, books, games, and movies to occupy them (which frees up more time for me to focus on our home).
As many of you know, organizing is one of my most favorite "hobbies", so the first few months of every New Year are quite enjoyable for me as I often allot more time in my daily and weekly schedules for these extra decluttering and organizing projects.
I know how weird this might seem to some of you — especially those of you who don't particularly love cleaning and organizing — but I truly feel like I could spend several hours every single day on various organizing projects and never tire of it!
This is probably why I enjoyed working with my in-home organizing clients so much (back before I had children). Helping my clients to simplify and organize their homes (and their lives) was extremely rewarding for me, and obviously very beneficial for them!
Unfortunately, that type of on-the-go schedule isn't very practical for a mom of 4 young children; so I no longer offer my in-home organizing services. I'd love to get back into it again once my kids are all in school… but that won't be for several more years.
In the meantime, I told Dave that I should create some sort of program or system to walk my clients through the process of organizing their homes — simple steps to make it seem less overwhelming, more doable, and to make sure they eventually work their way through the entire house. I could then sell that "course" or "workbook" instead of selling my services — wouldn't that be fabulous!
Well, while I was busy birthing 4 children and completing a slew of home renovations, my blogging friend, Lisa, from Organize 365 created exactly that!
It's called The 100 Day Home Organization Program… and registration starts TODAY for the January program!

Lisa's 100 Day Home Organization Program literally walks you through the entire process of purging and organizing your home with easy-to-follow to-dos, tips, lists, and suggestions to quickly and (fairly) painlessly simplify your entire home by spring!
This program will also help you to plan ahead, set realistic goals, develop helpful routines, create manageable to-do lists, and take charge of your life!
And if any of you know Lisa, you know she has enough energy to encourage and motivate almost anyone to get more organized — so I'm positive she can help you too!!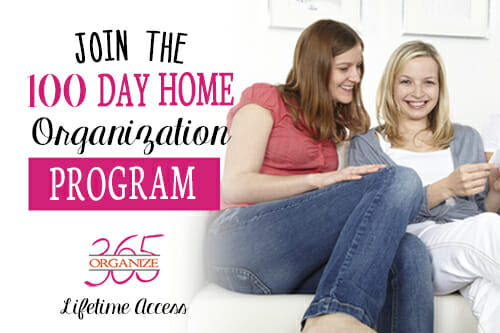 In my opinion, this 100 day program is one of the simplest, most straightforward programs for anyone and everyone who needs a little extra help and motivation to declutter and better organize their home and life.
EVERYTHING is in one brightly-colored workbook with easy-to-follow instructions, to-do lists, tips, tricks, encouragement, and more.
PLUS, Lisa offers unlimited lifetime access to a boatload of online resources and printables, along with a membership to her Facebook group, email support, an array of motivational podcasts, and even opportunities for live Q & A with her once a week!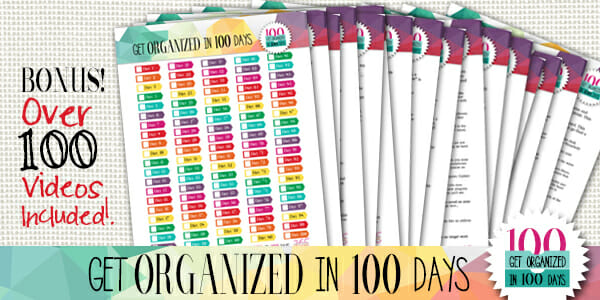 Pretty fantastic, huh!
If you feel totally overwhelmed with the state of your house and need step-by-step guidance to know where to start and what to do next… this program is for you.
If you need motivation and encouragement to keep going… this program is for you.
If you're looking for a simple system to help you work your way through your entire home in record time without duplicating things or wasting time… this program is for you.
If you love physically checking off your to-do lists every day… this program is for you.
If you really hate purging and organizing but know it has to be done eventually… this program is for you.
If you have a very full schedule with little time leftover for your home… this program is for you.
It's the tools, wisdom, encouragement, and motivation you need to better organize your entire home (and life) in roughly 100 days!

Are you ready to get more organized?
For the next 10 days, you can get a LIFETIME access to Lisa's program, her printables, her podcasts, her Facebook group, and more for $495 (or 4 payments of $150).
Yes, that IS a financial investment… but in my opinion, Lisa's program is also an investment into your home, your life, your family, and your sanity… what a great gift for yourself or someone you know who is struggling to manage their home.
When I consider how much my organizing clients paid to have me come week after week after week to help them work through each area of their home, I'm 100% positive this program is a fabulous deal — after all, my time spent organizing with my clients didn't include printables, podcasts, a Facebook group, or the amazing paper planner Lisa sends out to walk you through every step of the process.
If you are tired of living in clutter and feeling overwhelmed with your life, I would high recommend Lisa's program.
Just think how much more organized your home could be and how much simpler your life might be in just 100 days!!