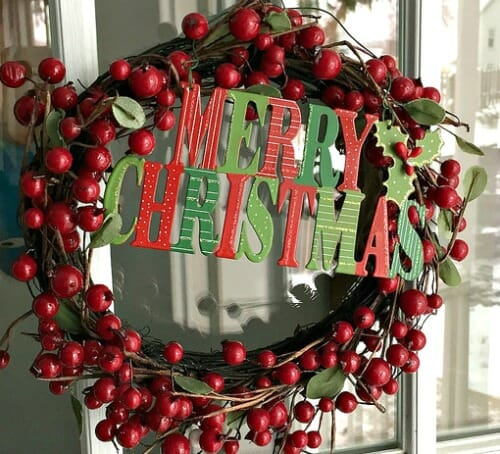 For the past several years, I've displayed fewer and fewer Christmas decorations — mainly because I don't want to mess with putting them up, taking them down, and monitoring what my kids do with them while they are up (putting small things in their mouth, pulling on the tree, eating pinecones, etc.)
However, this year the older 3 are all plenty old enough to enjoy Christmas decorations and Clara is far too young to cause too much trouble… so the week after Thanksgiving the kids "helped" me set up a few Christmas decorations!
They were SO excited because I literally opened the box of Christmas tree decor and let them do WHATEVER they wanted.
Our tree looks somewhat silly, it's very lopsided, and a handful of ornaments broke in the process… but I really don't care.
They decorated the tree while I put a few of my favorite Christmas decorations throughout the rest of the house — all while listening to Christmas music and burning a Christmas Cookie scented candle. Plus, it was sunny, almost 50ºF outside, and Clara was napping the entire time… so I really couldn't complain!
The kids love showing all our guests how THEY decorated the tree — now let's just see if THEY help me put things away again in a few weeks!
Our main tree (pictured above) is in front of the french doors in our office. We don't use these doors when it's snowy, so it's a great spot for our tree — especially since this room is completely open to the living room and directly across from the big picture windows in our living room.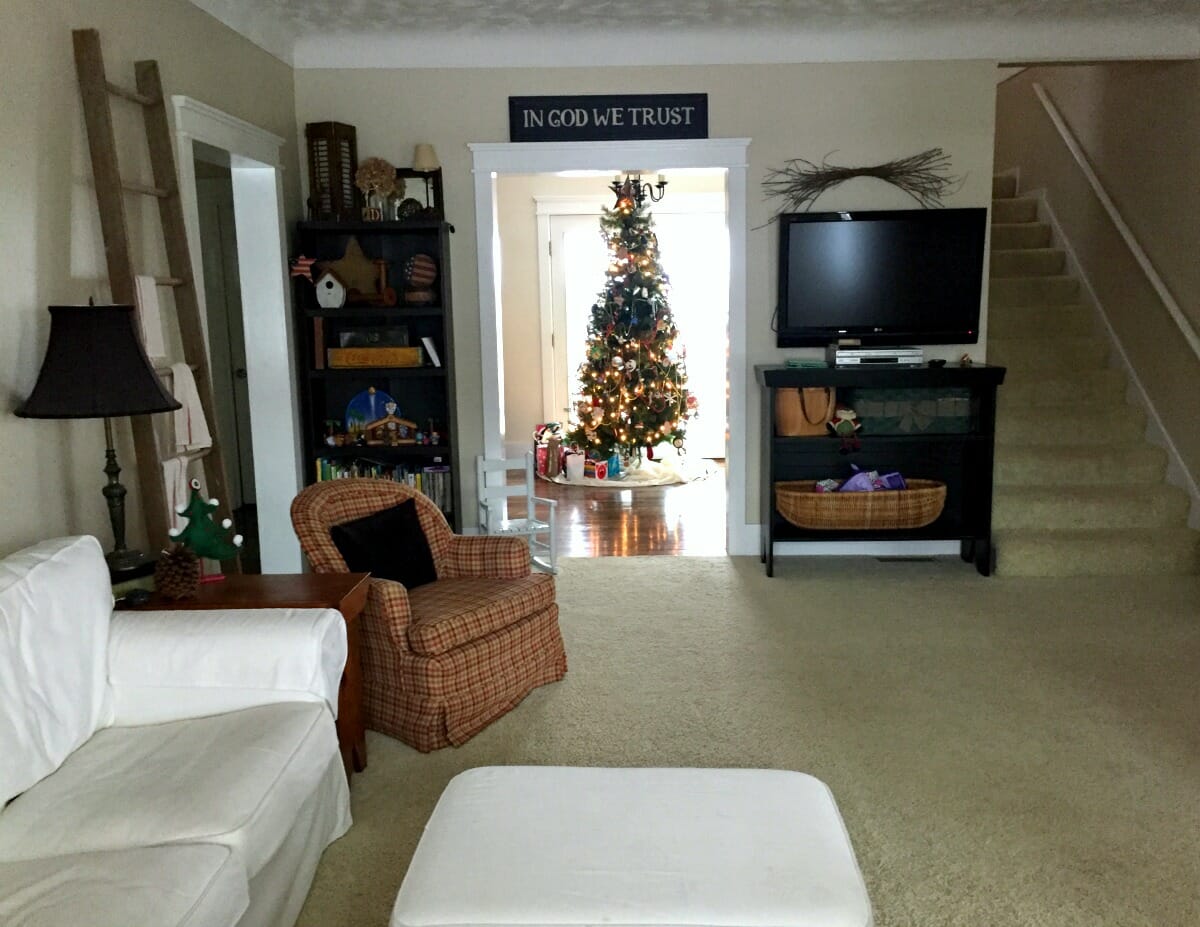 We also have an Alpine tree in the landing area upstairs. And the kids each have a tiny 2-ft. tree in their bedrooms.
I LOVE these J.O.Y. blocks… so much so that I'm always tempted to keep them out all year long. However, I really love finding a "new" spot for them every Christmas, so I continue to tuck them away in my tub of Christmas decorations until the next holiday season.
My favorite wooden Nativity that Dave's grandma made for us one Christmas.
And our beloved Little People Nativity — I found it at a secondhand sale and our kids LOVE getting it out during Advent! If you press the Angel, it plays Away In A Manger… I keep waiting for the batteries to run out, but they never do!
I think it's so neat that if the sun shines in the morning, there's a 10-minute span when the sun is at just the right angle to hit our Nativity right on the angel and star 🙂
Also, Simon calls this angel a "fairy" — and while I'll definitely correct him eventually, I think it's so cute!
My Christmas "wreaths" on the front and back door.
I have a few decorations in the kitchen.
And in the bathroom that most of our guests use 🙂
And a cute little felt tree that (for some odd reason) I just love!
None of our decorations are breakable (probably a good thing) and none of them have any sentimental value to me. They are just some of the cute, kid-friendly items I had in my tub of Christmas decorations that seemed like a good fit for this year.
I told Dave that I'm ready to purge even more decorations this winter — especially since our home is naturally "festive" with all the red and white I decorate with year-round.
I can always get more at thrift stores if I want; but for now, the "less is more" theory for holiday decor works well for this stage of my life!
Merry Christmas! From my patriotic Christmas viking and the rest of our motley crew!