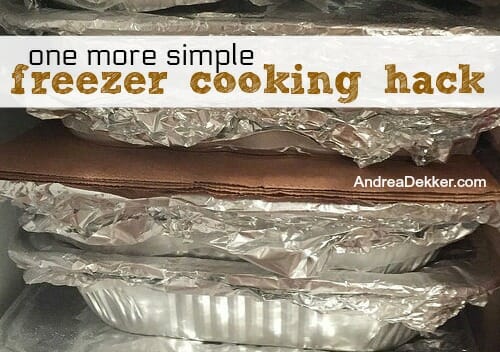 Over the past 7+ years, I've shared countless freezer cooking recipes, tips, tricks, and suggestions… including the fact that I often use disposable foil pans and gallon size ziptop bags to save LOTS of freezer space.
The main downsize to using these disposable containers and bags, however, is the fact that they aren't nearly as sturdy as other baking pans or food storage containers — so it's really hard to stack items on top of each other (especially before the food is frozen solid).
You can sometimes get around this by freezing everything in a single layer and then stacking the pans and bags once the food is more solid. However, I often don't have the space in my freezers to lay everything flat for the initial freeze.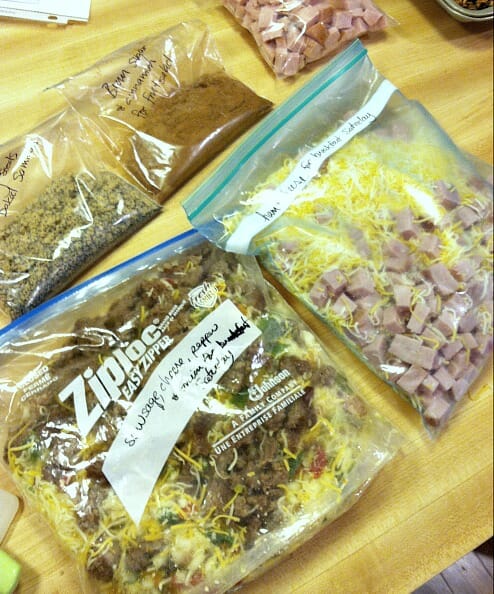 One strategy that has been super helpful to me over my many years of freezer cooking (and a tip I apparently haven't shared on the blog yet) is simply placing a sturdy piece of cardboard in between each foil pan and each bag of food.
The cardboard creates a sturdy, flat surface to place the next freezer item on, and as long as the piece of cardboard is as long as (or slightly longer than) the pan, it will prevent any food in the bottom pans from getting smashed (I always try to leave 1/4″ to 1/2″ headspace at the top of the pans).
The cardboard pieces will also prevent containers and bags from freezing together (often causing a rip or tear when you try pull the frozen containers or bags apart again).
Once the items are completely frozen solid, you can remove the cardboard — but I sometimes leave a piece or two in place if I have larger stacks of frozen foods.
These pieces of cardboard are also handy when filling coolers or taking food along to holiday parties, summer picnics, etc.
They allow me to stack my foods better, they work with hot and cold foods, and they can be thrown away if they get ripped, wet, or ruined.
I'm sure there are other things you could use (like a cutting board or the flat lid of another container) but cardboard is very easy to come by in our house, so that's what I've always used.
I often cut off large flat sides of boxes from various shipments, and our Blue Apron deliveries also come with 1 thick piece of cardboard to separate various ingredients within each box.
I have a spot on top of our microwave where I store these pieces of cardboard — ready and waiting for more freezer cooking!
What are your best space-saving freezer tips?
Looking for more freezer tips and recipes? You'll find all of mine right here!