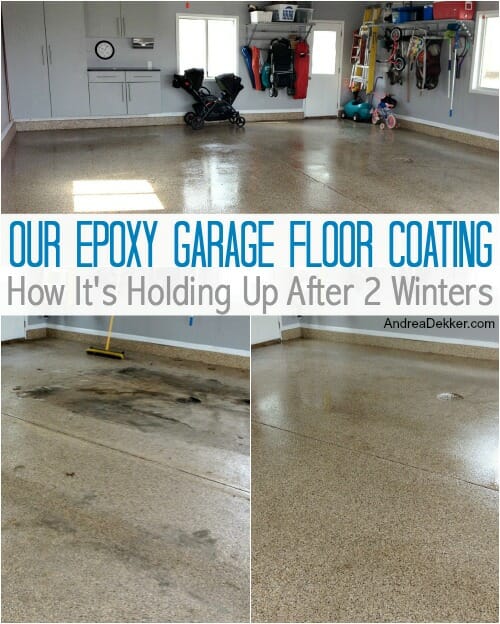 Two summers ago, we did a pretty major garage renovation. We removed EVERYTHING in our garage, including the old shelves and makeshift storage.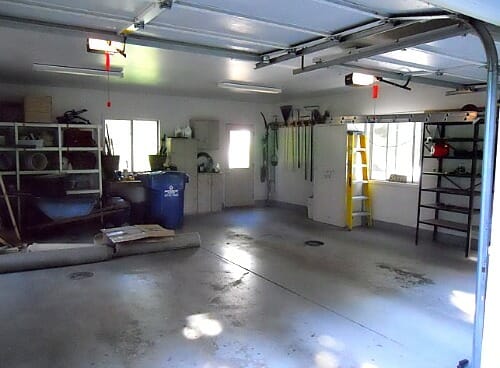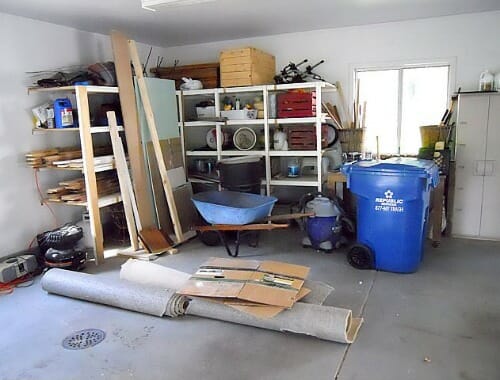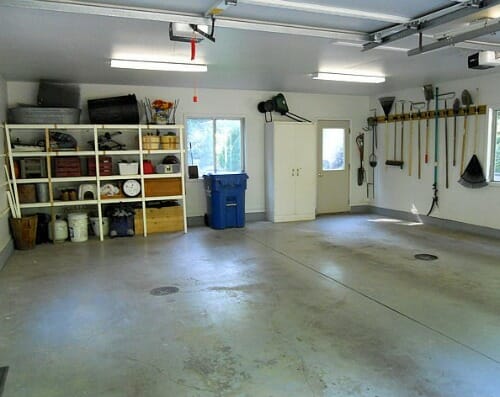 We patched all the holes, sanded them, and repainted all the walls and ceiling.
Then (the fun part!) we worked with Monkey Bars Storage company to design some awesome garage storage systems to perfectly fit our space and our needs — and boy, do we love them!
However, the real "wow factor" was the fact that Monkey Bars also completely overhauled our garage floor with their amazing epoxy floor coating.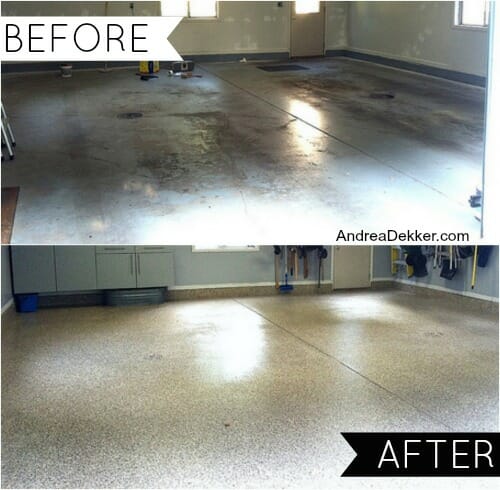 Since sharing our garage makeover post + pictures, I've gotten SOOOOOO many questions about Monkey Bars, the process we went through to organize our garage, and (especially) about the epoxy floor coating.
I actually got so many questions about the floor that I did a full-length post answering many of them (you can read that here) .
However, many of you have asked about how the floor coating has held up over the past 2 years of use and abuse, snow, salt, rain, dirt, dust, grime, cars, bikes, sweeping, scrubbing, power washing, etc. etc.
So, I figured it was time for a follow-up post — especially considering it's THAT time of year when people are heading outside and itching to get their garage neat and organized again after a long winter (which is what Dave and I did last weekend!)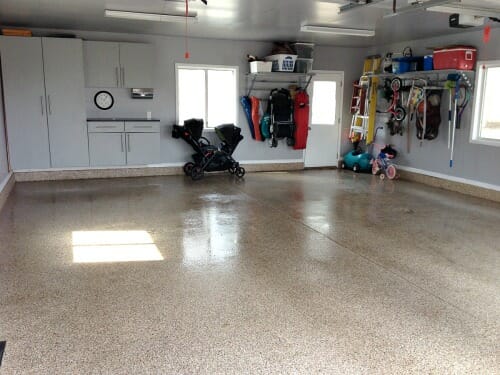 First of all, I should mention that this post is NOT sponsored in any way. Monkey Bars doesn't even know I'm writing it.
Also, even though all the pictures I post of our garage show an "empty garage" with no cars, we DO most definitely park both our cars in our garage ALL the time (seriously, you wouldn't believe how many people ask why we don't park in our garage!) It's just that with the cars in the garage, I really can't get good pictures of anything.
And because we park both cars in the garage all the time, the floor gets REALLY REALLY muddy and dirty during the winter months.
Believe it or not, these pictures really don't even show just how dirty the floor is.
One of the amazing things about the floor coating is that the "speckled" pattern basically camouflages massive amounts of dust, dirt, sand, and debris… so it's really just the super muddy areas and larger clumps of debris that you can see. The rest of the floor is actually FILTHY, you just can't tell unless you get right down and look really close.
Anyway, Dave and I have both been eagerly awaiting above-freezing temps so we could get out there are wash our garage floor… those above-freezing temps arrived last weekend, so we decided to officially cross this project off our list for Spring!
Of course, Nora was our trusty helper 🙂
The whole process takes between 30-60 minutes at the most and simply requires a garden hose and some sort of item to scrub (we use our push broom).
Step 1: Remove anything on the floor.
The nice thing about the Monkey Bar storage systems is that they are all wall hung — which means they all sit up off the floor! Because of this, we hardly keep anything on the floor of our garage. All we had to remove was a rug by each door, the stroller, Nora's bike, and a metal bin that we use for hoses.
Step 2: Sweep loose dirt and debris.
I suppose this step is optional, but since our floors were SO dirty, we felt like it would be a muddy mess if we didn't sweep some of the junk out first.
Step 3: Spray and scrub.
I used our garden hose with a spray nozzle to thoroughly soak the floor, and then Dave pushed the dirt and water out of the garage. When there was a stubborn spot, I sprayed the water at full blast very close to the floor and then Dave came behind and scrubbed with our broom.
Everything came off pretty effortlessly without any soap or chemicals at all (we've never had to use more than a garden hose and broom).
After less than an hour from start to finish (with Nora "helping") our garage floor was sparkling clean and everything was put away back inside (including our cars!)
NOTE: the variations in color on the floor is just some of the water draining into the drains. Also, it was REALLY sunny the day I took these pictures so that's what the glare is from.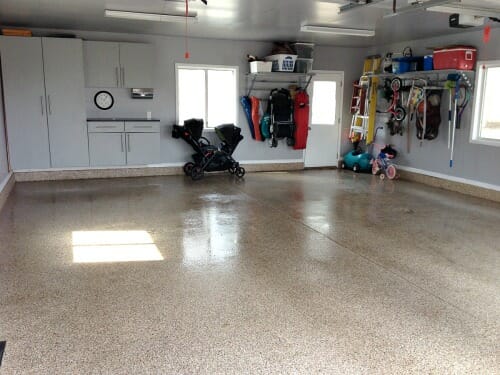 It feels so great to drive into a clean garage again, and it makes us even more excited about ramping up our home and yard projects this spring — especially since we are trying to get many of them finished before the baby comes in early July!
A Few More Details:
Several of you have asked if this epoxy floor coating is slippery when wet — the answer is no (at least not that we have noticed). Our old garage floor was painted and it was insanely slippery so we had to be really careful. This flooring has a slight texture which seems to make it much less slippery.
Also, after 2 years of constant use, we have not noticed even the slightest bit of peeling, scratching, discoloration, or deterioration of any sort anywhere on our flooring. We've slid metal bins around, rolled our garbage can in and out hundreds of times, let salt and snow sit on the floor for months, played with bikes and scooters in the garage on rainy days, and even hosted multiple dinner parties (with unprotected chair legs) in our garage and it's still in perfect condition.
We are SO happy with how the floor (and the wall cabinets and hooks) have held up over the past 2 years, and we are confident they will continue to look great and perform well for use for many years to come!
One more before + after… just for fun!