The following post is sponsored by Monkey Bars Garage Storage. All opinions are my own.
Last week, I shared some pretty drastic before and after pictures of our recent garage renovation.
Thanks to the folks at Monkey Bars Garage Storage, we were able to fully transform our garage from drab to fab in about a week (that includes the time we spent removing the old storage system, sanding, painting, etc. etc.) and I don't think I need to convince anyone how much we love our new space.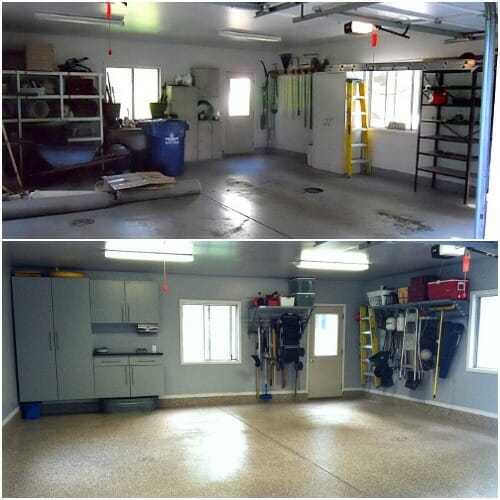 Not only does it look a heck of a lot better than before, it also allows us to store MUCH more stuff in a smaller amount of space — win, win!
Believe it or not, we actually fit everything we wanted to keep in our garage PLUS some stuff that was in our basement or other parts of our house… and (as you'll see below) we still have plenty of empty space.
I always talk about how efficient storage really does maximize a space, but seriously, even I was impressed with how much we were able to hang and store with the new Monkey Bars system!
Let's start with the cabinets.
The Monkey Bars cabinets are an amazing closed-storage option for things you might not necessarily want hanging out in the open. The cabinets are up to 24″ deep and can hold thousands of pounds. Plus, they are all wall-mounted which means super easy clean up of the floors below.
We went with the grey cabinets in attempts to have everything blend in with the walls, but there are a bunch of color options to choose from too. I think the grey helps the black counter tops to really pop, don't you?
We're thinking of hanging some peg board as sort of a "back splash" on the wall below the upper cabinets, but honestly, we're just not sure if we need that space and we're so sick of patching holes (read last week's posts if you're confused) that we don't want to make any more unnecessary holes!
.
Dave and I were amazed how much stuff we are able to store in our cabinets — we even have a couple empty shelves.
Here's how we're currently using our cabinet space:
The big tall cabinets hold a lot… of everything. We have it organized by shelf:
Bike stuff

Extension cords and electrical stuff
Small garden tools
Buckets, tarps, and other tall things
Camping stuff
Bug stuff
Car stuff
Yard games
There's also one wooden yard game on the top of the cabinet along with Nora's pool floaty. And then there's a big bucket that we use ALL the time below the cabinet for easy access.
The smaller upper and lower cabinets have lots more storage — including 2 really big drawers (and you know how much I love drawers!)
Right now, the drawers are way too high for Nora to reach so we keep a bunch of hand tools in them. These are the things we're eventually thinking of moving to peg board, but for right now, they are fine in the drawers.
The lower cabinets house Nora's toys on the left side and then some power tools and large planters on the right side (the tools are all locked up in containers so Nora can't open them.)
We also have a large (really cool) old metal wash bin under the cabinets. It holds all our hoses and sprinklers. During the winter months, we'll hang the hoses up and put the sprinklers on a shelf, but for right now, we're using them all the time and they're always wet so this is a good spot to keep them.
The small upper cabinets don't have much in them — just a few items we don't want Nora to have easy access too (a.k.a. bubbles!) We also have an older-than-the-hills radio up there that Dave uses when he's working on stuff outside.
So, considering that at one point, we had approximately 120 square feet of shelf space and now we're down to just a few cabinets — I'd say that's pretty good!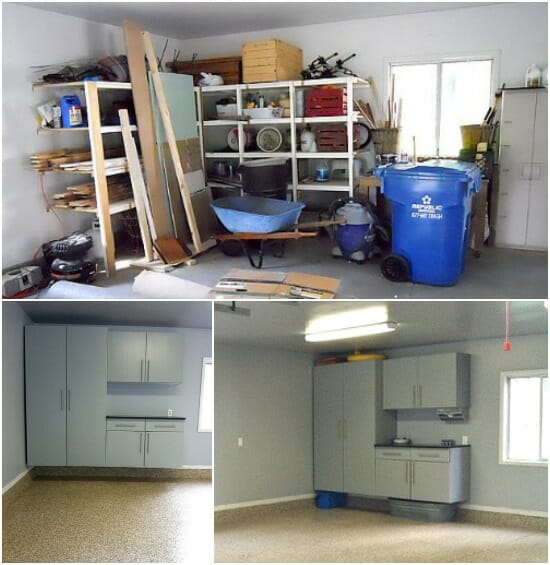 Moving on to the Monkey Bars.
The 2nd main part to the Monkey Bars Garage Storage system is their one-of-a-kind… Monkey Bars (clever, I know!)
The Monkey Bars are basically sections of shelving with specialized 24″ or 18″ brackets. These brackets can hold multiple steel bars — and then each bar can accommodate several different types of storage hooks or storage accessories.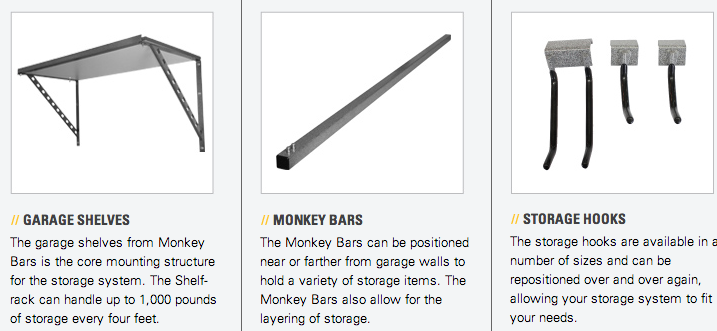 The result is a fully customizable storage solution that can fit almost anywhere and store almost anything (seriously, check out all the accessories they offer.)
Pretty cool huh!
And talk about space maximizing — our previous storage system had over 30 feet of hooks throughout, so you can imagine that I was a bit skeptical when the installer said we could probably get by with about 12 feet of Monkey Bars.
We ended up with 13 feet of Monkey Bars — and EVERY SINGLE thing we had hanging in our old system fit easily on the various hooks. PLUS, we ended up hanging additional items that were not hung perviously, and moving some items from our basement to the hooks.
We have over 50 different items (including ladders, strollers, lawn chairs, etc.) hanging from our 13 feet of Monkey Bars, and we still have plenty of space for more!
Don't believe it?
Here's how we're currently using our Monkey Bars:
This 4 ft. section on the back wall of our garage houses the items we use most often — the stroller, the broom and dustpan, various yard tools, etc. We have our gas cans and containers of oil and other liquid chemicals on top of the shelf — far from little hands.
As you can see by the image above, this section of Monkey Bars has 3 different tiered levels to hang items on. It might look a little jumbled and crazy, but I can assure you that it's super easy to just reach in a grab whatever item you need.
The second section of Monkey Bars is about 9 ft. long and offers TONS of space for the items we might not use every single day, but still quite often.
There's about 2 feet on the very left side that don't have a shelf over top — this is so we can hang some of our bulkier items like the big step ladder, rakes, and our Echo power shaft (I talk more about that in this post).
The top shelf is another great out-of-the way storage spot for items we don't need all that often. In fact, the baskets and crates are all completely empty and I'll probably be using some of them to decorate the front porch (if I ever get around to doing that this fall!)
Oh, and if you're wondering, each 4-foot section of Monkey Bars can hold up to 1000 pounds, so it would be pretty unlikely that you would hang too much weight on it.
It's honestly amazing how much stuff we can fit in such a small footprint — and best of all, NOTHING is touching the floor!
Earlier I mentioned how Monkey Bars literally has a hook for anything you want to hang… well, check out this cool sports bag hook — perfect for our large basketballs, footballs, and volleyballs.
And they even used some of their Kayak hooks to hang our huge extension ladder (that we only use about twice a year) up super high and out of the way.
I'd say that's a pretty big improvement over what we started with 🙂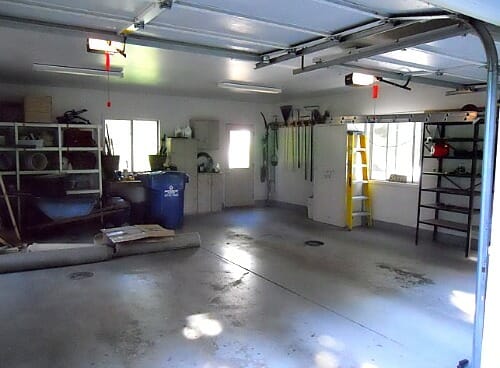 .
I should mention that our lawn mower does usually sit under the back window, but Dave was mowing the lawn when I took these pictures. Also, our bikes are in our outbuilding because we don't use them that often right now and we don't want Nora pulling them onto herself (not like that's ever happened before!)
UPDATE: I'm getting LOTS of questions asking where the building materials, shop vac, trash can, wheel barrow, and storage units are now.
Well first of all, remember that the "before" pictures were taking 2 summers ago… that said, here's my answers:
Building Materials = used up, donated, or trashed

Shop Vac = it died so we trashed it a while back
Trash Can = we always keep that outside our garage in the summer months because it's stinky
Wheel Barrow = since it's out of the way to come to the garage every time we need the wheel barrow, we decided to store it under an overhang of another building on the edge of our property. It's more easily accessible this way and doesn't take up space in our garage
Storage Units = we sold them on Craigslist
That's it, the rest of our garage is blissfully empty — which I LOVE!
It's so much easier to open our side doors and hoist Nora into her carseat without worrying that the reactive motion of the diaper bag in my other arm will cause a ladder or a shovel to come crashing down on us and the car.
We have so much breathing room and (if we pull the cars out) the garage could double as a nice, neat outdoor hangout space — perfect for scooters, little bikes, shopping carts, or even tables and chairs.
Sidewalk chalk not allowed!
Just for fun, here's one more before, progress, and after photo.