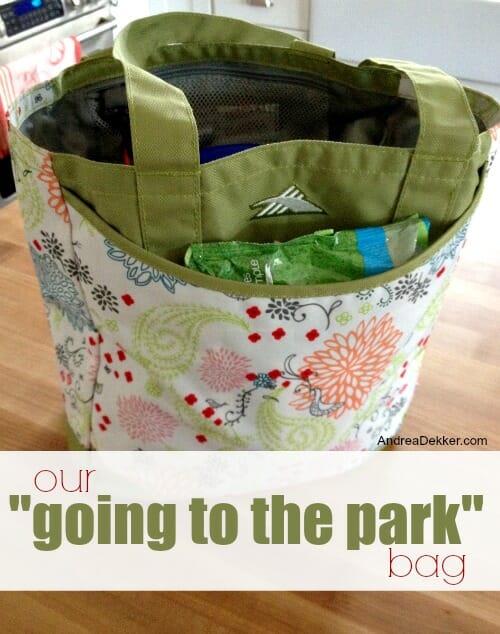 As I've mentioned MANY times already, we're big on walking pretty much anywhere we can walk.
Thankfully, even though we live in a 125 year-old farmhouse on a little one-acre plot, we are right in the center of a small town — so we are literally walking distance to almost anything we need or want to do.
We use our double stroller or our new double bike trailer/stroller to tool around town almost every day (unless it's raining). The kids LOVE it, and I figure the extra steps and fresh air won't hurt me any 🙂
Now that the kids are getting a bit older, and Simon is finally walking well, we've been experimenting with walking to a few local parks, playing for a while, and then walking back.
Our current favorite park is about a 30-minute walk one way, so that means we're gone for about 2 hours or more when we decide to go to that park. That also means I need to make sure to pack snacks, drinks, hand wipes, some toys, an extra sweatshirt in case it's cold, hats, sunglasses, diapers and wipes (just in case), and anything else we might want or need while we're gone.
I realized I was starting to dread going to the park because it would take me so long to gather everything up, and the kids would always want or need something I didn't bring, and it just started feeling like too much work…
…until I created our "going to the park" bag!
This bag is nothing fancy, expensive, or complicated, and is basically exactly like what it sounds — a bag filled with all the "essentials" we might need on our walk or once we arrive at our destination.
Here are some of the things I keep inside:
Snacks and gum
Extra water bottle (mostly just if we need to wash something as we always take our water bottles along)
Sunscreen and bug spray
Hats for each kid
BandAids, Neosporen, and Anti-Itch Cream
Diapers and wipes
Hand sanitizer and Chapstick
A couple burp cloths
A beach towel (for drying off slides, swings, picnic tables, or for sitting on to eat a snack)
Bubbles and a few sand toys
Plastic grocery bags for trash or for bringing "treasures" home
Everything fits neatly inside one of our smaller (but very durable) shoulder bags so I can either hang it from the stroller, put it in the basket under the stroller, or carry it over my arm when necessary.
And since I refill it whenever we get home again, it's ALWAYS ready to go whenever we're up for an impromptu walk or trip to the park.
I keep the bag on one of the shelves in our mudroom closet so all we need to do is put on our shoes, grab the bag (and maybe our sunglasses and/or jackets) and we're on the road!
It might sound super simple (and it is!) but this little bag has saved me loads of time and assures that we always have what we need when we're out and about in our stroller!
Do you have any type of "grab-and-go" bag for walks or parks or beaches?