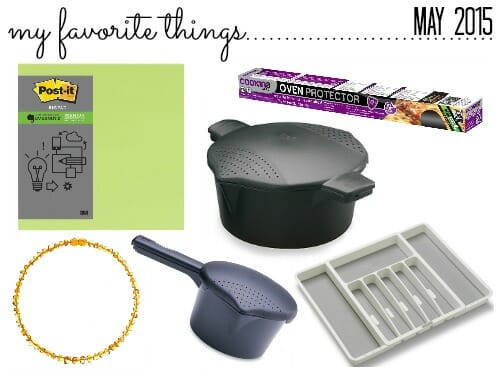 It's May! That means less than 2 months until our baby arrives and (hopefully) less than two months until our bazillion house and yard projects are completed (more on that next week!)
I'm sharing a few more of my favorite things today… and as always, be sure to check out some of my favorite things from past months.
DISCLOSURE: None of these products are sponsored in any way; however, some of the links below are affiliate links — which means that at no cost to you, I may get a VERY small commission. However, I hope you know that I'm only promoting the products below because I use them daily in my own home and life. Read my full disclosure policy for more information.
COOKINA Oven Liner

After one REALLY bad spill in our oven, I decided I never wanted to have to scrub our oven again. Yes, we have a self-cleaning oven — but when your food bubbles over as bad as ours did, you still need to "climb" into the oven to scrape up all the chunks and loose debris.
Not fun (especially since I was large and pregnant with Simon at the time!)
I thought about putting aluminum foil on the bottom of our oven, but that was such a pain to get it to fit right and I needed to overlap sheets to get it to fully cover.
Then I found the COOKINA Oven Liner. It can be cut to fit any size oven (or microwave), it works with both gas and electric ovens, and it can be washed with simple soap and water so it's SUPER easy to keep clean. Also, it's black, so it blends in with my oven (you literally can't even tell it's in there).
I'll never be scrubbing out the bottom of my oven again 🙂
Here's the Amazon link for anyone interested — I believe they are also available at Home Depot and Ace Hardware.
.
Pampered Chef Microwave Cookers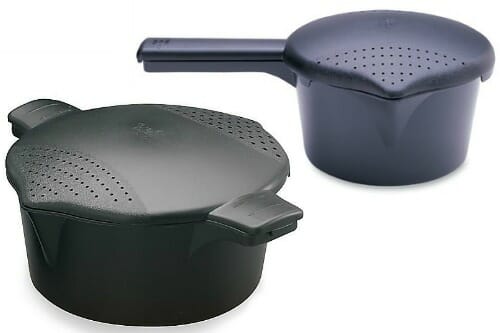 My mom had one of these pans for as long as I can remember. So after Dave and I got married, I quickly decided I wanted one too.
Within a month or so, I found the Small Micro-Cooker and the Large Micro-Cooker at various garage sales… and I've been using them weekly ever since.
They are perfect for steaming veggies, cooking soup, or reheating leftovers in the microwave.
You never need to worry about anything splattering or making a mess, and the pan itself is so light-weight that it doesn't extend the cooking time by absorbing all the heat.
.
Madesmart Silverware Organizer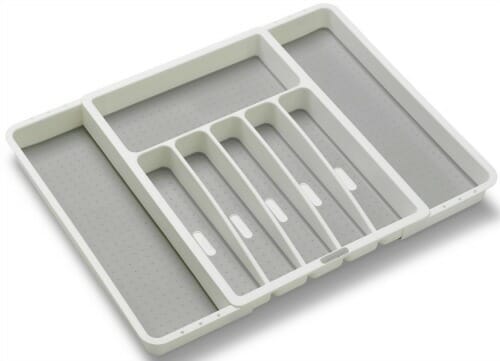 I guess I'm on a little kitchen-kick today 🙂
I know I've talked about our Madesmart Silverware Organizer many times already, and I've shared pictures — but I've never included it in this list (which I just can't believe!)
This has literally been the perfect silverware organizer for our silverware needs and for the size of our silverware drawer.
I also love how the customizable side can be completely removed and used at the top or the bottom (like I've done in in our drawer).
Almost like it was made for our drawer 🙂
Oh, and if you're wondering about the knife block, you can read more about this in this post.
.
Amber Teething Bracelet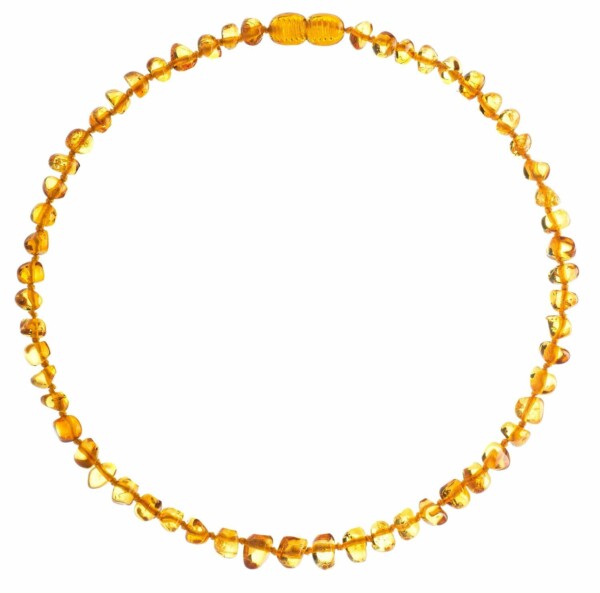 I hesitate to mention this one — because I know it hasn't worked for many people, but the Amber Teething Bracelet Simon wears on his ankle has literally been life-saving for us during this teething journey.
When we first got it, I wasn't convinced it was doing anything — but that's because he wasn't teething. We went months without wearing it… and then all of a sudden, he started teething.
He had the worst diaper rash I've ever seen (bleeding blisters) and despite infant pain medicine, baking soda baths, cornstarch, Caldasine powder, prescription butt cream, and letting him sit for hours at a time with no diaper, it was not getting any better.
After a good 3 days of almost constant sobbing (totally unlike Simon), and very little to no sleep at night because he was in so much pain, I saw the Amber Teething Bracelet in our diaper drawer and (on a whim) put it on his ankle.
Within an hour, he was totally calm, went to bed, and slept a full 14 hours straight without a peep.
His horrible diaper rash and bleeding blisters were 100% GONE by the time he woke up the next morning.
Since that day, he has worn the bracelet ever since 🙂
Normally, I'm not one to buy into "natural medicine" or the latest trend in baby must-haves, but I got this bracelet for free through an online promotion soon after Simon was born. I definitely did not expect it to work, but I also figured that since I had heard many good reviews, I might as well pick mine up for free.
Boy am I glad I did!
I've often thought about what Nora would have been like if we had a bracelet for her since she was such a colicky baby.
Oh, and if you're going to buy one of these bracelets, it's important to make sure it's "Certified Baltic Amber".
.
Post it Big Pad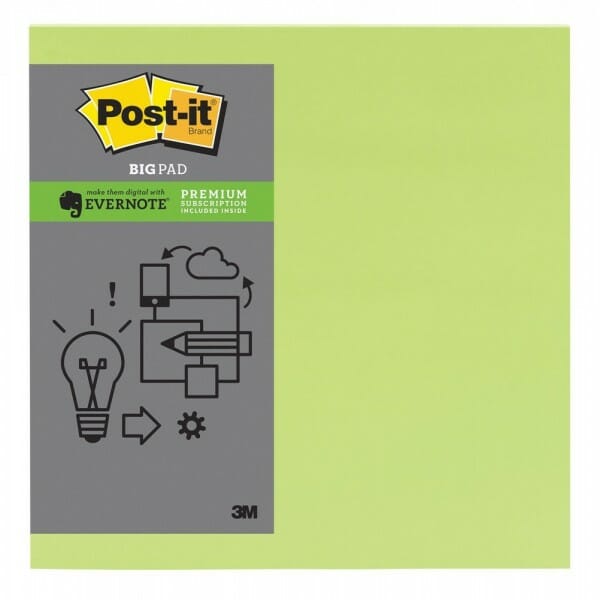 The Post it Big Pad is just like what it sounds — a HUGE Post it note! I think they are 12″ x 12″ and they are SUPER sticky.
Of course, there are many uses for huge sticky pads like these, but since we don't have a magnetic refrigerator, we use these Post it Big Pad papers to post Nora's creations and drawing on our fridge, which she's thrilled about (see VERY old picture below).
Oh, and I should clarify that the entire back of the note is sticky — not just a thin band across the top — so they REALLY do stick well. They also come off very easily and I have not had any issues with them leaving a sticky residue behind.
.
That's all for me this month.
Make sure you check out my previous months' favorite things — and feel free to share some of YOUR favorite things in the comments below!