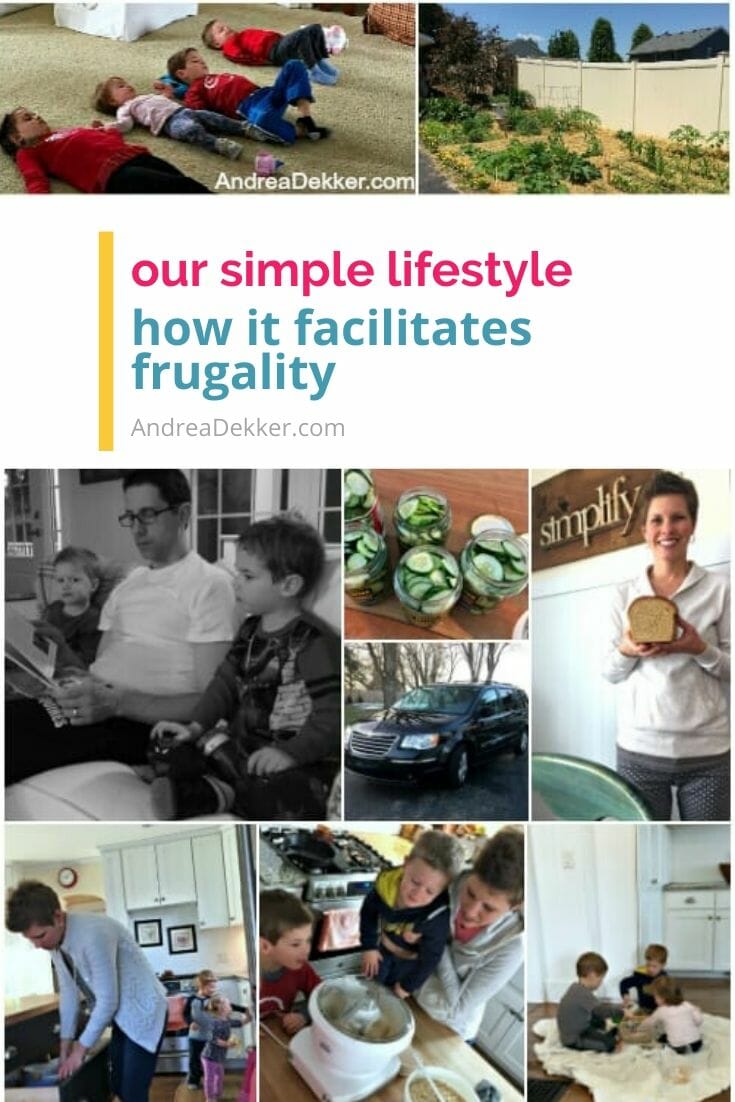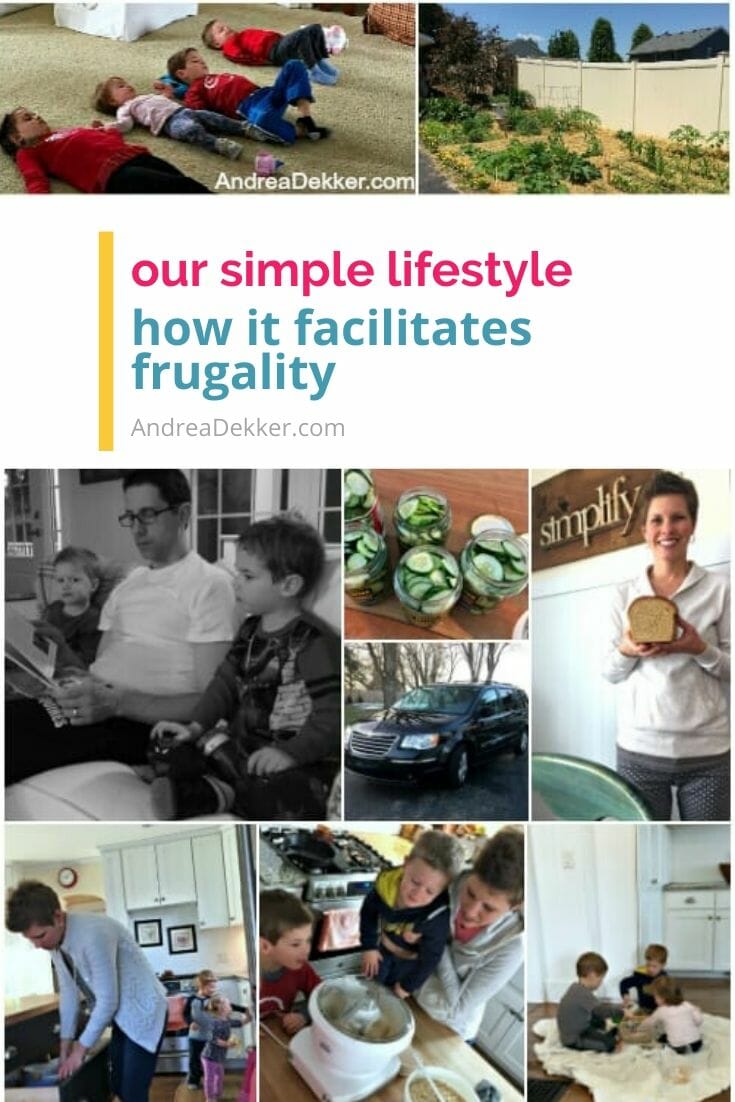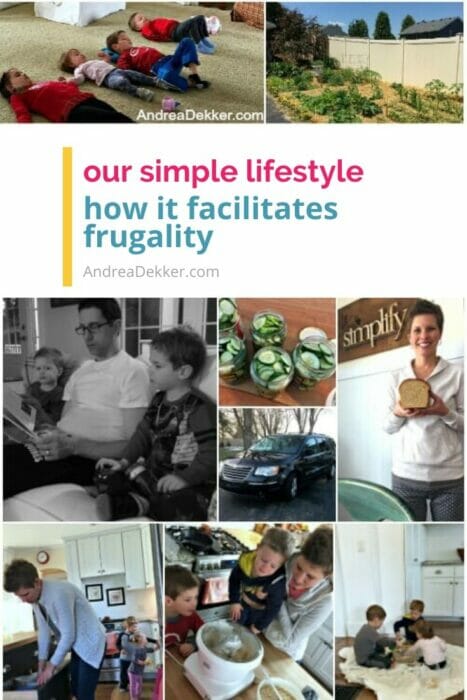 I've always been very intentional about how I spend our money… yes, many would consider me quite frugal!
Over the years I have faithfully clipped coupons, made meal plans based on sale items, purchased clearance groceries, shopped thrift stores and Craigslist for everything else, cooked from scratch, and sent in rebates for various items — all in an effort to save more on the things we need and want to buy.
It isn't always the fastest or most convenient option, but I don't mind doing it, and the amount of money we save makes my time and effort worth it.
However, SAVING money on the items we buy is really only half the battle in living an intentionally frugal and debt-free life…
The fact that neither Dave nor I SPEND all that much on anything extra is another extremely important factor to consider.
I know when I say "we don't spend much" some of you don't believe me, or simply can't comprehend what exactly I mean when I say "we don't spend much".
I get questions about this all the time — especially related to budgeting for various categories — so I thought it was finally time to do a full blog post about it, and show you as clearly as I can, what exactly I mean when I say "we don't spend much".
When I say "we don't spend much", I really mean it!

We charge everything except the kids' school tuition and our quarterly water bill to our credit card each month, and if you saw our bill at the end of the month, you would see the following:

a few grocery trips
2 or 3 gas fill-ups
our 3 utility bills (gas, electric, internet)
our Netflix subscription
various donations
1 or 2 fast-food purchases
1 or 2 random "extras" (home/auto insurance is billed every 6 to 12 months, life insurance is yearly, etc.)
maybe a few home or yard supply purchases depending on if it's during one of our home renovations

That's it… and no, it's not an exaggeration!!
I wish I could show you our credit card statements (obviously I won't!) because you could go down the list every single month and see for yourself how very few 'extras' we buy.
We don't travel to visit family because our family members all live close to us.
We don't go on vacation because it's not something we're interested in right now.
We don't go out to eat as a family.
We don't go out to eat with friends as we'd rather invite them over to our house.
We rarely get fast food (usually Culver, Arby's or Little Caesar's once a month).
We don't go OUT on dates.
We don't hire babysitters (our parents watch our kids on occasion; otherwise we take them with us or one of us stays home with them.)
We don't use daycare.
We don't gamble or play the lotto.
We don't do much gift-giving (our kids few Christmas gifts were from thrift stores).
We aren't members of a gym, country club, or any other club that costs money.
We don't go to movies, concerts, sporting events, or any other ticketed events.
We don't need fancy clothing for fancy jobs or evening activities.
We don't go through the car wash or pay to have our cars detailed.
We don't buy new (or even close to new) vehicles — which means less expensive insurance too.
We don't buy books, CDs, or movies as we get them from the library.
We don't have "toys" (boats, RV's, campers, 4-wheelers, golf carts, etc.)
We don't have hobbies that cost money.
Dave doesn't go on golf outings or ski weekends.
Dave never goes out for lunch (he doesn't have time).
Dave doesn't buy coffee as he makes it at home every morning.
I don't go out to coffee or lunch with friends.
I don't get my nails done.
I don't get facials or massages.
I don't do anything special for my hair outside of regular hair cuts from my neighbor.
We don't pay for any other hair cuts as I cut Dave and the kid's hair.
Our kids aren't part of any sports teams.
Our kids don't do any extracurricular activities outside of one dance class for Nora.
We don't meet up with friends at pricey play areas, but rather are part of free playgroups at church and at the library.
We don't do many local family activities unless they are free.
We rarely buy anything "new" but instead check our local thrift store or just make-due without.
.
Yes, there are occasional exceptions… but please believe me when I say they are OCCASIONAL EXCEPTIONS. They do NOT happen often.
In fact, if you want me to be really honest (at the risk of sounding even more boring), I can tell you with 100% certainty that no one else has put our children to bed outside of the few nights they have slept over at Grandparents' houses.
We've also NEVER hired a babysitter to watch our children when we were gone (I had a "mother's helper" come a few years ago, but I was always home).
Our personalities are such that we just don't feel the need to DO a lot or GO many places.
We are more than satisfied to stay home. In fact, we regularly turn down opportunities to participate in outside activities because we'd both rather be home. We do NOT feel deprived, bored, lonely, or stir-crazy when we stay home. It just feels normal for us.
I realize this way of life is not for everyone, nor do I think life will always be this way for our family.
It's certainly not bad or wrong to spend money on various activities, events, outings, vacations, etc. — especially if they bring you joy! It's just not something WE do at this point in our lives… and it plays a HUGE factor in our family's ability to live frugally.
Yes, SAVING MORE on items you need to buy is an excellent way to live frugally… but SPENDING LESS on everything extra is another huge piece of the puzzle.
If you are the type who enjoys spending money, your journey to frugal living will be a bit longer (and maybe a little more frustrating) but it can still be done.
Just don't let yourself get discouraged by comparing your efforts with a family like ours who has very few extra expenses each month.