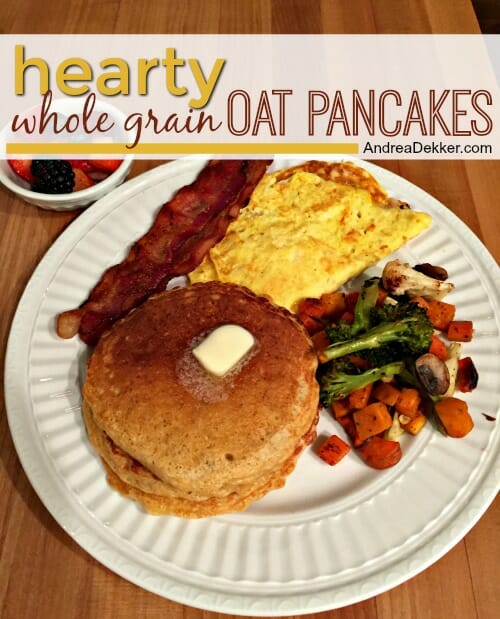 Pancakes have been the one recipe I have made weekly since the very first day Dave and I were married (honestly!)
Since we waited a week to go on our honeymoon (such a good decision on our part) we simply went back to our "new" house together after our wedding reception. We got come criticism from others for not going to a fancy hotel — but at the time, we both just wanted to "go home". Now, almost 13 years later, we still both love being home!
Anyway… back to my pancakes.
Aside from grilled cheese around 1am after we walked in the door from our reception, pancakes were the very first food I made Dave after we were married. To this day, they are still one of our favorites!
If we want a quick breakfast to please the entire family, pancakes are it.
If we want a special birthday breakfast treat, chocolate chip pancakes with whipped cream fit the bill.
If I want to surprise the kids with a festive holiday breakfast, pancakes + food coloring is always my go-to meal (tie-dye swirls are their favorite).
If I need an easy finger food for a toddler, pancakes (without syrup — too messy) are one of my favorites.
If we're on vacation with limited cooking resources, pancakes (from a boxed mix) are calling our name.
If we're running short on time and have to change our dinner menu, pancakes and eggs is our fall-back.
If I want a "fancier" brunch pancake, I make puff pancakes.
Yup… we LOVE pancakes!
Over the years, I have drastically changed the ingredients I use to make pancakes.
I started using Bisquick for everything, then switched to a basic homemade recipe, then eventually healthified several of the ingredients, and then started incorporating white whole wheat flour a couple years ago.
For the last 4 months, I've taken my pancake recipes to a whole new level with freshly ground grains!
It took me several tries to figure out how to get the right consistency, but I now have 3 different (equally amazing in different ways) 100% whole grain pancake recipes that our family enjoys every single week.
Today, I'm sharing our family's top favorite — whole grain oat pancakes (and no, you don't need to use whole grain flour if you don't have it in the house)!
Recipe for Hearty Whole Grain Oat Pancakes
Makes roughly 15 small to medium sized pancakes.
INGREDIENT:
2 T. apple cider vinegar
2 c. milk*
1 c. flour**
1 c. old-fashioned rolled oats
2 eggs
1/4c. oil or melted butter***
1 t. vanilla
1 t. baking soda
1/2 t. salt
*Any type of milk should work… or you can sub equal amounts of buttermilk for the vinegar and milk. I just never keep buttermilk in the house.

**I use 130 grams of freshly ground Kamut or Soft Wheat, but any type of Whole Grain, Whole Wheat, or All Purpose flour will work. Gluten free flour should also work — I've made it before using 1 c. oats and 1 c. oat flour.

*** I usually use butter, but I've made them with vegetable oil, olive oil, melted coconut oil, and even bacon grease — all with fantastic results!
DIRECTIONS:
In a large bowl, mix vinegar and milk. Let sit for 5 minutes, or until it looks thicker (this is essentially creating buttermilk or "sour milk").
Stir in flour and oats and let sit for 5 minutes again — just to let the flour and oats absorb some of the moisture. If it's too thick for your preference, add more water or milk. If it's too thin, add a little more flour.
NOTE: I do these first 2 steps the night before and let the flour and oats soak all night long on the counter, but that is not necessary.
Add remaining ingredients and stir to combine.
Preheat griddle or frying pan over medium-LOW heat (melt butter in the pan or spray with non-stick spray).
Pour 1/4 c. worth of batter for each pancake and let cook until bubbles start to form on top of the pancakes (these pancakes take a bit longer to cook than others I make).
Carefully flip and cook for 2 minutes more, or until fully cooked through and quite brown on the outside.
Serve immediately with maple syrup, or cool on wire racks and refrigerate or freeze for later.
See how much thicker it gets after sitting for 5 minutes!
I add the rest of the ingredients in the morning, just before making the pancakes. The photos below are darker because they are taken very early in the morning when I'm making breakfast!
Dave and I agree that these pancake are some of the best pancakes we've ever had (and we've eaten A LOT of pancakes in our day).
They are hearty and filling and they have such a rich flavor. I often find myself licking my lips constantly after eating these pancakes as there is still flavor from the buttery oats on my lips (I usually eat them without syrup!)
They are slightly crisp on the outside while still being super soft and fluffy on the inside. Plus, they are PACKED with whole grains.
As I mentioned above, you should have success with almost any type of flour, any type of milk, and any type of fat, so you really have no excuse not to give these a try — no matter what type of food plan you follow or what types of ingredients you keep in your pantry!
A Few More Pancake Recipes:
I could probably share a new pancake recipe every month for the rest of the year… but since I know not everyone loves pancakes as much as our family does, I won't!
However, I'd love it if you shared some of your favorite pancake recipes (or "secret" ingredients).
Visit my virtual recipe box for more simple, delicious, family friendly recipes!