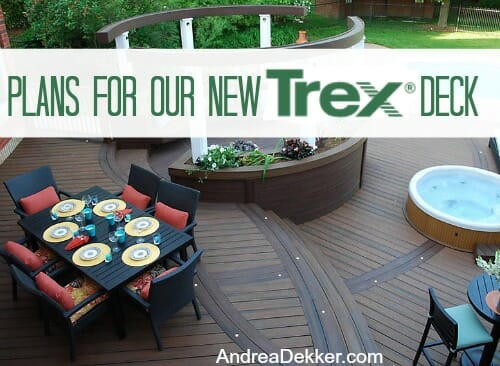 Last week, I shared some of the progress (and the plans) for our mudroom project. We've been making steady progress in the mudroom all week and it's actually fully painted now.
We still have several things to cross of our "mudroom to-do list", but we're already gearing up for our 2nd project of the summer… a new deck!
Or maybe I should say, "replacing our old, tiny, unusable deck with a brand new, much larger deck".
We have a very nice deck off the back of our house (it's outside the double doors in the office), however it's only about 10′ x 8′ and really not big enough to do anything on — except walk from the office doors to the steps down to the yard.
It's not big enough for a table and chairs, it's not big enough to set up kids toys, and it's not big enough to use for entertaining in any way.
We've always talked about making our teeny, tiny, almost unusable deck larger — but we never knew quite how we could pull it off without the end results looking weird, awkward or totally out of place.
As you can see by some of the pictures below, in order to make our deck larger, our only option is to extend it towards the back door/mudroom area (and this will work now that we have the mudroom wall).
However, before the mudroom was in place, that space was just an open area by the back door… and it would have looked totally ridiculous to have a deck butting up against an open area — especially since the deck is about 4 feet higher than the surrounding area.
If you look at the picture below, the "floor" of the extended deck would have come up about 6″ HIGHER than the white hand railings on the right side of the back door. So all you would see from the view below would be the deck base, the area under the deck, and about 3 feet above the deck. Definitely not ideal.
Here's a view from the other side — you can really see how much higher the deck is in this picture.
Dave and I had tried coming up with various deck designs, moving the steps, having multiple levels, rearranging things, etc. but we felt like all of our ideas looked very out of place and awkward.
Even still, we never totally stopped thinking about it…
Then, earlier this spring, when we came up with our brilliant idea for a new mudroom, Dave immediately pointed out that if we had a solid wall for the deck to butt up against, we could easily extend our deck without it looking out of place and awkward.
We did some planning and calculating, and figured out that we would end up with a deck that's more than twice the size of our current deck with very little effort or expense.
The only downside was that we would have to pull out my beloved (and very mature) hydrangeas and weeping spruce tree 🙁
We decided to move forward with this plan… but to wait to do any construction work until the exterior of the mudroom was completely finished. We just wanted to be 100% sure we still liked this idea before tearing out the deck we already had in place.
.
This is where the story gets interesting…
A couple weeks after we came up with our potential mudroom/deck plan, I got an email (totally out of the blue) from the Trex Company. They wanted to know if we were interested in doing any sort of deck project this summer — and then featuring that project on my blog. If so, they would provide us with ALL the supplies and materials we needed to build a brand new Trex deck!
I hardly finished reading the email before yelling for Dave to come read it too. We were both so excited! I immediately emailed them back explaining how this was perfect timing because we were just about to start on a deck project.
This opportunity just solidified the fact that the mudroom and deck projects were "meant to be" on our to-do list this summer.
.
So you might be wondering, what is "Trex"?
Trex is the industry's leading supplier of high-performance composite decking (a.k.a — it looks and performs like wood but it's not wood). And although they do hundreds of millions of dollars of business every year, they have never cut down a single tree!
One of the Trex company goals is to meld innovation with environmental responsibility and beautiful form with powerful function… and as you can see by the images below, they definitely have the "beautiful" part going on!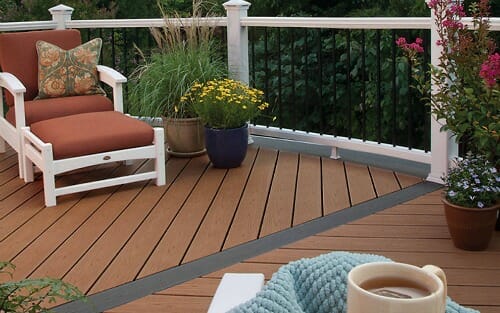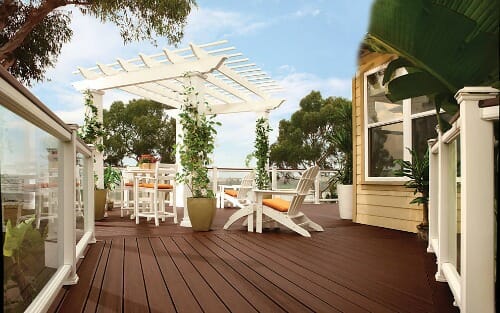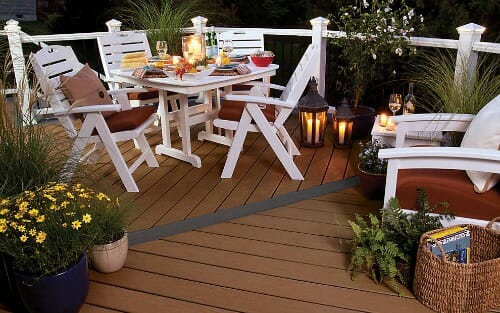 Now that Dave and I have had a chance to see and touch the product (it seriously looks and even feels like real wood), we are convinced this will be an absolutely perfect choice for our new deck.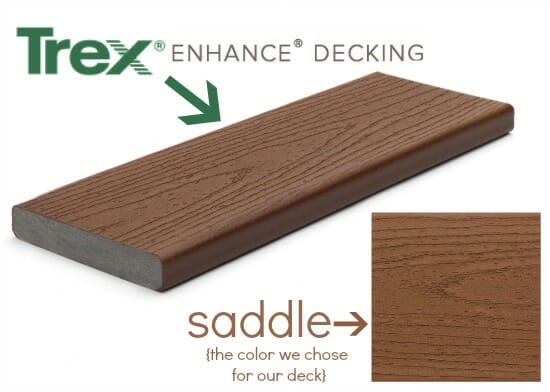 Not only do the Trex products look fabulous, they are also extremely low-maintenance. Since they aren't real wood, they won't split, warp, rot, or get moldy. This is especially nice for us since our deck is on the North side of our house and needed frequent power-washing each spring to remove a moldy film.
With our new Trex deck, we'll be able to enjoy the benefit of a fabulous wood-looking deck without the hassle of pressure washing and staining it every few years (not to mention repainting the white railings EVERY. SINGLE. SUMMER!)
Here's another view of what the back of our house will look like with the new larger deck, versus the old smaller deck.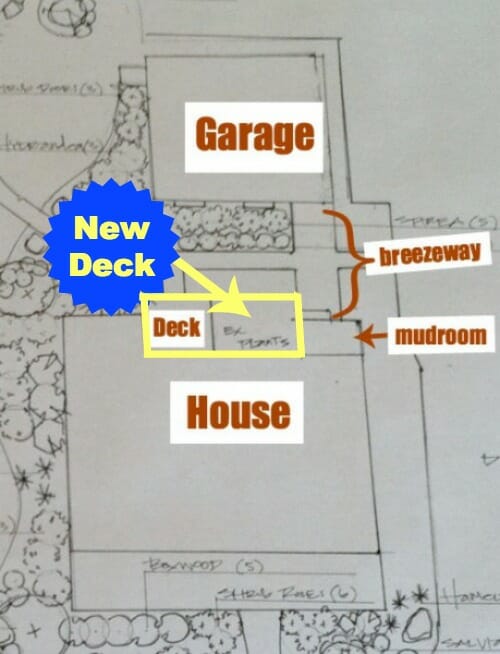 The Design Process:
So far, working with Trex has been super-duper easy. After we decided that this product would be a good fit for our decking needs, Trex sent a local sales representative, Jeff, out to our home. We told him our ideas, he took some measurements, and we agreed upon a color and style.
Then Jeff had a CAD drawing made up and placed the order for everything we would need to build our deck. Now we're just waiting for the products to arrive — and then the installation will start.
As I shared in one of the photos above, we chose the Saddle color in the Enhanced line of Trex products. Our rails will still be white — which should help the new deck fit seamlessly with all the rest of the woodwork around our home.
Jeff briefly went over the ins and outs of installing the Trex decking and it honestly seems SO easy. Our new deck will be 20′ long… which is really convenient because the Trex boards come in 20-foot lengths — so yes, there's a good chance we might not even need to cut anything (except for the stairs)!
I'll be sharing lots more about the installation process once we have the products in our hands and are able to work with them for a day or two… but for now, I just wanted to share our plan.
Find Trex on the Web:
Website: www.trex.com
Facebook: Trex Company
Twitter: @Trex_Company
Pinterest: Trex
YouTube: TheTrexCo
Dave and are still in awe of how perfect the timing was for this deck project — and we are extremely grateful to the Trex Company for giving us the opportunity to work with their amazing products.
I can't wait to share more details (and the finished deck) with you soon!
Disclosure: as I noted in the post, we received free products from Trex in exchange for this blog post; however, all opinions are my own!