Our Favorite Easy At-Home Lunches
posted by Andrea | 05/17/2017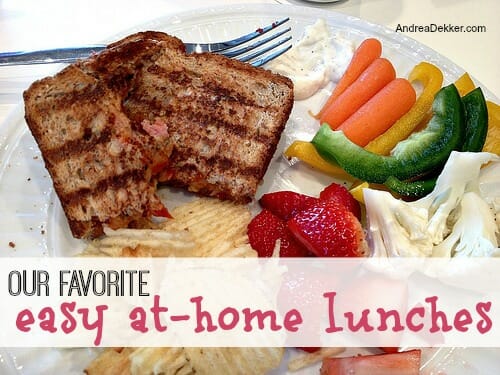 Since summer is just around the corner (YAY!) and kids will be home for lunches again, I thought it might be good timing to share some of our favorite EASY at-home lunches.
At this point, all 3 kids and I are home every day for lunch — and sometimes we have friends or neighbors home for lunch too. In the summer, Dave will also be home every day for lunch, so I really do need to make sure we have lots of lunch foods in the house — otherwise it's VERY easy to quickly run down the street and grab a pizza or fast food!
However, I don't want to put tons of pressure on myself to "plan" all our lunches ahead of time (like I do our dinners). So instead, we have a short list of favorite hot and cold at-home lunch ideas that we choose from every day around 11:00am.
Sometimes I have an idea in mind as to what would be the best choice for lunch on specific days, and sometimes I even prepare all the lunch plates well ahead of time if I know we'll be in a hurry. However, most of the time I just ask the kids "what would you like for lunch today?" and after a few minutes of conferring, we come to a consensus (I try to always make everyone the same thing for convenience sake!)
Then they get to watch a show or play outside while I make lunch. We eat at almost exactly 11:30 every single day 🙂
Easy At-Home HOT Lunches:
Up until a year ago, we had hot lunches almost every single day — because my kids wouldn't eat sandwiches. It wasn't horrible as long as I planned ahead, and we were able to use up a lot of leftovers this way.
We still enjoy hot lunches several times a week. Here are some of their favorites — all of which are fairly simple in my opinion. 
Chicken Nuggets
Fish Sticks
Quesadillas (bean and cheese, just cheese, meat and cheese, etc.)
Grilled cheese and tomato soup
Mac and Cheese + Hotdogs
Any type of pasta with meat sauce
Bagel Pizzas (or make your own personal pan pizzas if I have the crust in the house)
Leftovers — casseroles, soups, etc. (this is my personal favorite)
Pancakes, eggs, and sausage (if we didn't have a big breakfast earlier in the day)
Occasional fast food — Arby's is their favorite and it's almost walking distance from our house!
Easy At-Home COLD Lunches:
I think everyone in our family prefers hot lunches over cold lunches — but due to convenience and time, we have cold lunches at least 3 times a week.
Right now, we really only have 3 types of cold lunches that we eat — but there are several variations among them.
1. Meat and Cheese
This option is by-far the preferred cold lunch for all 3 kids. It basically involves me cutting up various types of meat and cheese, and serving it along with cut-up fruit, chips, crackers, applesauce, raw veggies, or anything else that's in the fridge.
If you look in the meat drawer in our refrigerator, you'll almost always find containers of sliced summer sausage, pepperoni, salami, already cooked bacon and sausage, and a grilled chicken breast or two. And the cheese drawer ALWAYS has containers of sliced, cubed, and stick cheeses — I just slice or cube them from larger blocks and always try to keep a variety available for quick meals and snacks.
2. Sandwiches or wraps
Peanut butter and Jelly sandwiches are usually the kid's request. But if I have homemade rolls, they will sometimes have meat and cheese on a buttered roll.
I will also put thin slices of deli meat and cheese on tortillas (with sour cream) and roll those up as a little wrap. Nora is usually the only one who will eat this, but it's VERY mess-free and portable — so I have a feeling we'll do this a lot for school lunches next year.
I also enjoy chicken salad on a wrap or BLT's every now and then.
3. Salads
The kids don't eat salad very willingly, but I frequently make up big batch of chicken salad or taco meat so I don't need to think about my own lunches much during the week.
We always have lettuce, spinach, and various salad toppings in the house, so adding a scoop of taco meat or chicken salad makes a super quick and easy meal for me.
I will also put chicken nuggets on my salad if I'm making them for the kids — I make something similar to the crispy chicken salad at Applebee's and it's SOOOOOO tasty!
Usually once a month I make a half batch of this yummy layered lettuce salad as a side dish for one of our dinners — and there are always lots of leftovers for lunches the next day.
Easy, At-Home Side Dishes:
I've always been big on variety when I eat (I love buffets!) and my kids have followed suit. So I try to have a large variety of side dish options that can be prepared ahead of time and just dumped on their plates as they request.
Here are a few of our favorites.
Already washed and cut up fruits (strawberries, grapes, and clementines are favorites around here)
Already washed and cut up veggies (here's a convenient way to store them)
Craisins or raisins
Frozen blueberries
Dill Pickles
Yogurt pouches (I usually make my own using these pouches)
Chips, cheetos, cheese balls, pretzels, crackers, etc.
The thing I love about almost every food listed above is that they all have some elements that can be prepared ahead of time and ready to go for lunches.
The meat and cheese can be sliced ahead of time, the fruits and veggies can be washed and prepared ahead of time, the taco meat or chicken salad can be made ahead of time, even PB&J sandwiches can be made ahead and frozen if you're really in a bind.
Our lunch options are much more limited than our dinner options, but we still have enough variety ready to go each day that we don't get bored or feel like we're eating the same things day after day.
What are your favorite at-home lunch ideas?