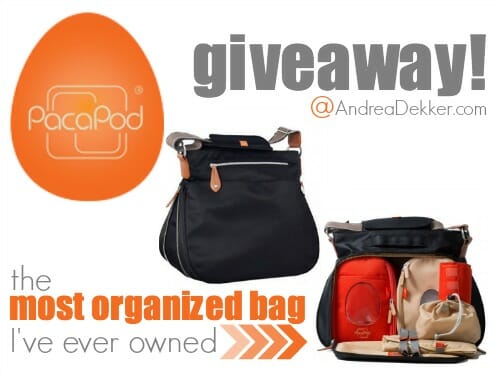 Since we're talking about clothes clutter this week — I didn't really want to ADD any clutter to your wardrobe with a clothing giveaway. Instead, I will hopefully help someone to reduce their "on-the-go clutter" with one of PacaPod's super duper organized bags.
These bags are technically diaper bags (you'll see why later) but there is absolutely no reason they couldn't be used as an everyday bag to keep all your essentials neat and organized. In fact, many of the PacaPod bags have laptop compartments, smart phone pockets, and built-in insulated compartments to keep food hot or cold (yes, handy for both children and adults!)
As you can see by the images in this post — there is absolutely NOTHING that would scream "diaper bag" about the PacaPod bags.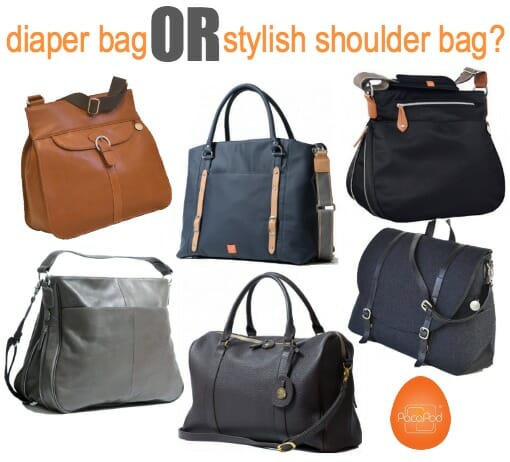 We have the Portland bag in black — and Dave says he feels totally comfortable using it as a shoulder bag when he goes out with the kids. He said it doesn't feel like a purse, a diaper bag, or even a feminine bag in anyway — and I would have to agree.
Some of the bags definitely look and feel more feminine, but our bag has worked well for both Dave and I (and the kids) so far.
It's big enough to carry everything we need, but not so big that we feel like we're going on vacation or that I get a sore shoulder from carrying it around all day.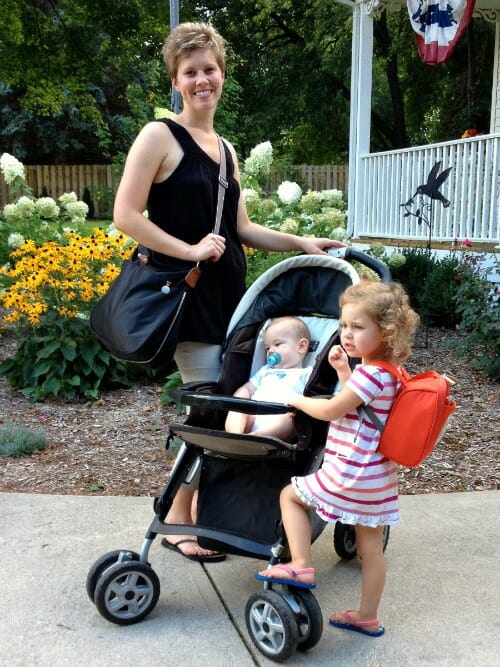 So why are these stylish bags considered diaper bags?
I'm glad you asked!
I could talk about how amazing these bags are for hours and hours, but that's really hard to do when I'm typing. So I decided it would be best to share a video clip in order to fully demonstrate how cool our PacaPod bag is (the video is about 8 minutes long — so obviously I have a lot to say!)
If you're reading via email, you'll need to click through to the post to see the video. And in case you don't have video capabilities, I've also shared a TON of images below — just because there are so many super-cool features about these bags.
.
For starters, the name "PacaPod" is just as it sounds — packing smaller "pods" (or bags) inside one larger bag.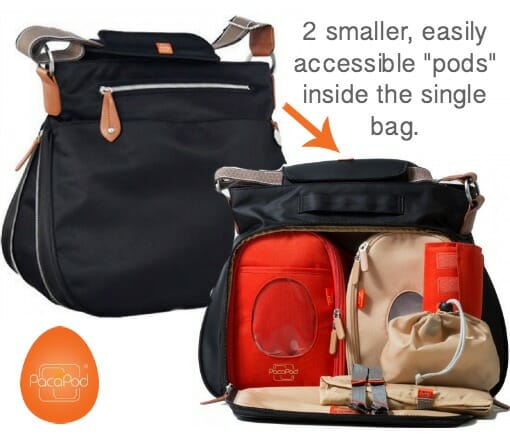 The reason these pods are such a HUGE deal is because they keep all the bazillion tiny things you need to have with you neat, organized, and most importantly, easily accessible.
First there's the Parent's Bag: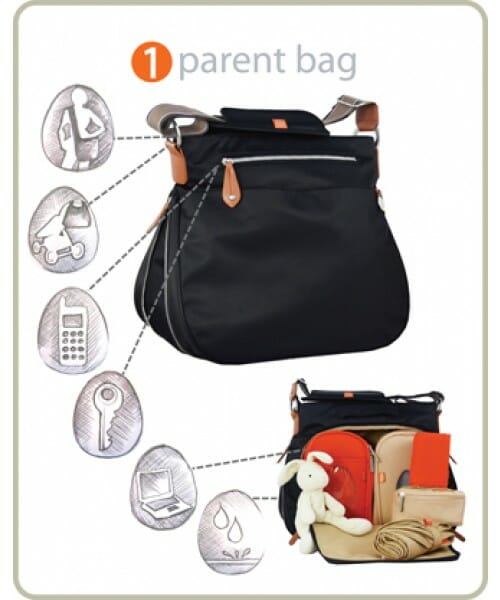 The entire bag is considered "the parent's bag" because you can easily use this as your every day bag (whether you're carting kids around or not). However, if you are taking kids with you, there is a designated "parent's pocket" for all YOUR gear. It's a large, easily accessible zippered pocket on the outside of the bag that has smaller pockets within.
My bag has 3 smaller pockets for a wallet, a cell phone, gum, etc. The 3 smaller pockets are inside one large pocket that could be used for almost any miscellaneous items you want to take along. There is even an elastic key clip so you'll never lose your keys again!
There is a large, full-size compartment that is perfect for a laptop or other electronics. If I don't need to bring my laptop, I use this compartment for an extra change of clothes and a light blanket for the kids.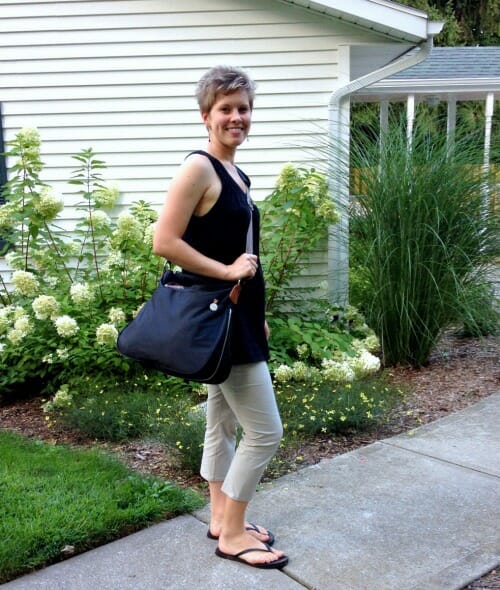 Then there's the Changer Pod: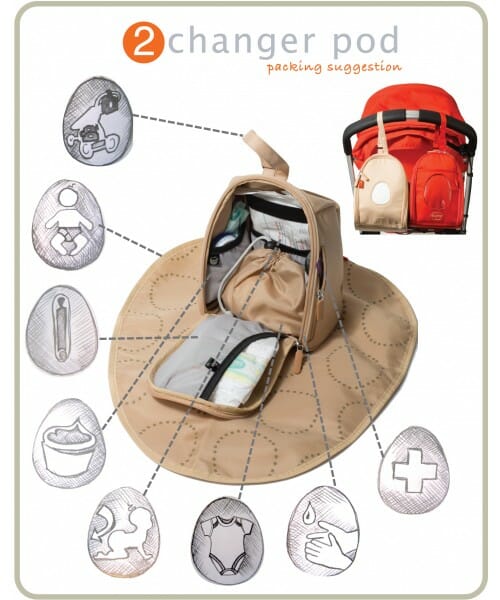 The changing pod comes with a matching (washable) changing pad and matching cinch-sack for dirty or wet clothing.
There are also specifically labeled compartments for diapers, wipes, ointment and powder, hand sanitizer and lotion, and even a handy First-Aid compartment on the side of the pod.
Not only are the contents of this pod completely separated from the rest of the bag (keeping things more sanitary) the pod itself is also fully removable from the larger bag; which makes it super convenient to grab-'n-go when duty calls 🙂
When the Changer Pod is removed from the bag, it can be hung from a shopping cart, a stroller, your arm, or a hook (think public restrooms) making it a completely functional bag all on its own.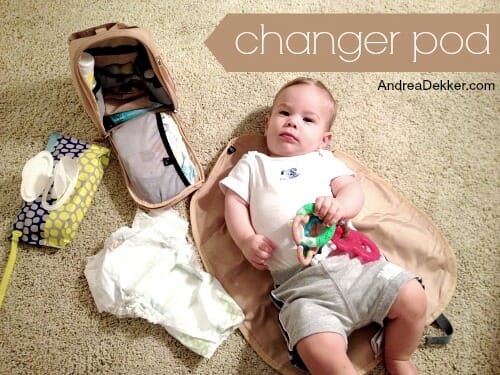 I can easily fit 4 or 5 diapers inside along with a bunch of wipes, cream, powder, hand sanitizer, lotion, nose wipes, the changing pad, and even a few plastic bags for diaper disposal.
Plus, I have BandAids, teething gel, children's pain meds, adult pain meds, cough drops, and some ointment in the First Aid pocket. It's honestly amazing how much I can pack into this pod with all the various organized compartments!
And finally, the Feeder Pod: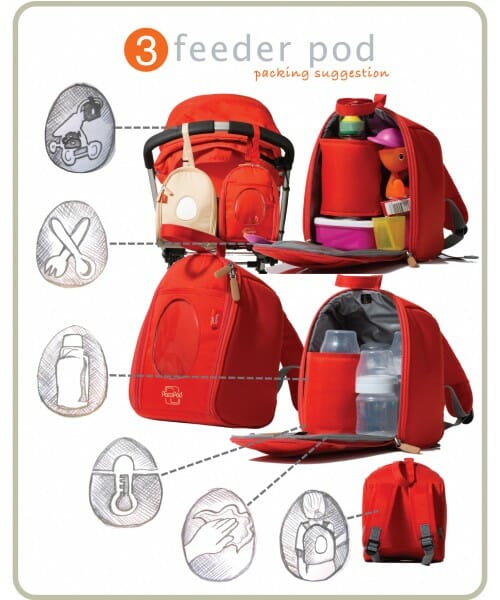 Oh the Feeder Pod — how I love you!
Not only is this pod fully insulated (for warm or cold), it also comes with a matching insulated sleeve that will velcro over a bottle (or any beverage) to keep it cold or warm for up to 4 hours!
There is a handy zippered pocket inside the bag for utensils, as well as a see-through pouch on the outside of the bag for quick snacking on the go.
You can easily fit 3 or 4 full-size bottles inside, or any combination of other lunch and snack items — and it's SO easy to clean! Just wipe up any spills with a damp cloth and you're good to go.
This pod can also be removed from the larger bag to serve as it's own complete bag (basically like a insulated lunch tote) hanging from a stroller or shopping cart.
It ALSO has the added bonus of being a kid-size backpack that they can wear around with their snacks inside — genius!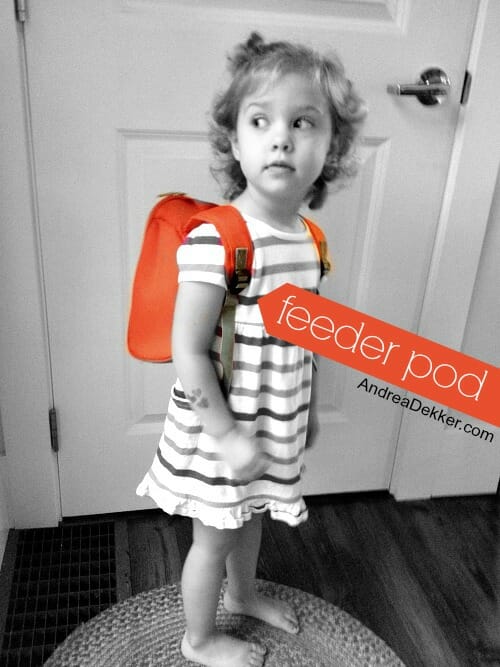 So now that Nora is potty trained, I can just send her with the Feeder Pod if she goes somewhere without the rest of us. It's the perfect size for her snacks, her water bottle, and any other food she might need while she's gone. And I'm sure you can imagine how much she LOVES toting her "snack pack" around 🙂
.
See, I told you these bags were amazing!
Guess what, I'm not even finished yet…
If you need to really load up your bag, simply unzip the exterior zipper and the bag expands a good 3-4 inches wide! And if you get sick of carrying your bag, simply attach the "pram attachment straps" and hang the bag from your shopping cart, from your stroller, or any other bar or hook.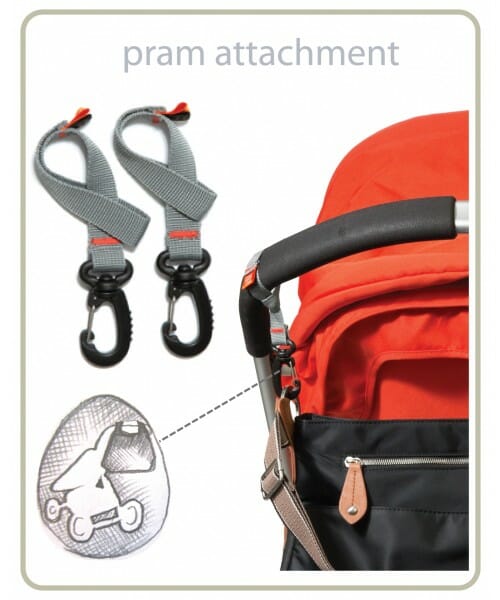 More About PacaPod:
The PacaPod brand was created by a mother of 2 who just so happened to be a clothing designer AND a minimalistic, live-from-a-tiny-pack bicyclist traveling around the world.
Not surprisingly, each PacaPod bag combines the quality stylish features all grownups are looking for in an everyday bag with unmatched organization and practicality all parents desperately need to get out the door with little people in tow.
The PacaPod bag is an ingenious 3-in-1 diaper bag. Inside every PacaPod is the "brains" behind the bag — the feeder and changer pods — to hygienically separate feeding from changing, keeping you organized.
Visit PacaPod on the web:

Website: www.pacapod.com
Facebook: PacaPod
Twitter: @PacaPod
Pinterest: PacaPod
Blog: www.PacaPod.com/blog

NOTE: PacaPod bags should be available in most BuyBuy Baby locations starting this month!!
Enter To Win This Giveaway!
Today, one lucky reader will win one of 3 PacaPod bags — either the Portland (the one we have), the Jura, or the Napier — in your choice of available color and pattern!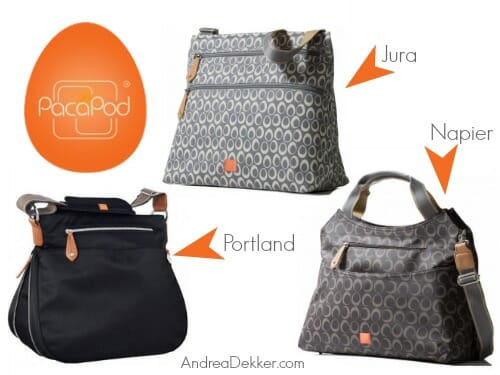 To enter, simply use the Rafflecopter widget below (it might take a second to load).
a Rafflecopter giveaway

This giveaways ends at 11:59 pm EST, Sunday, 9/14/2014 and is open to US or Canadian residents, 18 years or older. The winner will be randomly selected via Rafflecopter and notified via email. I received a duplicate prize package in exchange for hosting this giveaway — all opinions are 100% my own. Please see my full disclosure policy and contact me with any questions you have. Good luck!