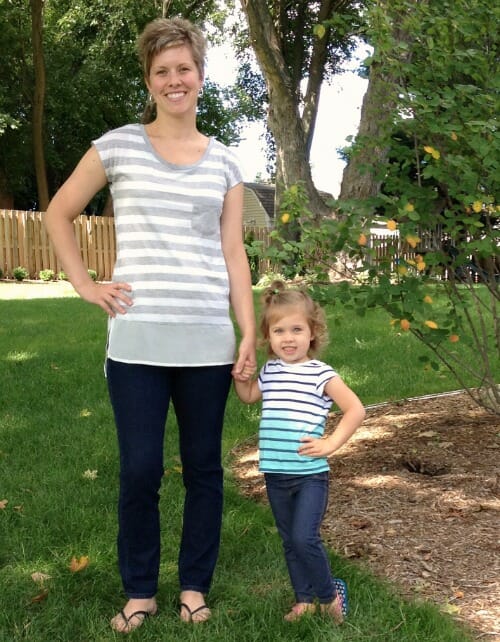 (she thinks we're twins!)
Over the past month, Dave and I did a BIG closet purge and found several new items for his "back-to-school" wardrobe. I also added a handful of new items to my 'side' of the closet — thanks to working hand-in-hand with a friend of a friend who just so happens to be a personal stylist!
So yes, Dave and I have been thinking and talking about clothes a lot lately! Many of our recent clothing discussion, paired with so many of YOUR questions lead me to the idea of doing a full week of clothes-clutter posts.
So in case you missed any of the posts this week — here they all are!
MONDAY: My new mix-and-match wardrobe (with TONS of pictures!) plus a list of EVERY item of clothing I own.
TUESDAY: How to Get Free (or Almost Free) Clothes
WEDNESDAY: Kid's Clothing 101
THURSDAY: A Giveaway! (It's the most organized bag I've ever used)
FRIDAY (today): Tips to Create a Wardrobe You Actually Wear (and Love)
My hope is that after reading through this weeks posts, you now have a better grasp of what your own personal style is, what you feel great wearing, what you should keep, and what you should purge.
That's a lot for one week, I know. However, even if you just take one helpful tip away from my week of posts, that's still a start!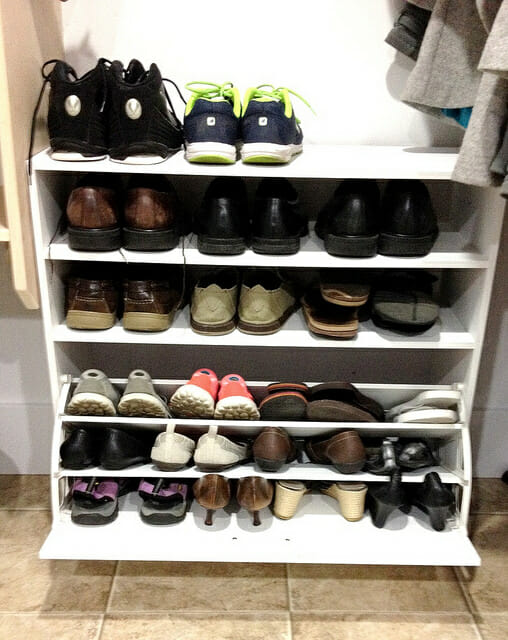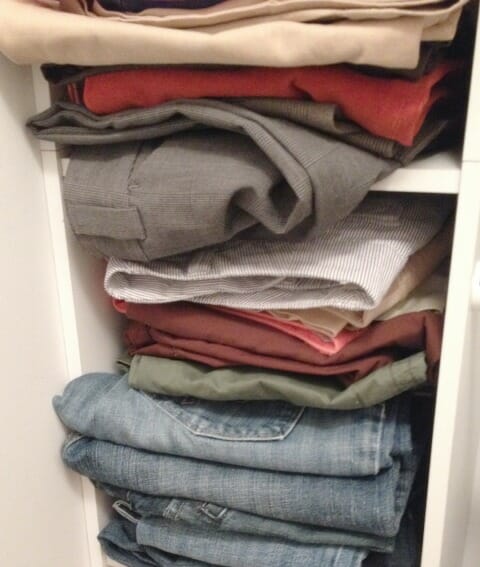 I think one of the reasons clothes clutter is SO overwhelming for most people is because it ties into so many of the common excuses we make to keep our stuff…
1. I might need those baby clothes one day — you know, if we have another baby.
2. I paid good money for that coat… yes, the one I never wear.
3. Those shoes are still in perfect condition (because they hurt my feet so I don't wear them.)
4. That bag might be worth something — I could sell it if I ever get around to taking pictures of it and figuring out how to get a Craigslist account.
5. I'll get rid of those jeans, but I'm going to give them to ________ (insert the name of the person you will certainly forget to give them to.)
6. That sweater was a gift from my mother-in-law. She will be offended if I get rid of it.
7. That's what my baby wore on her first birthday, her first day of school, her 4th Christmas, Wednesday… ok, I just love all these baby clothes.
8. I have plenty of storage space, what's the big deal if I simply hang onto everything — because I might need it again some day (see #1 above).
9. I'm going to lose weight, and then I'll fit in those pants… at least that's been the plan for the past 7 years.
And the list goes on.
I know from personal experience, even as someone who LOVES to purge, simplify, and clear the clutter from my home and life, clothes clutter is hard! However, I can also share from personal experience that paring my wardrobe down to the items I actually wear (and love) has been extremely liberating.
So how can you finally 'bite the bullet' and purge the clothing you no longer need, use, wear, or love?
Keep reading!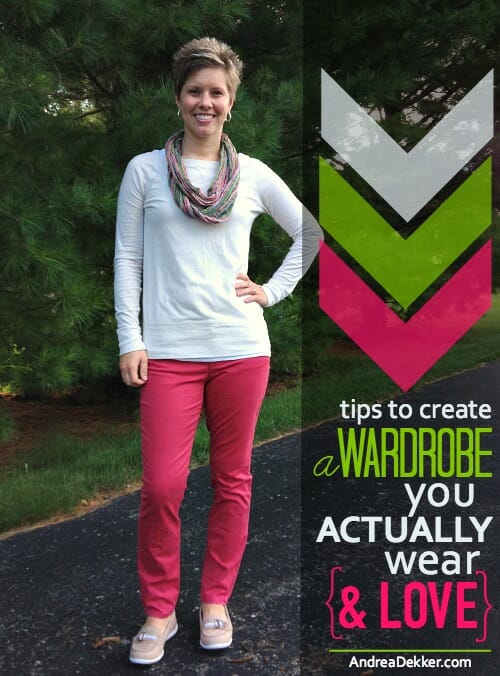 1. Get In the Right Frame of Mind:
Before you even attempt any sort of closet purge, I think it's important that you have the right frame of mind.
For example, if you are currently upset about gaining a bunch of weight (or not losing your pregnancy weight), you are probably not in the right frame of mind to be willing to purge your too-small sizes. It might just be better to wait a bit before you attempt a larger closet purge.
On the other hand, if you have recently changed jobs or quit a job to be home, now might be the perfect time to purge any unneeded business wear that you'll no longer need. Also, if you've just been feeling really unexcited about your current wardrobe and have been wearing the same things over and over again (guilty!), this might be the perfect time to mix things up a bit!
The important thing is to realize you must be mentally and emotionally ready to purge. Otherwise you'll waste a bunch of time, get very few results, and end up more frustrated than before you started.
2. Determine YOUR Style:
When Jess (the stylist) first came to my house to look through my closet with me, she asked me what my style was.
Instead of answering her question, I rambled on and on about how I knew I needed to update my wardrobe to include more "adult-looking" clothing and that I should probably be wearing mostly Gap and J.Crew pieces for a little more sophisticated form of casual.
She quickly interrupted me and asked again: "What is YOUR style? What do YOU love wearing the most?"
To that, I responded "Jeans and t-shirts… with yoga pants thrown in about every other day."
I thought she would instantly tell me that in order to look cute and stylish, I'd have to trash everything and start over with all the latest trends. Much to my surprise, she informed me that we could easily add a few stylish twists to make my mainly jeans and t-shirt wardrobe fresh, new, and exciting again.
So before you throw all your clothes in the donation bin, stop and think about what YOU love wearing, what YOU feel great in. Who cares if it's not the latest style or not super trendy right now. You won't wear or love your wardrobe unless it fits YOUR style.
3. Determine Your Needs:
Obviously, if you have a certain dress code for your job, you will need to keep specific pieces in your wardrobe whether you're a jeans and t-shirt girl like me or not.
If you're always cold, you'll want to make sure you have plenty of thin layering items. If you are mainly home all day, you'll probably want to hang onto some of your more comfortable every-day favorites. If you live in colder climates, you definitely want to keep a couple jackets and a comfortable pair of boots for getting out and about in the snow.
We all have different clothing needs that must be considered before we purge too much.
Personally, I just wanted to make sure I had a couple casual skirts and dresses for church, one nice pair of Khakis, one nice dress for special occasions, and one pair of black heels. Other than that, I'm a straight jeans, jean shorts, yoga pants, and t-shirt lady.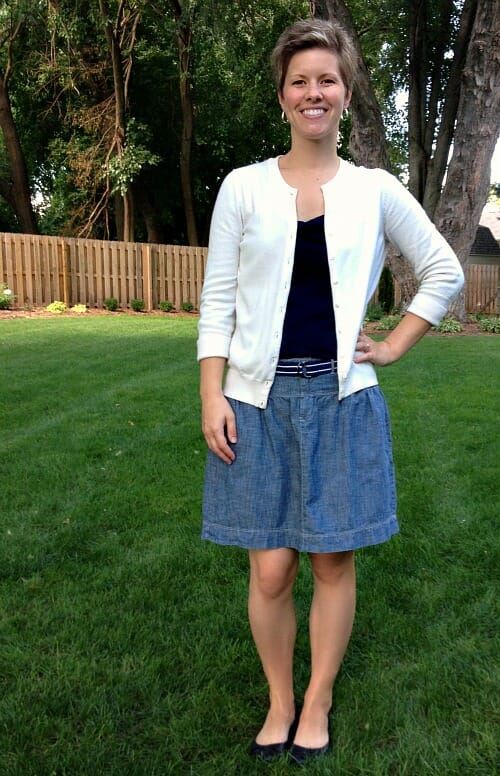 4. Take Note of The Little Things:
I'm still not quite sure how to explain this part — but it's an important step to create a wardrobe you wear and love.
What I'm trying to say here is to pay attention to WHY you always wear a certain item of clothing. Is it how the fabric feels? Is it because the fit is just perfect? Do you love the color or pattern? Is there an extra special detail you enjoy?
At the same time, take note of why you don't wear other items. Is the fabric itchy? Does it feel too tight or too loose? Does is accentuate something you don't want to draw attention to? Is it a style or type of clothing you no longer need or love (like formal items you no longer need or past trends that no longer work).
When I took the time to stop and think about these little details, I quickly realized that I won't wear something unless it's somewhat stretchy… and it HAS to be soft.
I had a few sweaters I really liked (and they looked great on me) but I never wore them because they were itchy — even with a shirt under them. I also had several nice shirts that were not stretchy, so I felt claustrophobic when I put them on… and never ended up wearing them. Same thing with pants, if they were not stretchy, I wouldn't wear them because I felt too confined and uncomfortable.
I also realized that I really like stripes, I don't love collared shirts, I really like black and grey, and I much prefer bold colors over pastels.
All of this knowledge made purging so much easier (thanks Jessica for helping me think through this all!)
5. Purge!
I know… that's such a big word to just throw out there. BUT, now that you have some guidelines, it won't be as scary or as difficult — I promise.
Go back to your style and what you love wearing, add in the items you need for work or special occasions, and don't forget those little details I just talked about above. Then slowly start flipping through your clothes, purging anything that doesn't work.
For me, this meant removing a bunch of dress pants I used to wear when I worked outside the home. It also meant that I purged a bunch of non-stretchy items along with many very nice (but very itchy) sweaters and almost every collared shirt (I saved a casual one that I really liked).
All of the items I purged were in great condition, they all fit, they all looked nice on me… but I didn't wear them, and it felt SO great to remove them from my closet. Plus, I did end up selling many of the items!
Please don't feel like you need to purge every single item in one day. Start small and do a little at a time. It took me 3 or 4 mini purging sessions to really get my closet where I wanted it — and even just this past week, I pulled 3 more items out because I knew they weren't my style and I wouldn't wear them.
You don't have to get it "perfect" on your first try — any purging is a step in the right direction!
6. Shop With Purpose:
Now that you've purged, you might be feeling a little anxious wondering "what am I going to wear?" Or maybe that was just me!
After I purged about 75% of my clothes, I had a mini panic attack and figured I would end up spending a fortune to replace everything. Thankfully, Jessica reminded me that we weren't trying to "replace" everything — but rather, to simplify and fill in a few gaps.
Jessica helped me make a list of everything I felt I wanted or needed to complete my wardrobe — and surprisingly, it didn't take many pieces.
I wanted one pair of casual shoes that would go with jeans, shorts, khakis, and a skirt.

I wanted one new pair of skinny jeans (she told me I really need to be wearing skinny jeans to make my legs look longer)

I wanted a couple scarves I could wear to accessorize my outfits (necklaces don't work with a baby)

I wanted a few "t-shirts" that had a little something special to them — something a little less boring that my current cotton v-neck t's.
Once I had my relatively small list of things to shop for, I felt much less overwhelmed. In fact, after less than 2 hours of shopping, we already had everything on my list — including placing an online order via Twice.com and ThredUp.com for several shirts (read this post for more information on these online clothing sites).
Because I was shopping with purpose and not simply looking for the cheapest thing on the rack, I ended up with a few quality purchases and one of the least exhausting and most successful shopping trips I've ever experienced!
P.S. You'll definitely want to read Monday's posts to see all my new outfits!
I've personally never struggled much with body image or cared much about what others thought of my looks. However, I know that my body is currently the least "fit" it's ever been; yet, I honestly don't remember a time when I've felt better about how I look.
I don't say that to be conceited, but rather to show the power of consolidating my wardrobe to the items I'll love and feel great wearing.
Confidence and feeling great is not limited by the size of your clothing. It also doesn't require an expensive price tag (as I mentioned in Tuesday's post!)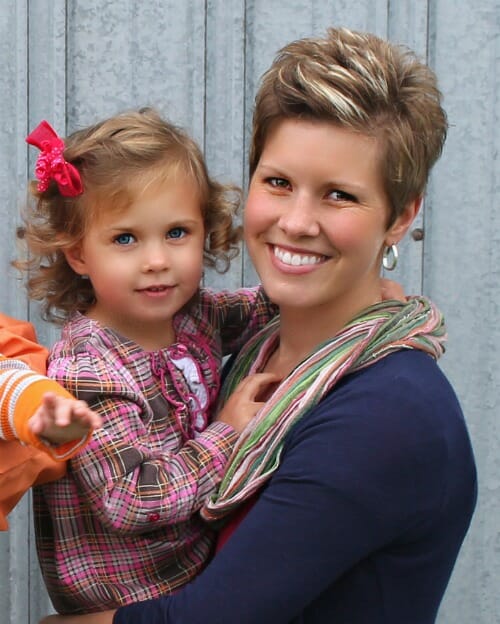 Do you have any other tips to add to my list?
Any other thoughts or questions after the posts this week?