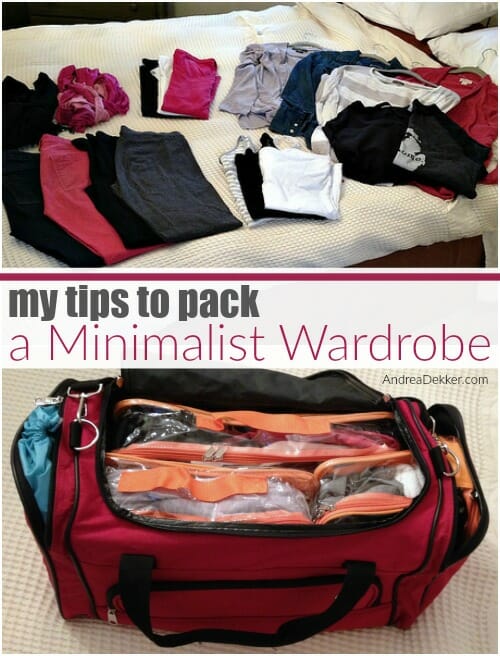 A couple months ago, Dave and I went on a mini "vacation" with the kiddos (yes, "vacation" is in quotation marks for a reason!) We traveled 1.5 hours away to Dave's teacher convention — and although we were only gone for 3 days, I felt like we had to take SOOOOOOO much stuff with us.
We needed 2 pack 'n plays, a stroller, James' bouncy seat, the baby carrier, swimming gear, cold weather gear, a few books, toys, and activities for the kids to do in the hotel room, a cooler with food and snacks, everyone's favorite blankets and stuffed animals to sleep with, diapers, diapers, and more diapers… and of course, our clothes!
Now certainly, we could have made due without some of those things if we absolutely had to — but I don't love the idea of my kids sleeping in a hotel pack 'n play, and I knew we'd go crazy in our room if we didn't have a few toys and games along. We had continental breakfast at the hotel and went out for dinner every night, but I wanted to take some lunch and snack foods for the hotel since we had a microwave and mini fridge.
Yes, we may have looked like we were traveling for a month based on the massive amount of "gear" we took along!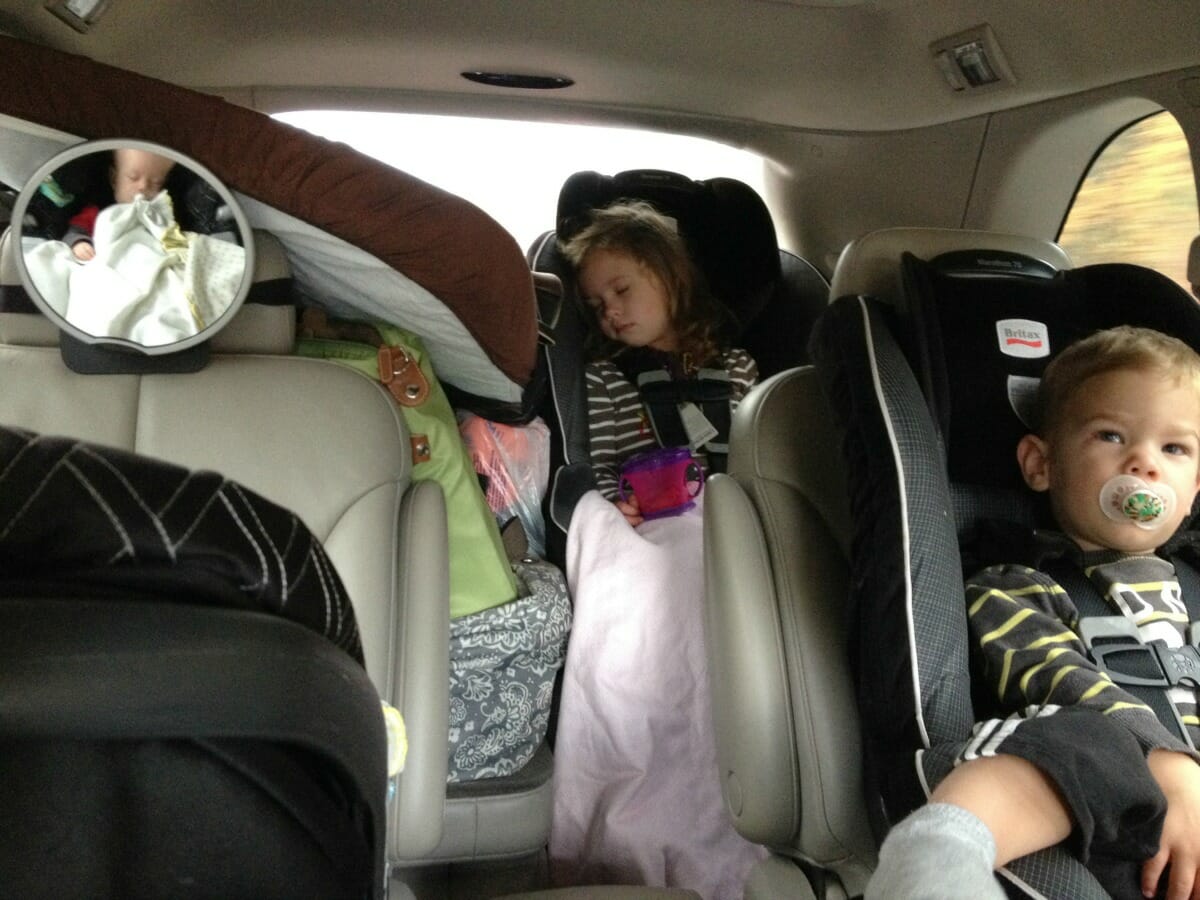 However, when it comes to packing our clothes, I am very organized and fairly minimalistic.
Although I definitely wouldn't consider myself to be a minimalist in most areas of my life, I have always tried to pack a relatively minimalist wardrobe whenever I travel. And after sharing this recent post about traveling as a Type-A, Overplanned, Minimalist, I got lots of questions about how exactly I pack in a semi-minimalistic fashion.
So, since I know many of you will be traveling for the holidays (and because I'm wishing spring break would come sooner), I thought it might be good timing to share a few of my best tips for packing minimally — at least when it comes to clothing!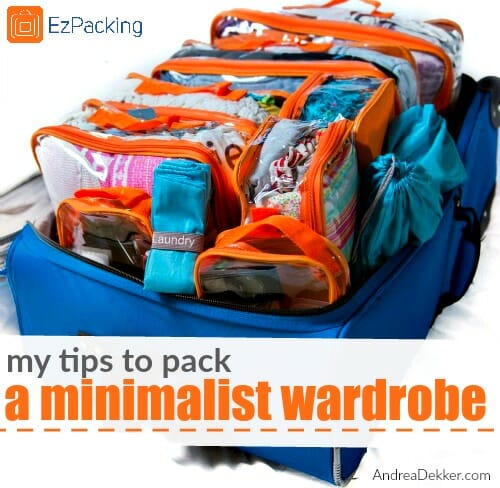 1. I pack mix-and-match pieces
When it's time to pack for a vacation, I really try to think through what we'll need for each day (based on the weather and various activities we have planned) and then choose mix-and-match options as much as possible so a variety of tops will go with a variety of bottoms — and thus, stretch our traveling wardrobe a lot further.
Since Nora is very intent on matching (or at least her version of matching) I try to stick to colors that all go together — I'll pack all brown, purple, pink, and jean/navy items for her so everything goes with everything else.
I do the same thing for myself — using black, grey, white, jean, and pink. And yes, this literally means that EVERYTHING I pack for myself is some combination of black, grey, white, jean, and pink.
If I know that all my tops will generally go with all my bottoms, I can get away with packing far fewer items — not to mention if one top or bottom gets dirty, I have plenty more to choose from without the need to completely change my entire outfit.
For example, the clothing in these pictures is a very typical wardrobe for me — both at home and traveling. It could easily last me 2 weeks or more (provided my children didn't make a mess of all my clothing on the first day or two!)
Here's everything I have laying out in the photos above:
PANTS :: dark blue jeans, pink jeans, black yoga pants, grey leggings
TANKS & TEE's :: black, white, and grey striped tanks; black, white and pink tee's; grey HOME T
SHIRTS & SWEATERS :: grey and pink cardigans; jean button-up; grey and white striped tunic; black sweatshirt
SHOES :: black flats; grey Skechers; black flip flops (not pictured)
EXTRA :: black and pink scarves; pj's (not pictured); socks and underwear
I could have Dave do the exact math, but I know from experience that I can create an almost-endless combination of outfits from these options.
I can create a more tailored look with the pink pants, jean shirt and grey cardigan; a more casual look with leggings, a tank top, cardigan, and scarf; a sporty look with yoga pants and t-shirt; go super relaxed with jean and a sweatshirt, etc. etc.
And of course, thanks to the many different "layering" pieces, I'm easily prepared for various weather conditions and temperature changes. I can go with just a tank top for warm days, layer a tank, tee, and sweatshirt for colder days, or any number of possibilities in between!
.
2. I limit "extras"
As you can see by the list above, I really don't pack many "extras".
I don't take any jewelry besides my wedding ring and a pair of white gold hoop earrings.
I rarely wear belts so I never need to take those
I usually try to limit myself to 2-3 pairs of shoes
I don't pack anything fancy (unless I'm traveling for a wedding or a special occasion)
The only makeup I pack is mascara, lip gloss, and bronzer
I use travel-size toiletries for the necessities, and I just do without anything extra for the few days I'm gone
Thanks to my short hair style, I don't need to pack brushes, combs, curling irons, flat irons, or hair accessories
I don't bring paper books — but rather read online via my phone or computer
I pack only the necessary electronics (usually just my phone, laptop, and charging cords)
Obviously, this approach to packing won't work for everyone, but it does drastically cut back on the amount of stuff I need to pack (and the amount of time it takes me to pack).
.
3. I use EzPacking products
I have no tricks or gimmicks to fitting massive amount of clothing into my suitcase. I don't roll or fold anything a certain way, I don't use space-saving bags, I don't scrunch everything up so it's completely wrinkled. I just fold the clothing like normal and use the EzPacking Cubes to help keep everything neat and organized inside my suitcase.
The EzPacking cubes are (in my opinion) a fabulous way to simplify and organize the packing process — and they sure make it easier to pack for, and travel with, kids!
The EzPacking cubes come in a variety of different colors and sizes too. We designate one color to each person, since I often like to pack multiple people's clothing in the same suitcase. Or sometimes, we use one color per day and put everyone's clothing for that day in one specific color. This works well for trips when you're in and out of the car or staying at different places each night.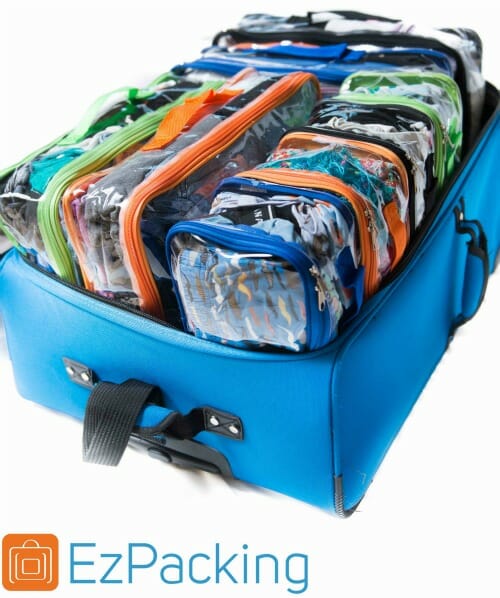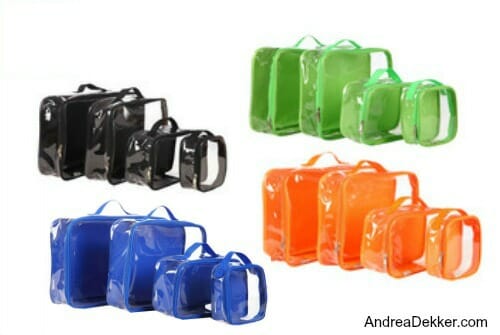 The EzPacking Starter Set comes with the 4 cubes you see pictured above (in your choice of color). This is a great option for shorter trips or carry-on luggage (like my red duffle bag). The EzPacking cubes make it possible to fit more in less space, allowing you to save money by only taking a carry-on instead of paying to check your bags!
The EzPacking Complete Bundle is the best value for anyone who travels more frequently or for longer distances.
It combines 2 Starter Sets (in different colors) plus 2 shoe bags, a laundry bag, a set of folding boards, and a collapsible duffel bag (in case you come home with more than you left with!)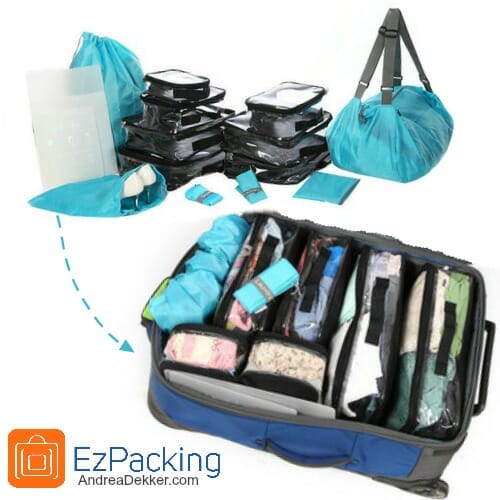 Not only does packing with the EzPacking cubes allow me to fit more into a smaller space and keep my items neat and organized, it also makes finding what I need extremely simple as the cubes are clear. No more digging to the bottom of the suitcase any time I can't find something. Now, all I need to do is pull out the cube and grab the items I need.
Also, the bonus duffle bag and laundry bag make it super easy to separate the clean and dirty clothing so I can get a jumpstart on laundry when we get home.
.
4. I remind myself that there is more to vacation than clothing
While I am fully aware that traveling is much easier and less stressful if you pack the appropriate items, I also have to CONSTANTLY remind myself that life will go on if I forget one of Nora's favorite shirts or if I don't look 100% completely "put together" each day. We're traveling to have fun, not create a fashion statement 🙂
If worse comes to worse, we can wear dirty clothes, we can swing by a Laundromat to do a load of laundry, or we can even pick up another cheapy shirt or pair of pants at a local store. After all, it's not like we were in the middle of nowhere!
So there you have it! A few of my best tips for simplifying and organizing the often-overwhelming task of packing for your next vacation…
Now, if they could only make pack 'n plays, strollers, and various other toddler and infant gear slightly more compact 🙂
What are your tips for minimalist packing?
A big thanks to EzPacking Inc. for sponsoring this post and making it possible for me to provide all of the content on my blog free of charge! My opinions are 100% my own! Please see my full disclosure policy and contact me with any questions you have.