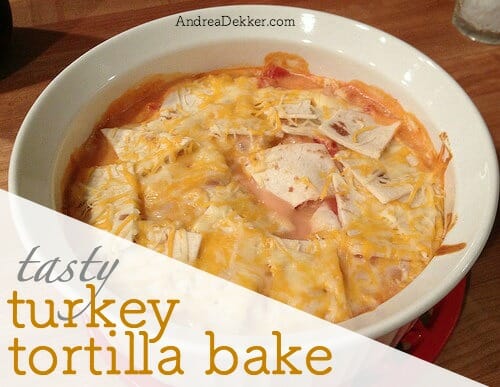 It's almost 2 weeks past Thanksgiving — and if you're still looking for a way to use up some extra turkey meat, I have an amazingly simple and tasty recipe for you to try.
I usually don't like to make blanket guarantees, but I'd honestly be shocked in anyone in your family didn't love this recipe (Nora and Simon both gobble it up and usually ask for seconds).
Recipe for Tasty Turkey Tortilla Bake
Serves 8
INGREDIENTS:
12 tortillas (I use 6″ flour tortillas)
2-3 c. cubed cooked turkey (or chicken)
1 can (10.75 oz.) cream soup (I usually use chicken)
1/2 c. milk
1 can (15 oz.) diced tomatoes, undrained
1 c. shredded cheddar cheese + additional cheese for topping
DIRECTIONS:
Preheat oven to 350*F
Cut tortillas into bite-size chunks and set aside
In a medium bowl, mix soup, milk, tomatoes, chicken and 1 c. cheese.
Layer tortilla chunks and sauce in a 9″ x 13″ in baking dish, ending with a layer of tortillas
Sprinkle a little extra cheese over the top layer of tortillas
Bake COVERED for 30-40 minutes or until fully heated through and bubbly
Uncover and bake for 5 more minutes
Serve and enjoy!
NOTE: I used a smaller baking dish in the photos — but that's because I made 2 casseroles (one for dinner, one for the freezer!)
.
Obviously, you can use either chicken or turkey for this recipe… and you can switch up the flavors with different cream soups, different cheeses, or by using salsa instead of tomatoes.
Our kids aren't big on spice, but Dave always wants me to add some spicy red pepper flakes to his part of the casserole — you could also throw in a little taco seasoning if you wanted more of a Mexican flare to the dish.
This is a fabulous meal for a busy weeknight! It's also a great dish to bring to a potluck, give to a new mom, or just stockpile in your own freezer.
Now you have no excuse to let any of that leftover turkey go to waste!
How did you use up your Thanksgiving leftovers?
Visit my virtual recipe box for more simple, delicious, family friendly recipes!