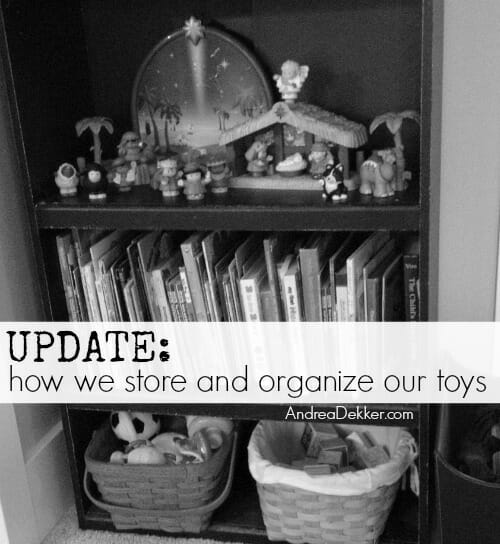 Just over 3 years ago, I shared a post about how we sort, purge, organize, and store our various toys.
At the time, Nora was barely a year old… and the two boys weren't even a thought yet!
Since that post, we have had 2 more babies, 3 more birthday parties, 4 more Christmases (3 for Nora and 1 for Simon), and have amassed boatloads of new and "new-to-us" toys, games, books, crafts, and other kid activities!
Thankfully, we also finished renovating the play room upstairs, along with new bedrooms for both Nora and Simon (also upstairs) so we have plenty of space for all our new things.
However, since I get lots of questions about how we organize all our kids' toys, books, games, and craft supplies, I thought it was time for an updated post. My plan is to just go room-by-room and share what toys and other kid items we have in that space — as well as how we store them.
LIVING ROOM:
I've never been a fan of lots of toys in the living room; however, since we don't have a finished basement, a family room, or a den, it's inevitable that the kids will end up playing in the living room at various points during the day (especially when I'm working in the kitchen and they want to be close by.)
We have a select few toys in the living room, along with all our DVD's, CD's, games, books, and puzzles — since they almost always need a grownup to help them with these.
Here's how we store things:
We have 1 bookcase in the corner of the living room, and the bottom 3 shelves are for kids' things. The top shelf has our Little People Nativity on it right now (usually it's a few of our favorite wooden toys).
The middle shelf has all our non-board books (we go to the library every week so we really don't have a need for too many extra books at home).
The bottom shelf has 2 baskets — one for blocks, one for infant toys.
Library books and DVD's are stored in the brown "basket" next to the bookcase.
Board books are on the shelf in our end table (the Bumbo seat is under that table as well).
All DVD's, VHS's, and CD's are in the green basket under the TV cabinet.
Busy Bags are stored in the tan basket under the TV cabinet.
All games, puzzles, and cards are stored in the ottoman.
The baby play mat and bouncy seat are folded up and stored behind the couch.
We work REALLY hard to keep our living room clutter-free — which means being very diligent about putting all the toys away at various points throughout the day and not letting toys from other parts of the house "creep in".
KITCHEN:
We store all our craft supplies (paint, crayons, markers, glue, stickers, paper, cards, beads, buttons, etc.) in the red hutch behind our dining room table. This arrangement has worked very well for us for more than 2 years now since we almost always do crafts at the table anyway.
Read this post to see more pictures of how we store our craft stuff.
OFFICE CLOSET:
About 3 years ago, we created a really cute little play room for Nora in the large walk-in closet under our office stairs.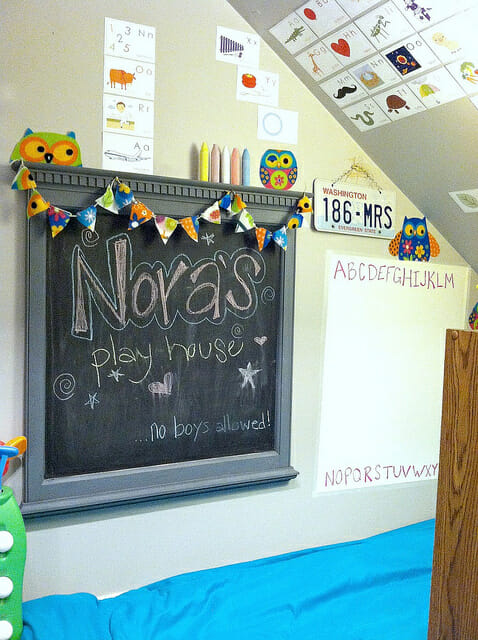 We have since rearranged things a bit and basically emptied out that closet minus a kid-size table and chairs for Nora and Simon. We don't really keep many toys in there anymore — just a chalkboard and our Thomas ride-on toy, but the kids just love to hang out in there!
Nora calls the closet her "office" and often likes to color in there alone while I'm working and the boys are sleeping. We have a little radio in there so she can listen to music too 🙂
Eventually, I'd like to come up with a way to better utilize this space for storage purposes — but right now, they can have it as their little hide-a-way!
PLAY ROOM UPSTAIRS:
The playroom upstairs is actually quite small — only about 11′ x 11′ and it's right at the top of the stairs. It's not the most amazing play area, but considering our old farmhouse basement would not be suitable for little kids to play in, we are thrilled to have the extra space for toy storage.
Right now, the playroom houses:
The play kitchen I made for Nora's 2nd birthday and all the kitchen food, dishes, pots, pans, etc.
Another table and chairs to use with the kitchen and food.
All the dress-up clothing (in the toybox and on the hooks).
All our Little People toys and accessories (I'd ideally like to find a better way to store these)
We truly don't have that many toys in here — but when you have Simon going crazy with the food and Nora pulling out every piece of dress-up clothing we own, it gets really messy REALLY quickly!
NORA's ROOM:
Both Nora and Simon's rooms are very large — so since we don't have a huge playroom, it only makes sense to let them keep some toys in their rooms. James currently doesn't keep any toys in his room.
Tent and sleeping bag
All baby doll items (at the end of her bed and some in her closet)
Musical instruments
Stuffed Animals
Blocks
Rocking horse
The wooden storage cabinet is something I got from my great aunt. I had intended to paint it but never got around to it. We use Cresbi Crates to organize the toys, musical instruments, and stuffed animals as the crates fit perfectly on the shelves.
.
SIMON'S ROOM:
We currently hardly keep any toys in Simon's room because, without fail, the toys in his room always seem to be the toys Nora wants to play with when Simon is napping.
Here are the few toys we do keep in his room:
LEGOS (we have the huge ones for little kids)
Small workbench with tools
Basket of cars, balls, and a few of Simon's favorite toys
OUTSIDE:
I can not even tell you how much outdoor kids' things we have accumulated over the past 4 years — I swear, the bikes and scooters breed overnight! Thankfully we have lots of storage space for outdoor toys as we have a large 2-stall garage and an even larger outbuilding.
Here's a very basic rundown of how we store outside toys.
Sand toys go in the sandbox
Yard games, bats, balls, etc. are in the small lower cabinets in the garage
Bubbles, sidewalk chalk, and driveway paint are in the top cabinets in the garage
Bikes, scooters, cars, roller skates hang on the side (or sit on the floor)
Strollers and bike trailer hang on the back hooks in the garage
We store the pool and all pool accessories in the shed that we just built 🙂
That's everything… at least until Christmas!
Personally, I feel like we have a lot of toys and I could potentially get rid of 50% of them without anyone noticing… but for the most part, all our toys get played with on a regular basis (I don't rotate toys in and out).
I do try to purge items on a regular basis — whenever they are broke, missing a part, or just not played with anymore. Sometimes I feel like I'm tossing things every day — but I'm fairly confident that if I didn't stay on top of our toy clutter, things would get out of control really quickly!
As with almost everything, there is no one "right way" to organize toys or other kid gear. In fact, I regularly switch up our toy storage to meet our needs (sometimes on a weekly basis!) We just got a bunch of new things for Nora's birthday, and I'm positive we'll be getting more for Christmas in a couple more weeks. Once the new items come in, we make a space for them — which often means moving (or purging) something else.
Continual maintenance is key when it comes to toys!
Do you have any great tips for storing toys and other kids' items?