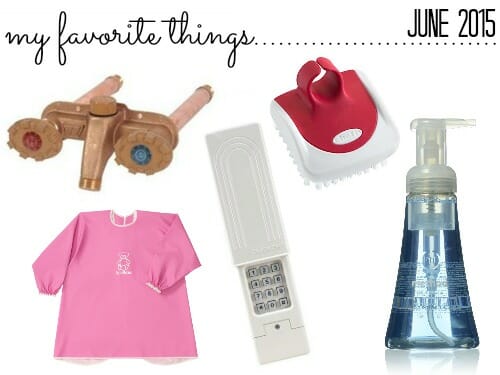 How is it already June!?!? With only a few more days of school left for Dave, we are anxiously anticipating the start of summer — and a less structured, less rushed, more relaxed day-to-day life (until the baby arrives anyway!)
I'm sharing a few more of my favorite things today… and as always, be sure to check out some of my favorite things from past months.
DISCLOSURE: None of these products are sponsored in any way; however, some of the links below are affiliate links — which means that at no cost to you, I may get a VERY small commission. However, I hope you know that I'm only promoting the products below because I use them daily in my own home and life. Read my full disclosure policy for more information.
Universal Keyless Entry Pad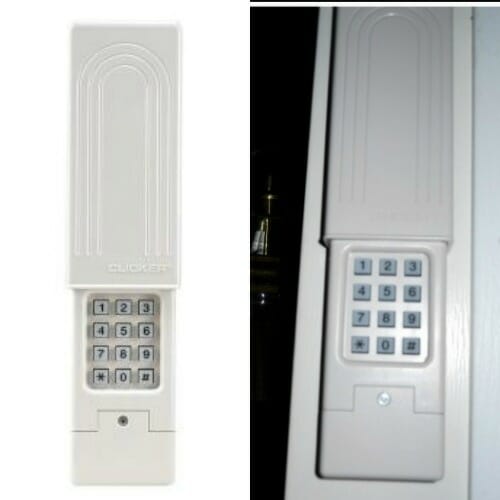 The VERY first project Dave and I tackled on our farmhouse (4.5 years ago) was to install a keyless entry pad on the garage door of our extra garage / outbuilding.
It was a very simple project, it cost right around $35, and it has been hugely helpful for us over the past few years.
Since this garage doesn't have a service door super close to the garage door and since we don't use this garage to actually park our cars, it's nice to have the keyless entry pad so we can get in and out with just the touch of a few buttons (we don't need to run in to the house to get a remote or go around the side of the building, through the service door, and open it manually).
It's also nice that we can simply give the code to anyone else who needs access to our outbuilding without giving them a key (and yes, we can change the code if we want to).
.
Vegetable Scrub Brush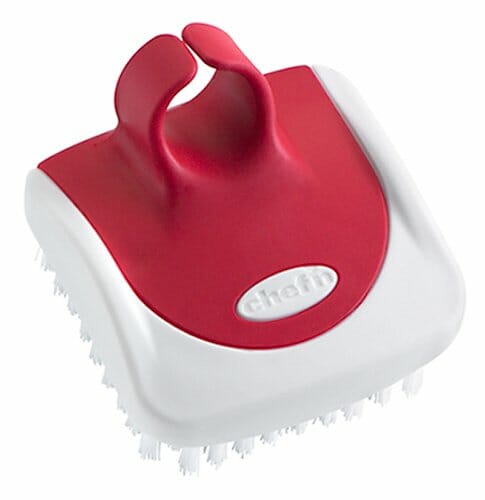 I purchased my vegetable scrub brush several years ago for $0.99 on clearance — and I can't even tell you how often I use this handy little kitchen gadget. (Note: mine is Oxo brand, but it is exactly the same as the one I linked to above)
I never had a great method for scrubbing root vegetables before I purchased this brush, and since I can simply toss the brush in the dishwasher if it gets a little dirty, I feel this is a pretty sanitary option for cleaning my veggies.
Plus, the little finger grip REALLY makes the whole process faster and easier — no more dropping the brush in the sink!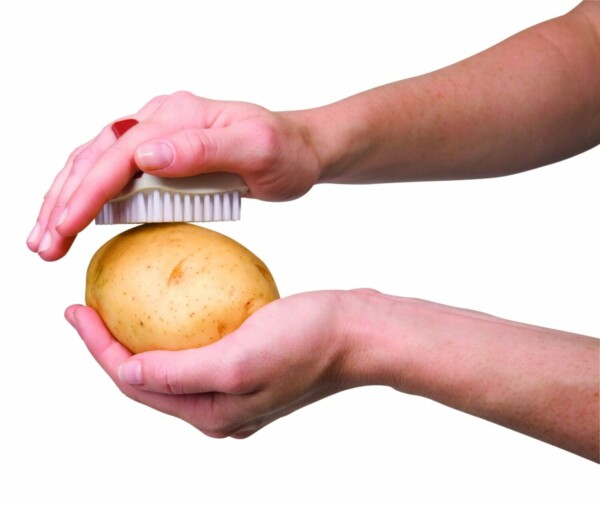 Smock Bibs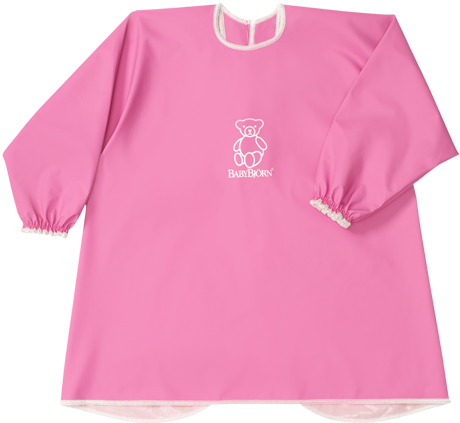 Oh smock bibs… how I love thee!
I've shared my love of the BabyBjorn Smocks already on my blog — and over the past year, both Nora and Simon have gotten sufficient use out of our smock bibs (for eating, art projects, helping me cook, painting, etc.)
The smock bibs are SOOOOO easy to clean and really comfortable for the kids to wear. The only downside to them is that they can be warm… especially now in the summer months.
So, since we're usually in short sleeves or tank tops this time of year and don't need to worry about getting our sleeves dirty, we've "switched" to the cute smock bibs Dave's mom made for us (based on a bib SHE had when she was a little girl!)
They are basically like a kid-size hospital gown (totally open in the back) with a tie around the neck and holes for the arms. Very simple — but super handy for younger kids especially.
The smock bibs fold down nicely for travel (I always keep one in the diaper bag) and wash up good as new whenever they get dirty. Here's the link to the BabyBjorn smocks… and although I couldn't find a specific link anywhere to something exactly like what Dave's mom makes, I'm sure they sell similar items on Etsy.
.
Outdoor Hot Water Spigot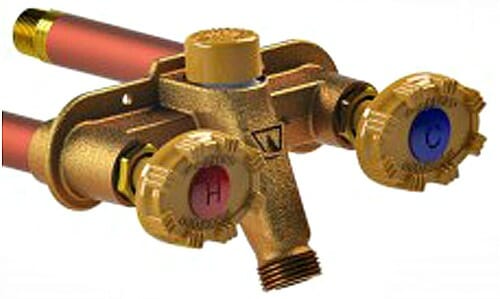 We have 4 different water spigots on the outside of our house — which makes it really convenient to wash the car, fill up our kiddie pool, water plants, or do any other variety of activities involving water.
However, that water is FREEZING cold!
If we wanted to wash the cars (or our hands) with warm water, we had to bring everything inside to fill up buckets from the sink.
And as our kids get older and want to play in the sprinklers and in the kiddie pool, we learned quite quickly that they didn't last long with the freezing cold water. We'd do all the work of hooking up sprinklers, hauling out the pool, filling it up, getting them changed into their swim suits, etc. etc. only to have them play for 10 or 15 minutes until they were freezing cold and ready to get out.
So last summer, we decided to splurge and replace one of our outdoor water spigots with a much fancier (much more expensive) hot + cold water spigot. I was initially hesitant because it cost more than $300 for all the parts and labor… but after almost a year of using it, I would say we've most likely gotten our money out of it already (and we hopefully still have MANY years in this house).
Not only have the kids enjoyed bath-temperature pool days this spring (even if the air is a bit cool yet), we've also be enjoyed washing the car, our hands, and other various outdoor items with nice warm water!
.
Foaming Hand Soap


Believe it or not, I've never used foaming hand soap until a few months ago — and it totally revolutionized the way I clean my KIDS' hands!
With gel or bar soaps, the soap was always sliding off their hands and never really washing them that well. However, the foam soap sits nicely in their tiny hands and makes it super duper easy for me to scrub them up after we come inside — or after Simon sticks his hands in the toilet 🙂
Plus, for some reason, Nora has a much easier time pumping our foaming hand soap dispenser than she did with our other gel soap dispenser — which means she can now officially go to the bathroom, wipe herself, AND wash her hands all on her own — hallelujah!
That in itself makes foaming hand soap a favorite for me 🙂
I've been using the Method brand soap in Sea Minerals. I get mine from ePantry.com (here's more information about that) and love that I can simply purchase refill kits as opposed to buying all new bottles of soap every single time.
Also, for those of you who are super frugal and want to try making your own foaming hand soap, here's a "recipe" for you!
.
That's all for me this month.
Make sure you check out my previous months' favorite things — and feel free to share some of YOUR favorite things in the comments below!