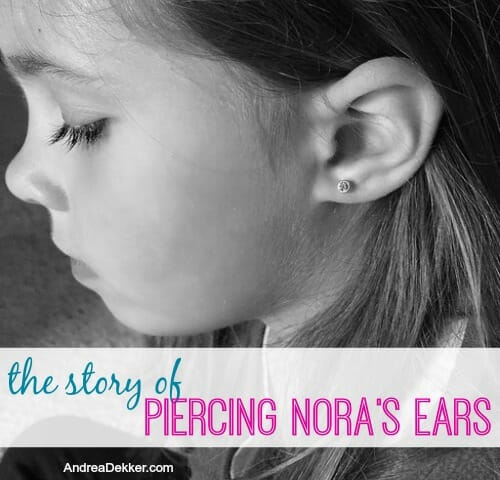 Yesterday was Nora's half birthday (she loves half birthdays so we made a cake!) and 6 months ago, she got her ears pierced on her birthday.
I've been asked to share more about our ear-piercing experience so many times, and I figured today would be a good day — especially since we've finally put the 'trauma' of the whole ordeal behind us 🙂
Let me start out by mentioning that I have absolutely no strong feelings, rules, or regulations about ear piercing. If my girls want their ears pierced, I'll get them pierced. If they don't, I won't force the issue. I don't think there is a 'right' age or a 'wrong' age to get pierced ears, and I honestly almost never even notice if people have pierced ears or not.
Also, I wear the same earrings every single day. They are cheap "silver" hoop earrings that I've had for years and years. Once in awhile, I switch to pearls, but the hoops are my favorite — clearly, the whole earring thing just isn't a big deal for me.
That said, Miss Nora was VERY interested in getting her ears pierced after she started preschool and noticed a few of the other girls had pierced ears (peer pressure with 4 years olds — it's real!)
By the time she mentioned it to me, we were nearing her 5th birthday, so I suggested she think about it for a few weeks and if she still wanted to have them pierced by the time she was 5, we would get them pierced.
I also told her it would hurt REALLY, REALLY, REALLY bad — worse than shots, worse than a bee sting, worse than biting her tongue, etc. This girl has the absolute lowest pain tolerance of any human I've ever met… so I just wanted to prepare her for the worst.
She assured me she could handle it (I knew she probably couldn't).
About a week before her 5th birthday, I mentioned our ear piercing plans to Nora's friend's mom after school one day. And it just so happens that this mom is certified to pierce children's ears and did it for years and years as part of her job at a local jewelry store. She offered to do Nora's ears (and double pierce my ears) on Nora's birthday at their house.
The ONLY issue was that she could only do one ear at a time…
I knew in my head this was probably a deal-breaker for us — I couldn't picture any situation where Nora could endure that much pain and then say "yes, sure, do that again."
However, Nora was so excited about having her ears pierced at her friend's house, and I was happy to save $200 on both our ear piercings since this mom insisted we couldn't pay her anything… so I said yes.
.
On the day of her birthday, we had her doctor's appointment in the morning (including 4 shots!) and then went to her friend's house after lunch.
The mom did my ears first so Nora could watch (wow, did it hurt!) and then Nora happily hopped up in the chair.
The mom marked the earring placement, set the gun, and put the first earring in… only to endure the loudest screaming I've ever heard in my entire life. Nora's friend actually ran downstairs because Nora was screaming so loudly.
She absolutely refused to let the mom put the second earring in, even after bribes and lots of pep talks.
After about 20 minutes of trying to reason with my sobbing little girl (and even piercing her stuffed pony's ears), I ended up straddling her between my legs, pinning her arms down with one of my arms, and pressing her face against my chest with my other arm, while the other mom quickly shot the second earring into Nora's other ear — only to endure even more screaming than before.
It was brutal!
I apologized profusely to the other mom and tried to get Nora out of their house as quickly as possible (and I mailed the mom a gift card since she refused all other payment attempts from me.)
Nora cried and cried for hours once we got home… and I prayed she wouldn't get any type of infection to make the pain worse.
Thankfully, we had plans to go to Culver's for her birthday dinner that night, and at the last minute, I asked my parents to come along since I knew Nora would be excited to show someone her new earrings.
My plan worked and she instantly perked up when she knew her grandparents would get to see her earrings.
For the next 6-8ish weeks, we VERY faithfully twisted the earrings and cleaned the earring hole area twice a day… and miraculously, they never got infected and she never once complained of any pain or soreness!
.
Since then we've only attempted to change the earrings once, but after one day, her ears started getting red so we switched back to the solid gold studs we used to pierce her ears.
Nora has always had fairly sensitive skin, so I wasn't surprised that even the high-quality earrings I bought didn't work for her ears. She hasn't asked to change them again — so I'll probably just keep the studs in for as long as she lets me.
.
The other day Nora saw pictures of another friend who recently got her ears pierced and she asked me if we have any pictures of her getting her ears pierced… I almost busted out laughing thinking of what those pictures would have looked like.
No, no, we definitely don't have any pretty pictures of Nora sitting in the chair at the jewelry store, showing off her new earrings… but we sure do have some crazy memories!