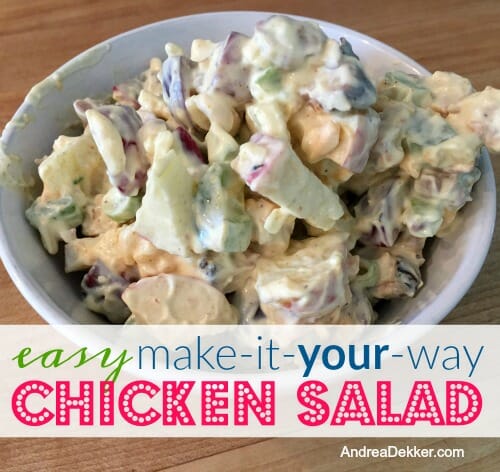 One of my most favorite "grown-up" lunches to eat at home is chicken salad.
I love it on toasted bread, wrapped up in a tortilla, on a bed of lettuce, or even as a dip for crackers. I have a feeling I could eat it almost every single day without complaining (at least for a few weeks!)
That said, I'm the only one in my family who like chicken salad, so I often make up a small batch at the beginning of the week and enjoy this quick and easy lunch 2 to 3 times throughout the week.
It's SO handy when I'm trying to refill sippy cups, scoop my strawberries, wipe sticky fingers, and clean up the lunch dishes every afternoon. I literally have no excuse not to sit for a least a minute or two and enjoy my already-prepared chicken salad.
I'm often asked for my "recipe" — but the trouble is, I've never really used a recipe to make my chicken salad. I just go by how it looks and how it tastes, then add more of something if I feel like it's missing something.
So today, along with sharing my own personal favorite recipe for chicken salad, I'll also share some basic guidelines for making chicken salad — which will hopefully enable you to find your own "perfect" recipe!
Make-it-Your-Way Chicken Salad:
The steps and guidelines below are written in the order I add the ingredients. I always end with the sauce and seasonings so I can add more or less depending on how many other ingredients I added.
I strongly encourage you to just play around with different ratios of ingredients to find the recipe you love best!
#1. THE CHICKEN:
I personally like using shredded chicken for my chicken salad — because I think it "sticks" to the sauce better and is easier to chew. However, any type of cooked chicken will work.
I often use leftover rotisserie chicken, leftover grilled chicken, or just pull a little shredded chicken from the freezer. (Here's a super simple tip to quickly shred large amounts of chicken!)
I've heard that a good rule-of-thumb is to use a 1/2 c. of shredded chicken per person — but in my opinion, that seems like A LOT of chicken. I like to add lots of extras so I probably lean more towards 1/4 c. of shredded chicken per person.
Either way, you definitely don't want to forget the chicken!
#2. THE CRUNCH:
I LOVE the crunchy aspect of chicken salad, so I might add more crunch than most people… so again, just play around with it and see what you like best.
Celery, green onions, pecans, apples, and grapes are my favorite ways to add crunch — I often add all of them! I know some people who add pickles or pickle relish — but I can not stand the taste of pickles, so I never do this.
#3. THE SWEET:
Apples and grapes definitely add sweetness, but I love adding Craisins too. I've seen many recipes that include raisins and even pineapple with rave reviews.
#4. THE SAVORY:
I'm not sure if savory is the right word — but I liked how it fit with my other S labels below!
I like adding a hard boiled egg to my chicken salad — and I also always add a little shredded cheese. I know the cheese is not a "normal" ingredient for chicken salad, but I figure I can make it my way if I like!
#5. THE SAUCE:
I always use a mayo-based sauce, but I know other who use mostly sour cream, or even Greek yogurt to save on calories.
I also add in a little mustard — white Vinegar also helps loosen up a sauce that feels a bit too thick (although I prefer it thick).
#6. THE SEASONINGS:
Salt and pepper are obvious choices for adding a little seasoning at the end — but I always use just a little bit of sweet curry in my chicken salad recipe. It adds such great flavor!
.
In my opinion, those are some of the "basics" of creating your own version of the perfect chicken salad… however, since I know many of you will want a step-by-step recipe to follow, I've included my own favorite recipe below.
Please note, I don't actually measure any of these ingredients when I'm making my salad — I just keep dumping and mixing until it looks and tastes good to me! Also, I usually just add whatever ingredients I have on-hand, so I certainly don't always make it exactly like it's written below!
My Recipe for Chicken Salad
This is a smaller recipe that would most likely make 2 sandwiches or wraps.
INGREDIENTS:
1 small pre-cooked chicken breast; shredded or chunked
1 stalk celery; diced
1/4 apple; shredded or diced
6-8 seedless grapes; quartered
1 green onion (or 1 T. diced onion)
2 T. pecans; roughly chopped
1 T. Craisins
1 hard boiled egg; chopped (not pictured)
1 T. shredded cheese
1/4 c. mayo
1 t. mustard
1/4 t. sweet curry (totally optional, but it adds GREAT flavor)
salt and pepper to taste
DIRECTIONS:
In a small bowl, mix all "chunky" ingredients.
Add mayo, mustard, and any seasonings until it's the consistency you like.
Taste-test and add more of anything you think necessary.
Eat and enjoy!
Like I mentioned above, chicken salad is one of my most favorite lunches. Not only is it delicious, it's also so easy to make ahead with whatever ingredients I have on hand.
Here's hoping my kids don't discover how yummy it is so I can keep it all to myself 🙂
What's your favorite chicken salad ingredient?
Visit my virtual recipe box for more simple, delicious, family friendly recipes!