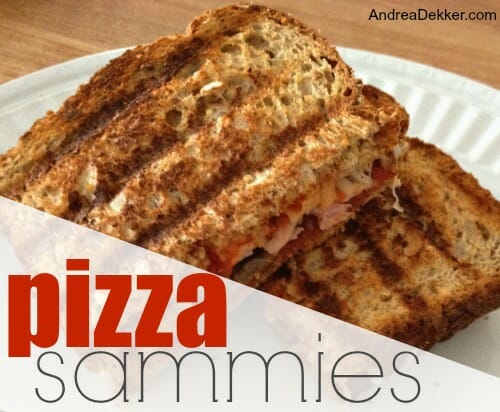 For the record, Dave doesn't cook (he's good, but not THAT good!)
However, he is a pretty mean grilled sandwich maker… and these pizza sammies (as we call them) are a really quick, really simple, really delicious meal (or snack) that even your husband or your middle-school age kids could make — I promise!
This recipe did come from Dave, although I have added a few things to make it extra yummy. That said, I think Dave ate his fair share of pizza sammies the year we were engaged and he was living on his own, teaching out in California 🙂
Pizza sammies are a great way to use up small amounts of extra meat, cheese, sauce, veggies, bread, etc. that you might have sitting in your fridge… and as with most of my recipes, feel free to mix and match ingredients based on what you have in the house and/or what your family prefers.
Recipe for Pizza Sammies:
Makes 2 sandwiches
INGREDIENTS:
4 slices bread (english muffins, bagels, pita bread, etc. will also work)
4 T. pasta or pizza sauce (anything your family likes)
a pinch of each of the following: basil, oregano, garlic, and/or any of your favorite pizza seasonings
1/2 c. "white" cheese (Mozzarella and/or some type of Italian blend work well)
your favorite pizza toppings — ham, bacon, sausage, pepperoni, peppers, onions, etc.
additional sauce for dipping (optional)
Like I mentioned above, almost any type of pizza toppings will work — so just experiment. I've done these sammies with BBQ sauce, chicken, bacon, and cheese and they were amazing! I've also tried cheese, chicken, and pesto sauce for a fun and delicious combo. You really can't go wrong!
DIRECTIONS:
Spread 1 T. of sauce on each of your 4 slices of bread
Sprinkle herbs, spices, and seasonings on two slices of bread
Layer pizza toppings (meat, veggies, and cheese) on the other 2 slices
Place the "seasoned" slices of bread on top
Cook sammies on a George Foreman Grill, panini maker, in a toaster oven, on a griddle, or in a frying pan until both sides are golden brown
Serve with additional sauce for dipping (optional)
Eat and enjoy!
NOTE: If you're going to use a frying pan or griddle, you'll probably want to butter the outsides of the bread and be VERY careful when you flip the sammies so all the filling doesn't fall out 🙂
Like I said before, this "recipe" (if you can really even call it a recipe) is SO super duper simple, fast, and easy that even your husband, teens, and tweens could make it. Heck, besides the sauce part, Nora usually helps me make these!
We will often make these pizza sammies for lunch on Saturday and serve them with raw veggies, fresh fruit, chips, and maybe a little extra sauce for dipping. They are definitely a "step up" from traditional grilled cheese sandwiches, they are most likely a lot healthier than traditional pizza, and they make a great lunch, dinner, or even a protein-packed snack when you're in a hurry.
What are your favorite grilled sandwich toppings?
Visit my virtual recipe box for more simple, delicious, family friendly recipes!