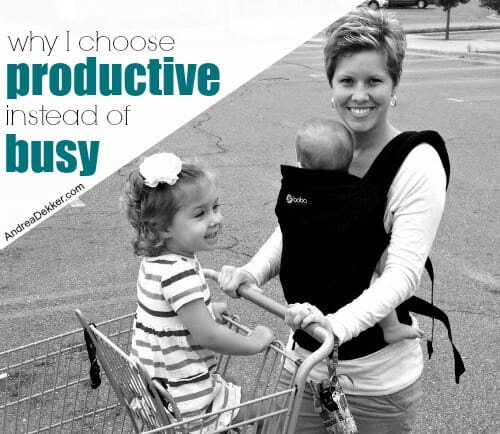 In today's ultra-fast-paced world, I feel that being busy has become something we are striving for — if only to be able to lament the fact that we are "just so busy."
I know I have personally complained about "being too busy" MANY times in my life — and although I've been more conscious of of this over the last year, I still catch myself talking about "being too busy" even though I know that I truthfully am NOT very busy at all.
Part of my non-busyness is due to a shift in priorities since having kids — but also the realization that "busy" is vastly different than "having a full life" or "being productive".
I'll be the first to admit that I REALLY enjoy being "productive".
I love learning how to use my time efficiently and getting as much done in the shortest amount of time possible — to the point where I'll often time myself to see how quickly I can do various tasks. Maybe I'm a little odd, but I feel empowered when I know I'm being productive and crossing things off my to-do list.
That said, I DO NOT like being "busy".
For me, productivity and proper time management implies that I'm doing things that must be done as efficiently as possible. In my life, that would be things like laundry, house cleaning, cooking, grocery shopping, my blog and business work, yard work, etc. Those are all necessary tasks for my family to continue living comfortably and for my business to run smoothly.
On the other hand, "busyness" implies that I'm taking on too much, spreading myself too thin, saying "yes" to too many obligations, and creating a whole lot of unnecessary stress. Busyness is a choice to add things, people, and activities to my life that are not necessary and may not even be enjoyable for me at this point in my life
Did you catch the difference there?
Productivity = doing necessary tasks efficiently

Busyness = choosing to take on too many unnecessary tasks and obligations
Before we get too far into this post, I do feel the need to clarify that for some people, "busyness" is NOT always a choice they have the luxury to choose or not to choose. Single parents and low-income families are the first people who come to mind. In many situations, they have no choice but to run themselves ragged trying to work multiple jobs to provide for their family's basic needs on a daily basis. I do not envy these people, and I feel it's necessary to acknowledge that for some people, busyness is not their fault or their choosing.
However, for the rest of us (and most likely for the majority of us) busyness is most definitely a choice we make to fill our days too full with too many tasks and obligations that just aren't necessary. These tasks will look different for every person and every family (and each person has a different tolerance for busyness), but some might include too many extra curricular activities for our children, too many volunteering roles at one time, too many elective committees, too many night and weekend commitments, etc. etc.
None of these activities or commitments are necessarily BAD in and of themselves, but if the results of participating in these activities and commitments are too much busyness and stress in our lives and our families' lives, then yes, the activities and commitments are BAD FOR US at this point in our life.
I have had MANY years of my life that were extremely "full" and sometimes verging on "too busy" (all by personal choice, of course) but over the past few years, even after adding more children and work responsibilities to the mix, I have continually felt less and less "busy"… all while maintaining a very full and productive life.
I still have a full schedule and several things to cross of my to-do list each day and each week. I definitely don't sit around with nothing to do during the day, but I have also gotten REALLY good at realizing when something is just "busyness" that I shouldn't add to my already full days, and then even better at saying no to those people, activities, events, requests, etc.
It's probably no huge surprise that as a result of these changes I'm happier, I'm less stressed, and I'm doing the things I do better than I've done them before.
However, what might come as a surprise is that sometimes, I feel bad for not being busy — like I SHOULD have more on my plate, and I SHOULD take on more commitments and responsibilities, and I SHOULD be doing bigger and better things in both my personal and business lives.
I know how crazy that might sound to some of you, but I also have a feeling many others can relate.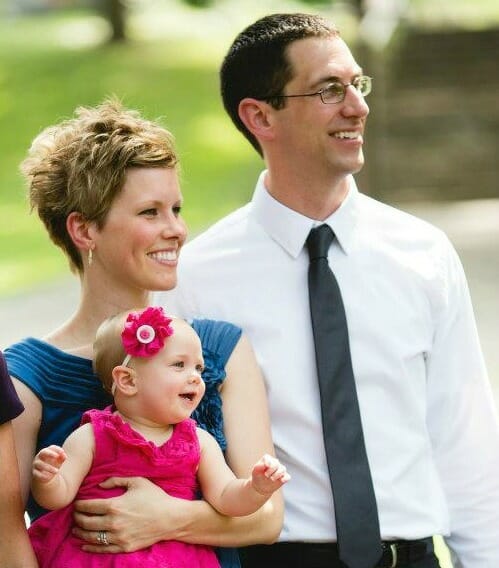 So often people will ask questions about what activities I do with my kids, what type of outings we go on, what groups we're involved in, what type of vacations our family takes, what type of work trips or meetings or upcoming projects I'm planning, when I'm going to write a book, when I'm going to start ramping up my speaking engagements again, when I'm going to hire someone so I can grow and expand, etc. etc. etc.
I never have very good or cool or "busy" answers for these questions… because for the most part, we don't do a lot of extra outings or activities during the day and I'm not working on anything huge or amazing in my business life.
And I'm 100% OK with that!
Although my life might not be glamorous or super-duper exciting, it's full of people, things, and activities that I enjoy — and I know that adding much more to the mix will eventually cause the "busyness" that I've been trying so hard to avoid!
Now to be clear, there are still times in my life when I feel stressed or anxious or worried… but for the most part, those situations are not caused by self-inflicted busyness.
There are also times in my life when I truly am BUSY because of choices I've made to do too much. However, those busy times are often because of conscious choices I've made knowing that all the activities are worthwhile and fun and good experiences, so I'll deal with a super busy and jam-packed day or two to fit everything in.
But I can also tell that we all need a couple really "chill" and relaxed days after those busy days (I think this is often why people say they need a vacation after their vacation!)
Yes, I have many things that are required of me each and every day, but I am NOT busy.
I spend most of my day feeding and cleaning up after little kids (true story). And when they're not eating or making some type of mess, we play and read and build forts and make simple crafts.
Then I turn Netflix on for Nora while Simon is taking a nap so I can respond to a few emails and make dinner.
I work when Dave is home and when the kids are sleeping… and if I start feeling like there is too much work to do in those hours, I either figure out a way to become more efficient and productive or I drop something off my plate. Period!
I KNOW it's a privilege for me to be able to make these choices… but I honestly think that many of us have more wiggle room in our schedule than we realize (I know I did). You might be surprised how many different choices you COULD make to alleviate a bit of that unnecessarily stressful busyness.
Change will not happen overnight, it will not be easy, and people will most likely give you a hard time — I know from first-hand experience! However I also know from experience that saying no to "busy" has been life-changing for me over the past couple of years… and yes, it has drastically simplified my life and my family member's lives.
I still challenge myself to be as productive and as efficient as I possibly can, doing the tasks I need to (and choose to) do each day… but I continue to say no to so many opportunities that I feel will cause a stressful amount of busyness. Sometimes saying no is really really hard (especially when it's fun activities or really lucrative business opportunities) but I've learned the hard way enough times that I know it's worth it.
There are still many people in my life who give me a hard time and don't understand why we turn down various opportunities or say no in certain situations — but I've noticed that those same people also complain A LOT about "being too busy" and the fact that "there is never enough time in the day."
Well, the last time I checked, we all had 24 hours a day to spend as we see fit. I'm just choosing not to pack my hours as full 🙂
Although I still catch myself saying, "I'm too busy to do that" I have been trying really hard not to complain about "being busy" — and more importantly not to let myself get the point where I actually AM too busy.
There is SOOOOO much more I could, should, want to, and probably will say about my thoughts on busyness… but this post is already way too long, so I'll save thoughts thoughts for another post!
Instead, I'll leave you with one final thought…
In my opinion, Simple Living meshes well with "productivity"… it does not mesh well with "busy".
What are your thoughts?