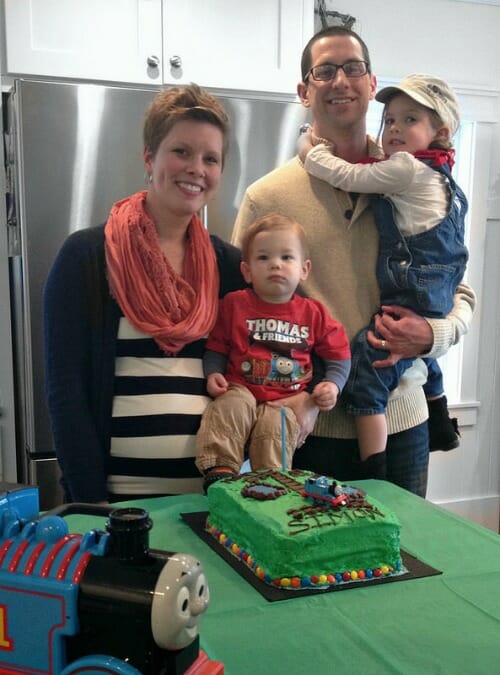 Last week, Simon had a birthday… and this past weekend, we had the privilege of celebrating with him!
As I'm sure you can already tell, the theme of the party was Thomas and Friends — or, more specifically according to Nora "a red and blue Thomas the Train party".
I'll be honest, I'm really not into "first birthdays" because the kids don't remember a thing. However, Nora was SOOOOOOOOOO excited to "help plan" Simon's party that I actually got into the whole planning process too and had a lot of fun scrounging together a bunch of Thomas the Train party details!
The day before the party, I brought Simon in for his 12-month checkup + shots and they said he had a DOUBLE ear infection. Add to that the fact that he currently has some major diaper rash, and he was relatively miserable the morning of the party 🙁
He perked up after a couple naps and was relatively happy for the party (especially towards the end) but still not his normal self.
Thankfully, it was just a 1st birthday so he won't remember anything besides my pictures… because I know one little girl who would have been beside herself if we had to cancel or even reschedule this party!
Nora did a bang-up job helping me plan the party AND being the train conductor for the night!
Even though Simon wasn't feeling great, he still enjoyed the extra attention from his grandparents and aunts and uncles…and the numerous rides on our Thomas the Train toy (that I happened to find at a thrift store for $1 last year!)
All in all, it was a very fun, festive, and frugal first birthday party — and lots of memories were made!
Here are the party details:
Since we only invite both Dave and my immediate family members, I just send out an invitation via email (for free).
I made this invitation using PicMonkey.com — which is a free photo editing site that I've been using for several years already.
Our guest list is usually between 12-16 adults along with 2-5 little kids — so nothing major. This year, I just had cake, ice-cream, and a few munchies… served up in aluminum bread loaf pans to look like part of a train.
I borrowed the Thomas train on the counter from our church nursery, and the loaf pans came in a 6-pack for $1.
The cake tasted good — but it definitely didn't turn out as nicely as I was hoping.
For starters, it just ended up smaller than I expected for using TWO 9″ x 13″ cakes stacked on top of each other. I wanted to make a bigger train track, use a bigger Thomas train, and have some trees, bushes, and more decorations on top. But there just wasn't enough room.
Plus, I ran out of frosting and when I went to make more (using the same recipe as my previous batch of frosting) it totally flopped and wouldn't firm up when I did any decorating.
Like I said, it still tasted fine, but I was a little disappointed.
My decorations consisted of a green tablecloth (to look like grass), red plates, and blue napkins — all purchased from the dollar store for $4.00.
I used electrical tape (it's all I had in the house) to make a train track on the green tablecloth.
.
Simon's shirt was borrowed from a friend, and Nora's outfit was pieced together with things we already had in the house plus a $4.99 pair of overalls that I snagged from ThredUp.com
She will probably never wear the overalls again (they are pretty dorky looking and have snaps in the crotch, which she doesn't like) but for $5, they were TOTALLY worth the price for how thrilled she was to look like a train conductor.
I tried to get a cute picture of her with Simon… but you know how that goes with kids and movable objects.
This is the best I got!
Since Simon was 'under the weather', we told Nora she could "help" him open his gifts — and boy did that make her night!
Then Nora played with the gifts while Simon just chilled.
All together, I think I spent about $10 total on decorations, paper products, and "costumes". The food was all stuff I already had in the house besides a few 2 liters of soda and the caramel dip for the apples.
Obviously, I spent a decent amount of time planning and preparing the food and everything else for the party, but that's not bad for a 1st birthday party if you ask me!
All in all, it was a fun afternoon for our family, and now we have a big boy in our house — just in time to make room for another baby 🙂