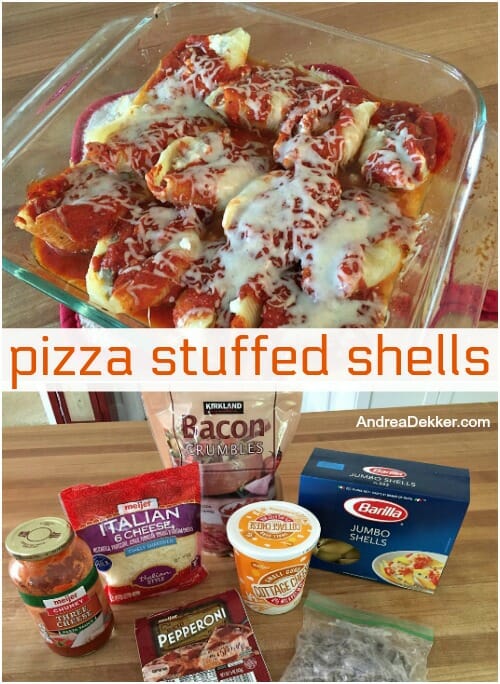 Pizza and pasta are 2 of our kids' most favorite foods — so any time I can combine the ingredients from pizza and pasta, I know it will be a huge hit!
And if there's a way I can do it in a make-ahead meal (that's also easy to freeze) it's even better!
Today's recipe for pizza stuffed shells is very basic, very tasty, and super easy to make ahead and/or freeze. The only somewhat time-consuming part of the recipe is stuffing the shells, but it really doesn't take too long and the kids think it looks cool!
This is such a great weeknight meal when you just want to shove something in the oven and eat 20-30 minutes later!
Recipe for Pizza Stuffed Shells
serves 8 (note :: the pictures in the post are of a half-batch)
INGREDIENTS:
20-24 Jumbo Shells
16 oz. cottage cheese
1/2 lb. sausage, cooked and crumbled
1/3 c. chopped pepperoni
1/3 c. real bacon bits
1/2 t. basil
1/2 t. oregano
1/4 t. garlic powder
1.5 c. shredded Italian cheese
1 jar (26oz) spaghetti sauce (or more depending on how "saucy" you want it)
DIRECTIONS:
In a large pot, boil noodles according to package directions.
While noodles boil, preheat oven to 350ºF and grease a 9″ x 13″ baking pan. Set aside.
In a medium bowl, mix cottage cheese, sausage, pepperoni, bacon bits, and spices.
Pour a small amount of sauce into the bottom of the baking pan (just enough to cover it).
Scoop meat/cheese filling into cooked shells (the shells will be HOT so you might want to run them under cold water first)
Place shells in pan, cover with remaining sauce, and sprinkle with Italian cheese.
Freeze, or bake in preheated oven for 20-25 minutes (or until cheese is melted).
As you can see by the pictures, I only made a HALF batch for our family and put the rest in the freezer for later.
Our kids gobbled this up and kept asking for more! It's definitely a really quick, easy, family-friendly weeknight meal!
Oh, and of course, feel free to mix and match toppings with your family's taste preferences.
What pizza toppings would you use?
Visit my virtual recipe box for more simple, delicious, family friendly recipes!