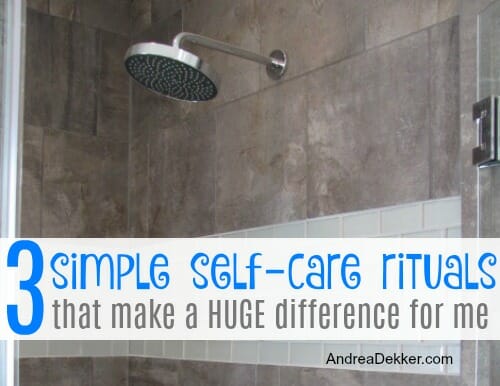 I'm often asked if there are certain things I do on a regular basis that are little "treats" for myself — something to pamper myself or something to look forward to after the kids are in bed.
I'll be honest, I'm definitley NOT the type to look forward to exercising (especially not right now). Nor do I get excited about a massage, a manicure, a pedicure, a facial, or any other sort of "spa" treatment. I don't go out for fancy coffee or wine dates with friends, I don't need a night out or a day away, and I don't need a new outfit or gadget to feel happy or to relax.
I know, I'm not "normal" — but you know how much I prefer to just be home!
The more I thought about this, however, the more I realized there are a few really simple self-care rituals I do pretty much every single day that make a HUGE difference for me.
I feel happier, more relaxed, less stressed, and more "with it" when I do these 3 simple things. Best of all, they all take minimal time (roughly 15 minutes or less), can be enjoyed from the comfort of my own home, and are essentially free!
1. Taking a hot shower.
I honestly can't remember the last time I went to bed without taking a shower… I'm not even sure I could sleep if I didn't take a shower first.
No matter how busy my days are, no matter how tired I feel, no matter how many other things I have to or want to do, I always make time for a nice hot shower at some point between dinner and the time I go to bed.
I honestly never understood the cliche jokes about new moms not showering for days on end — certainly the baby is sleeping at some point, or someone else could hold the baby for 10 minutes so you can shower. I always made time for a shower every evening — even though I could hear Nora screaming in the other room with Dave. I don't think that's being selfish or asking too much!
It's just something I always do that makes me feel 100 times better than I did before I took the shower. It's simple, it's quick, and it's "free" (I guess we technically pay for the water and the gas to heat the water — but you know what I mean!)
2. Getting dressed and ready for the day.
Aside from a couple times in my life when I've been very sick (or on Christmas vacation in college) I truly don't remember ever staying in my PJ's all day. Yes, some days I choose to wear very comfortable clothing, but I always change out of my pajamas and into something different — usually something that is at least somewhat coordinated and looks like an "outfit" rather than just another pair of pajamas.
Also, I ALWAYS do my hair each day — one of the downfalls (or perks) of having short hair is that I can't just resort to a hat or a ponytail. Fortunately, it only takes me 2-3 minutes to do my hair each day; and I can't tell you how much more "put together" and "with it" I feel once I'm dressed and my hair is done.
I'm not as regular with my makeup routine, but I do always try to put on mascara every morning — just to brighten my eyes up a bit.
The whole process of getting dressed, doing my hair, putting mascara on, and brushing my teeth is EASILY accomplished in less than 15 minutes — making it another super simple, super quick self-care ritual for me.
Oh, I should mention how I accomplish even 15 minutes to myself with a bunch of little people running around….
If I don't get up and ready BEFORE the kids, then I wait until after breakfast and after they are all ready, turn on a TV show (usually 15-20 minutes) and use that time to get completely ready for the day.
3. Sitting still for a few moments.
Although I'd love to say I ALWAYS get up before my kids, that just isn't the case. There are plenty of days when Simon or James wake me up MUCH earlier than normal and I just know there isn't any use trying to force them back to sleep as they'll probably end up waking Nora as they argue with me.
So although I don't always get a few moments of quiet in the morning, I have been really good about just sitting quietly for a bit after the kids are in bed.
This summer, Dave and I would usually just sit on the couch for 15-20 minutes and chat about the day, talk about the upcoming days/weeks, or just quietly read for a few minutes before getting on with our to-do list for the night.
Now, even if Dave is gone for a meeting or something at school, I've found that I really look forward to just sitting for 15-20 minutes after the kids are in bed. Sometimes I read, sometimes I sip on a glass of ice water, sometimes I just zone-out or even shut my eyes for a little catnap.
It's glorious, and it's just the break I need in my day to "recharge" me for the night ahead (especially this past summer when we were working on so many house projects in the evenings!)
Once my new little lady finally arrives, I will look forward to resting with her on the couch for a LONG time after the older kids are in bed. I've already started watching the Gilmore Girls on Netflix and plan to make it through as many episodes as I can while on my little "maternity leave"!
I know none of these are super crazy or cool, but sometimes it's the really basic mundane things that can make a big difference for me (and maybe for you too).
So I'd love to know… what are your favorite self-care rituals?
And yes, it's OK if they are TOTALLY different from mine!