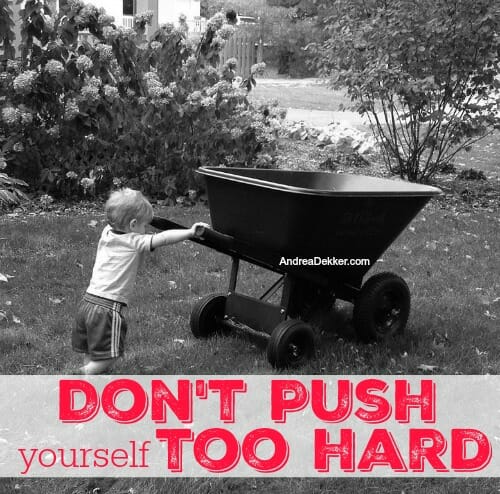 A couple weeks ago, I was chatting with a friend who is VERY into exercise and physical fitness. She does some sort of workout almost every single day, she teaches yoga classes, she's a member of a local gym, and… she runs outside in the freezing cold FOR FUN!
We were joking about how opposite we are on some things — like exercise (that I couldn't care less about) or cooking and cleaning (that she couldn't care less about as she is not married and doesn't have kids).
However, one thing we both practice regularly is not pushing ourselves until we hate what we're doing.
For example, she absolutely LOVES exercising, but if she has a cold or pulls a muscle or just isn't feeling up to a rigorous exercise, she takes it easy for several days just doing some yoga, stretching, and walking on the treadmill. She doesn't want to push herself so hard that she starts to dislike (or even hate) her daily exercises.
Similarly, I thoroughly enjoy cooking, cleaning, and so many other mundane domestic chores… but if I have an extra-busy week, if I'm super tired from waking up with kids at night, or if Dave has extra meetings and obligations in the evenings, I might plan to get takeout or order pizza a couple times during the week, and I definitely won't push myself to keep every space in our home completely spotless.
My friend and I both know our limits, we do what we can within those limits, and we don't keep pushing when we've reached those limits.
I suppose there are situations when continually pushing the limits could be advantageous (the first funny example that comes to mind is childbirth!) — but for the most part, I feel that too much pushing often causes unnecessary stress, burnout, and a very bitter taste towards the activity.
Let me give you a few more examples from my own life:
DIGITAL PHOTO BOOKS
I get asked SO many questions about my photo books — and although I've shared countless blog posts with lots and lots of images of my books, I think most people are still shocked when they realize how simple my digital photo books are.
I do not keep track of specific dates, I don't write paragraphs of text or create fun captions for each picture, I don't record the funny things my kids say or any specific quotes, and I really don't include much detail at all. I simply put the month and then 5-7 pages of picture collages from that month.
There might come a time in my life when I enjoy making more time to add these details to my photo books; but right now, I enjoy that I can keep my books updated in 15-20 minutes a month and no stress. If I pushed myself to keep track of every little detail, I would no longer enjoy doing my photo books and I might just stop altogether.
READING:
A couple months ago, I shared that I've actually been reading several books. I have NEVER EVER been a "reader" so the fact that I am currently reading 300+ page novels on a weekly basis is pretty insane!
I've really enjoyed reading digital books on my phone (I can thank Dave for this. He told me I'd love it, but I didn't believe him until a few months ago!) and find it so convenient since I almost always have my phone with me everywhere I go.
Interestingly enough, from the very moment I mentioned my new reading hobby, I have had SO many people tell me about certain Apps they use to keep track of the books they read and how I should start making lists of everything I read (and still want to read) in different categories.
I completely understand the logic behind all of this, but I also completely do not care to keep a running list of the books I've read. I don't have any reading goals, I don't care if I read 10 books or 100 books this year, and I have a feeling if I read the same book twice, I'd realize it by the first or second chapter!
I know that if I pushed myself to meticulously keep track of the books I read, it would no longer be fun and I might just quit reading altogether.
BLOGGING:
Two weeks ago, I shared more about how I have significantly cut back on my business and blogging responsibilities in order to make more time for family and my own personal hobbies.
Yes, I love running my blog and truly do consider it to be my "dream job", but I'm almost positive I would experience major burnout if I continually pushed myself to do more, be better, and grow bigger.
So I do as much as I can in the time I have, and I try to enjoy it all. Then I shut my computer down and enjoy the break… knowing that I will be able to wake up the next morning with a strong passion to continue doing what I love.
HOME ORGANIZING WITHOUT CUTE CONTAINERS OR LABELS:
I feel a tiny twinge of envy every time I see a nicely decorated space with matching bins and fun little labels… but then I realize that is TOTALLY not my style at all.
I honestly don't even own a label maker because it's just too much hassle (in my opinion). That said, I definitely DO label various things in my home… with masking tape, post it notes, and markers!
Although I love a good organizing project, if I had to use matching bins and cute labels for all my stuff, I don't think I'd be nearly as excited about my organizing projects. I would put off projects because I didn't have the necessary supplies, and I'd end up with a less organized house and less enjoyment.
LANDSCAPING:
Working in my own garden is one of the most enjoyable things for me to do when the weather cooperates. I love the fresh air, I love looking over all my plants and flowers, and I love putzing around and thinking my own thoughts. This is very advantageous, because as many of you homeowners know, there is ALWAYS more yard work that can be done!
Dave and I have many stories (before kids) of working outside in pouring rain or in the pitch darkness with car headlights just to finish a yard project. Our neighbors must have thought we were insane!
Anyway, now that we have 3 young children to care for, the time I have to work in the yard is significantly less than it was 5 years ago… and to compensate, I've lowered my standards A LOT.
You may have seen our unruly vegetable garden that got completely taken over with weeds this past summer… but you know what, the kids really enjoyed the garden, and we actually got a huge amount of produce from it.
There might be more weeds and a handful of unpruned shrubs in our landscape, but that's because I haven't been pushing myself to the point where I hate working in the yard. I do as much as I can and then I quit and move onto the next thing.
I think you get the idea!
This thought process could be applied to almost any facet of life — cooking, cleaning, exercising, dieting, working, singing, reading, or any other number of hobbies.
If you truly get to the point where you hate doing something, it probably means you're pushing yourself too far and too hard.
So what can we do?
I'd suggest taking a complete break — several days to several months (depending on the situation).
After your break, it's probably best to come up with a simple plan of action to prevent yourself from reaching that point of hatred again.
Maybe you only exercise 3 days a week instead of 6 or 7. Maybe you strive to read 1 book a month instead of 1 book a week. Maybe you take a vacation from work but don't go anywhere — just enjoy resting at home. Maybe you scale back the birthday parties to just cake and ice cream instead of a full dinner. Maybe you plan 2-3 weeks of super simple menus that involve several nights of takeout, pizza, sandwiches, or frozen dinners. Maybe you hire a babysitter for one morning or afternoon each week so you get a break from the kids (not that I've ever wanted a break from my kids!)
Whatever the case, a complete break from that activity often brings clarity and perspective. You might realize that all you need to do is tweak a few things to make the activity more enjoyable again. Or, you might find that you need to take an extended break from a certain activity.
.
I know I have personally benefited from these regular breaks, and (after lots of practice) have now learned to recognize when I'm pushing myself past the point of enjoyment and into the land of complete hatred.
NOTE: This is also REALLY important for parents and coaches to consider when dealing with our children and for employers to consider when dealing with employees.

There is a time and place for hard work, teamwork, responsibility, and commitment… but I see too many parents, coaches, and employers cross the line and push too hard until their children and employees hate the activity and end up burning out.
Have you ever pushed yourself too hard… to the point where you hated an activity you once loved?