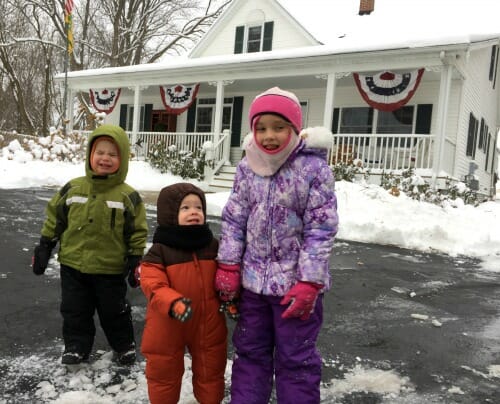 Playing out in the snow… some of them are happier about it than others!
A few weeks ago, a friend of mine explained how their family always does "the 4-gifts for Christmas" (something to wear, something to read, something they want, something they need) in an effort to simplify and minimize gifts. I've heard of this before and think it's an awesome idea… but we don't necessarily do our gifts this way right now.
In fact, even though I feel like I've kept our kids' gifts fairly minimal, buying mostly secondhand items and using almost all gift cards or shop credit, I know they will get more than 4 gifts this year.
Although I'm usually not one to compare myself to others, I was feeling just a little bit guilty knowing I had more than 4 gifts for my kids. However, when I mentioned this to my friend, she confessed that they do indeed always give "the 4-gifts for Christmas", but they also have stockings that are filled with lots of little gifts, they have a special "gift from Santa" on Christmas morning, and they all open new pajamas on Christmas Eve.
So… definitely more than just 4 gifts per person!
In that moment, I realized just how often we make assumptions based on only part of the story — and let ourselves feel guilty because we think others are so much better, wiser, simpler, cleaner, more frugal, more _______ than we are.
Obviously, making assumptions without knowing all the facts has the potential to make us look like idiots (I'm sure we all have at least one story!) and I certainly don't appreciate others jumping to conclusions about my family or my life if they don't know the full story (again, I'm sure we all have at least one story!)
So often we associate these assumptions with negative attitudes of others who are trying to find some "dirt" on us, start a nasty rumor, or make others think less of us.

However, have you ever considered WE might be the ones who are negatively affected by falsely assuming our friends, family, neighbors, coworkers, and social media acquaintances are better or superior to us based on only half the story?
Let me give you a few more examples from my own life…
#1 – Another one of my friends often mentions how they "don't have TV", and I always wondered how on earth she manages with no TV and 3 children who are very close in age.
Then last year, I realized what she actually meant when she said "we don't have TV" was simply, "we don't pay for cable". Not only do they have a TV (with an antenna to get basic channels) they also have Netflix, Amazon Prime, Hulu Plus, and a boatload of DVD's!
So it looks like I'm not the only mom who uses the TV for a little peace and quiet!
.
#2 – I have a mutual acquaintance who is very big on eating organic. She frequently mentions how her kids "always eat organic"; however, I know this "all organic mama" gets completely burnt out trying to make everything from scratch and ends up serving fast food several nights each month.
I've also seen her children eating "organic fruit snacks", "organic potato chips" and even "organic candy" more than once, and I always wonder if organic fruit snacks and candy are really that much healthier or more nutritious than non-organic fruit snacks and candy.
Most of you know I'm definitely not opposed to some processed and convenience foods (and we love Culver's) but it's always reassuring to see that even the most die-hard, all-organic moms out there still need a break every now and then!
.
#3 – A Facebook friend of mine regularly posts mini rants about moms at the park who just sit and talk with friends or talk on their phones instead of spending that quality time with their kids (gasp!)
I've always been slightly annoyed by these posts as they come across very negative, judgmental, and condescending… especially since I often invite friends over or meet friends at the park so we can chitchat while the kids play (really, is it THAT bad to let our kids play without 100% attention?)
It was only recently that I realized she has worked full-time as a teacher for the last 7+ years and currently puts her 2 young children in daycare 5 days a week during the school year.
Of course, I have nothing against using daycare — but I found it so interesting how I had started to question myself on the fact that I don't give 100% attention to my kids when I'm talking with a friend (or even just when I'm making dinner or doing a few things around the house). I was letting her "part of the story" influence my thoughts about myself… when in reality, I spend ALL DAY, EVERY DAY with my kids, giving them tons of quality time, attention, love, affection, care, etc. while she goes to work every day.
.
I don't share these stories to make my friends look bad, but rather to point out the obvious fact that we rarely ever know the entire story.
We might hear about families with "no TVs" and feel guilty about how much TV our kids watch… but maybe that family has 2 computers, 2 iPads, 4 smartphones, and the latest gaming systems.
We might read about women who feed their families 100% organic, all-natural, homemade food every day, and feel bad that we made a frozen pizza or ordered takeout last night… but maybe those women get burnt out and need breaks too (just like we do).
We might see parents playing intently with their kids at the park and feel bad about mindlessly reading a book or scrolling through Facebook updates while sitting on a bench… but maybe those parents are away from their children all day while they work, and this is their only time of day to really spend any quality time with their kids. Meanwhile, we're with our kids every waking moment of every day!
We might visit someone's spotlessly clean house and feel guilty as we remember it's been a month since we dusted anything… but maybe this person had been frantically racing around their house all morning in an effort to get it spotlessly clean before we arrived.
We might know others in our same peer group who seem to have so much energy. They volunteer for every committee, group, and organization — which makes us feel just a little bit guilty for saying 'no' to the latest request for our time… but maybe this person is actually extremely stressed out with all her to-dos and just doesn't know how to say no. Or maybe he/she is trying to avoid a not-so-happy home life by being gone all the time.
I could give SO many examples — but the point I want to make is simple:
Don't let yourself feel guilty when you THINK others are doing better or more than you.
Just keep doing your own thing and move on with your life. (Yes, I know that's not always easy to do — but we must keep trying!)
.
It's amazing to me how regularly we see, read, or hear subtle messages (sometimes not-so-subtle messages) from the internet, social media, advertising, and real-life interactions that make us feel like we aren't doing a good enough job. We aren't a good enough parent, spouse, friend, employee, Christian, housekeeper, etc. etc
We hear half the story, assume everyone is doing everything better than we are, and we let the guilt pile on.
Even as a very confident person who usually doesn't get too worked up about what others think of me or what others are doing differently than me, I often catch myself thinking "you should be more like_____" when in reality, I'm not even all that sure what being like that person would look like.
.
Unfortunately, I have no way to instantly boost your self-esteem or self-confidence. Instead, I'd simply like to encourage you to look for times when you compare yourself to others in any way. When you catch yourself falling into that trap, push the pause button and remember that you don't know all the facts.
You're only seeing part of their story (most likely the best part if it's on social media).
Then keep doing your own thing and try to push any encroaching guilt aside!