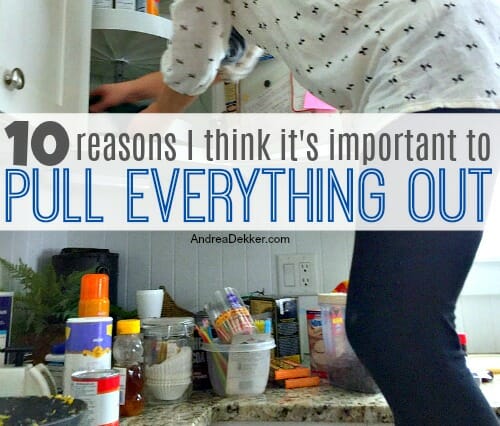 When it comes to organizing projects — either big or small — there is one thing I (almost) always do every single time…
I pull everything out.
I say "almost always" simply because I know there have been small projects where I don't fully pull every item out before starting to put things back again — but the vast majority of the time, I will pull every single item out of a space before I start putting things back in again.
Whether it's my closet, a kitchen cabinet, the bathroom vanity, my purse, or the entire garage, I find the results are SO much better when I pull everything out.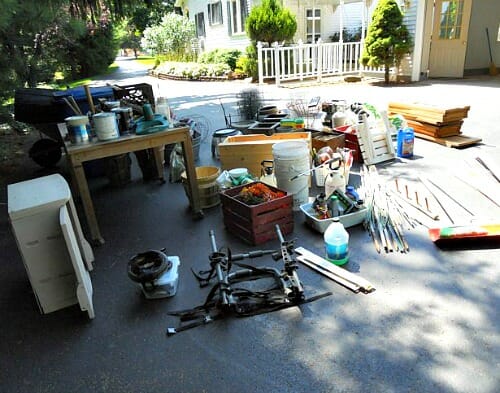 .
Why?
1. It forces me to see just how much stuff I actually have… which ultimately makes it easier for me to purge more.
2. It allows me to thoroughly clean, dust, vacuum, and/or wipe down the space before putting things back — which makes the finished space look so much nicer.
3. It gives me a fresh perspective when I see the space completely empty — often times, this means I come up with a new and better organizing system than I had before.
4. It motivates me to move quickly since I want to get everything put back into a home.
5. It forces me to look at AND touch every single item — which means I can more-easily find and purge anything with stains, holes, non-working parts, missing pieces, things that don't fit or flatter, etc.
6. It allows me to more easily group like items together — which greatly improves the functionality of the overall space.
7. It's more obvious when I have doubles and triples of things, or when I'm missing something and need to purchase it.
8. It forces me to see where my weaknesses are — either buying too much of something or failing to purchase necessary items for school and home.
9. It assures that I fully complete a project versus just moving things around.
10. It seems to stay organized longer — I don't know why, but whenever I "cheat" my system and leave several items in a space, I notice that it gets messier and more cluttered earlier (which ends up making more work in the long run).
.
Based on those 10 reasons, I personally feel the extra time it takes to pull everything out of a space is worth it — even for someone who highly values efficiency and productivity!
Please Note: I advise this for "Organizing Projects"

If you are simply weeding out a few outgrown items, unloved toys, or unused kitchen gadgets, there is no need to pull everything out of a space. Just remove the items you want to remove and keep on going. I do this ALLLLLLL the time!

However, if you really want to better organize a space to increase storage, improve functionality, or just clean it up, pulling everything out is definitely the way to go for the best long-term results.
There are so many benefits to emptying a space and starting fresh — and boy does it feel great once the project is complete.
What is your next organizing project??
.