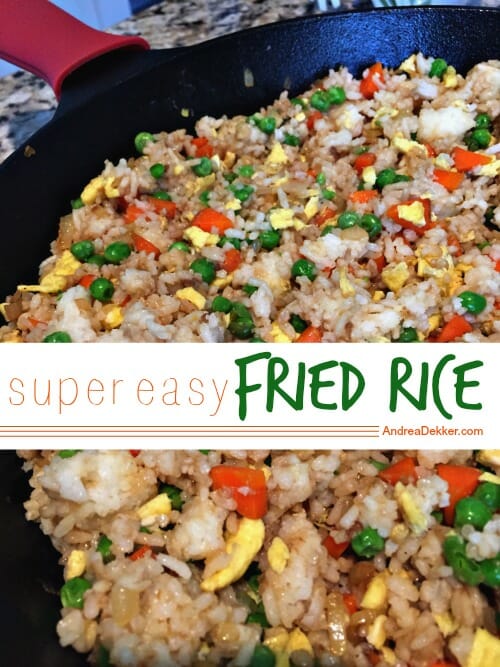 We eat a lot of rice — our kids absolutely LOVE it!
I use my handy rice cooker to make rice on a very regular basis and simply refrigerate or freeze the leftovers for use in stews, casseroles, or to pair with other leftovers.
One of my favorite ways to use leftover rice (especially from Chinese restaurants) is to make this super easy homemade fried rice.
Of course, if you don't have leftover rice, you can easily just make your own rice and then turn it into fried rice. Either way, the results should be quite tasty!
If you've ever been intimidated by making your own fried rice, I hope today's recipe will give you the guts to give it a try!
Recipe for Easy Fried Rice
Serves 6 as a side dish
INGREDIENTS:
oil or butter
3 eggs
2 carrots, diced
1 onion, diced
1 T. minced garlic
1 c. peas (frozen or canned work)
3 c. COOKED rice (white or brown rice both work well)
3 T. soy sauce
2 T fish sauce
1 T. sesame oil
sliced green onions for garnish
DIRECTIONS:
Scramble and cook eggs in a large frying pan (using oil or butter as needed). Set cooked eggs aside.
In the same frying pan, heat more oil or butter and cook carrots, onion, and garlic until softened (roughly 5 minutes).
Add in peas and cooked rice, sauté until rice browns a bit (another 3-5 minutes).
Add in cooked eggs, soy sauce, fish sauce, and sesame oil. Stir to combine.
Garnish with green onions and serve hot!
NOTE: Sometimes, I put the finished rice back in my rice cooker on the "keep warm" setting until we're ready to eat.
This rice tastes fabulous with bits of leftover chicken, shrimp, or even pork mixed in with it — and of course, it can easily be a hearty vegetarian meal all on it's own.
In regards to the fish sauce and sesame oil, I know those might not be pantry staples for everyone, but they really do add a TON of flavor to this dish. I've kept them on hand for years now — ever since our exchange students lived with us before Nora was born. It's amazing how often I use a little fish sauce or sesame oil… and they have a REALLY LONG shelf life!
As with all of my recipes, feel free to use whatever veggies, leftover meats, or whatever else you have in your fridge that you feel would pair well with fried rice. This recipe is VERY forgiving and versatile!
What are your favorite fried rice add-ins?
And as always, visit my virtual recipe box for more simple, delicious, family friendly recipes!