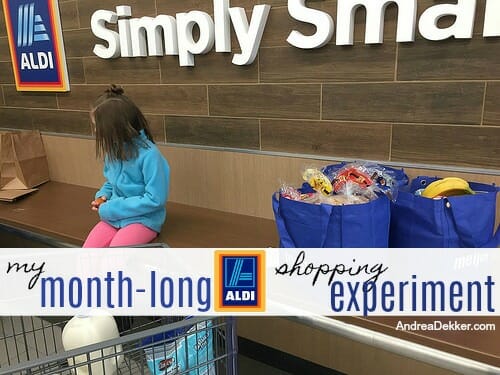 Anyone who has read my blog for any amount of time knows my undying devotion to Meijer grocery stores… as well as the fact that I've never been a huge fan of Aldi grocery stores (for many reasons).
However, right around the time Clara was born, I started disliking a few things about my Meijer shopping experience (more on that below) and just a couple months later, a brand new, much nicer Aldi store opened up less than 10 miles from our house.
After several months of trying Aldi one time here, one time there (and still disliking it) I finally gave myself a self-imposed one-month challenge to essentially do as much of my grocery shopping at Aldi as I possibly could… today, I'm sharing the results!
First… a little history.
For my entire adult life (roughly 14 years), Meijer has been my sanity-saving, one-stop-shop, go-to grocery store… and before then, I always went to Meijer with my mom, so I definitely won't be kicking Meijer grocery stores to the curb any time soon.
And speaking of "curbs", Meijer's fabulous curbside pickup service was a life-saver for me when James was a baby and Dave could pick up the groceries on his way home from school. However, Meijer has since doubled the per-use fee for their Curbside service, which personally made it less of a bargain for me… so I never used it after Clara was born.
Also, right around the time Clara was born, Meijer partnered with the Shipt Grocery Delivery service. I briefly looked into using Shipt, but there is an annual fee to use Shipt, plus the groceries are roughly 15%-17% more expensive, plus I'd need to tip the delivery person, and I wouldn't be able to use many of my digital coupons — needless to say, it was a no-go for me.
So I was back to grocery shopping again, and this time with 4 children (including a fairly fussy newborn who hated being in her carseat) — not exactly my idea of a fun time!
I started to dread grocery shopping and was so grumpy and stressed out when I got home. I almost always went on a day Nora was in school, and I tried to coordinate it with Clara's nap, but it was still a nightmare almost every week.
Well, actually… just the checkout lane was a nightmare.
I started timing my shopping trips and found I was averaging 20-25 minutes in the store to get ALL my groceries, and then another 15-20 minutes in the checkout lane (seriously, it was ridiculous).
Every single checkout lane was clogged up with Shipt shoppers who were trying to be efficient (good job!) and checking out multiple orders in a row. If you've ever gotten behind a Shipt shopper checking out multiple orders in a row — and completing the extra paperwork that each order involves — you know it takes extra long.
And if you've ever gotten behind a Shipt shopper taking extra long while trying to calm a fussy baby and entertain 2 toddler boys who insist on touching EVERY SINGLE THING in the checkout lanes, you most definitely share my frustration!
My temporary solution was to get groceries at 9pm on a weeknight or 5:30am on Saturday — both of which were OK options, BUT there was only ever ONE checkout lane open at those times, and if 3 or 4 other shoppers were in the store at the same time, we still had to wait a fairly long time to finally check out.
Right around the holiday season (when the stores were even busier) I realized my weekly grocery shopping was causing me unnecessary stress, taking up tons of extra time, and… that I no longer loved shopping at Meijer.
Over Christmas break, I told Dave I wanted to try the new Aldi store… and while the store was very nice and the staff was very capable, I still hated shopping there.
I tried it twice over Christmas break, and both times, I left feeling like I could only get half of what I needed, and ended up spending MORE in the long-run because I went to Meijer and Costco too, and spent significantly more time than I would have if I had just stuck to shopping at Meijer.
I was super frustrated and vowed that Aldi just wasn't for me.
I continued to stand in the LOOOOOOOOOOOONG lines at Meijer, while all my friends (and blog readers) raved about how quick and efficient their Aldi shopping experiences were.
I needed quick and efficient!
So I tried Aldi a couple more times after the New Year, and realized that even though I couldn't get everything I needed or wanted, it WAS very quick and efficient.
I also took a look at our Finance Tracking Workbooks from previous years and realized we were spending a HUGE amount on groceries — in fact, groceries was our largest monthly expense for 2017!!!
Yikes!
I forced myself to go to Aldi twice over Dave's spring break and found that I liked the experience slightly more. I was also impressed with the markdown deals (specifically their half-price bread!)
Then, after spring break, I decided to "bite the bullet" and swear off Meijer for one month (well, not totally… but almost). I challenged myself to do as much of my grocery shopping as I possibly could at Aldi for one month, and see if I liked it any better.
I just finished my one month challenge last week… and I'm happy to report, I no longer hate shopping at Aldi!
I've been going to Aldi one morning each week for the past 5 weeks, and since I always went on a morning Simon was gone at his 5-week preschool program, I only had 2 kids with me each time — Clara usually napped in her carseat while James sat nicely in the cart.
I mostly got fresh produce, dairy, and bread (we got a quarter of a cow from Dave's parents for Christmas and get most of our other meat from Zaycon Fresh)… then I headed to the checkout lane roughly 20 minutes after walking through the door.
Of course, I can't ever find EVERY SINGLE thing on my list, but I told myself we could do without some of those items for one month.
Plus, the amazing speed of the checkout lanes was FANTASTIC! I could hardly get my items on the belt fast enough and they were already being scanned and put into the 2nd shopping cart. It was amazing!
I bagged up my own groceries (which is more efficient and organized than anyone at Meijer could have done for me) and then was on my way!
There are still lots of things I don't particularly love about shopping at Aldi, but I think they are balanced out by my growing list of things I don't love about Meijer (at least for this stage in my life with multiple little children in tow).
I'm positive I will still utilize Meijer grocery stores — but I do think I will continue doing at least some of my weekly shopping at Aldi, especially during the Summer when Dave can stay home with some of the kids.
.
So the biggest question… Did I save any money?
This is fairly difficult to know for sure — my bill was definitely less expensive at Aldi, BUT I get all kinds of digital rewards, MPerks, and credit card rewards specifically for my Meijer purchases, so I usually see a significant post-shopping savings at Meijer, which I obviously don't get at Aldi.
Plus, I simply decided to go without the things I couldn't get at Aldi for most of the month — and we obviously can't go on like that forever… so I'd eventually need to go to Meijer more regularly for those items.
That said, I certainly did not spend MORE, and I saved a significant amount of time (and stress) so I'd call it a WIN!
.
I do feel like I should mention that a BRAND NEW Meijer store is currently scheduled to open this summer, only 2 miles down the road from our house!
So, while I have definitely changed my tune about Aldi, I wouldn't be shocked if I eventually switch back to shopping at Meijer based on the proximity of the store to our house!
Who knows… we'll see what the new Meijer store is like, how well they are staffed, and how quick the checkout lanes are.
At least I'm fortunate enough to have so many great grocery shopping options and the ability to choose where I buy my groceries based on convenience. What a blessing!
What about you… what do you like (or dislike) most about Aldi or Meijer?