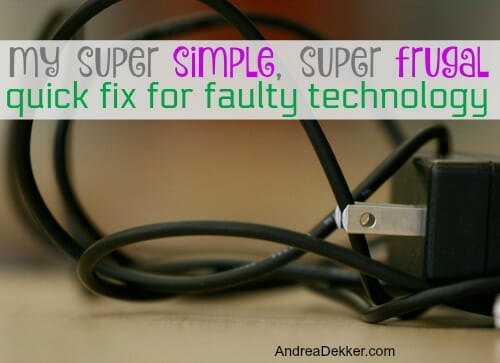 Although I am fairly good at navigating my way around the internet (I've even learned quite a bit of HTML coding for my blog), I am essentially worthless when it comes to "fixing" any type of faulty, broken, or malfunctioning technology.
Thankfully, I'm good at following instructions, so I can watch a YouTube video or call customer service for help!
That said, over the years, I have learned one super simple, super frugal, quick fix for faulty technology that has worked over and over and over again for me…
Shutdown and Unplug Your Device!
I know… it sounds totally lame and not very "techie" at all. But you would not believe how many times this simple piece of advice has worked for me!
I'm to the point now that whenever any piece of technology, any gadget, or even any appliance is acting up, the very first thing I try is to shut it down (or turn it off) and completely unplug the item from any power source (this would include removing any batteries).
A Few Examples:
My phone battery was draining SO quickly, even after troubleshooting via support forums on the internet. Then I completely shut down the phone, waited a minute or two, turned it back on… and (just like magic) no more battery issues!
My desktop computer was running slowly and my pictures weren't transferring over from my phone. I shut it down, unplugged the power cord for a minute, plugged it back in, and things were back up and running smoothly again.
Our microwave was acting up… until I unplugged it and plugged it back in again.
Our printer wasn't feeding the paper correctly even after I verified I had it in the tray correctly. I simply shut it down, unplugged it, and started over again — no more paper problems!
Our Chromecast kept "disconnecting" in the middle of watching a show and I'd have to reconnect it and start the whole process over again. However, after unplugging the Chromecast from our TV and then plugging it back in again, it now stays connected.
Our wireless internet router periodically has various problems sending and receiving a signal. I wasted so much time on hold with customer service until I got smart and simply unplugged it, waited 30-60 seconds, and plugged it back in again.
I realize this is so simple you might not believe it could work — but I actually talked with an AppleCare Support tech about a year ago, and they verified that unplugging a piece of technology is actually a very good way to "fix" any weird issues.
Apparently, so many of our electronics have computerized elements inside, and unplugging them is one REALLY SIMPLE way to "reset" those internal computers again.
Of course, this quick fix won't work for every tech issue you encounter — but considering it's completely free, super easy to do, and only takes a few seconds, it's probably worth a shot the next time you experience an issue with your technology!
Related Reading:
Another quick fix for electronic devices is learning how to remove battery corrosion. The process is super quick and painless and it's SO much cheaper than buying new electronics!