Why I Don't Buy Kid's Clothing in Advance
posted by Andrea | 04/16/2019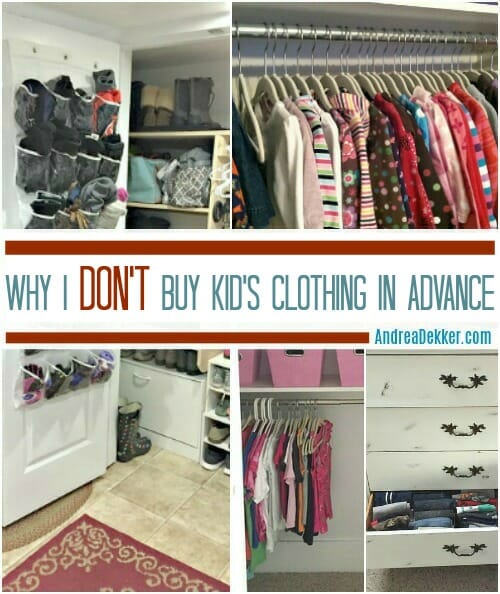 One of the questions I get asked over and over again is how/where I store the clothing my kids currently are NOT wearing…
For example:
clothing I buy in advance
clothing that's too big
clothing that's too small
off-season clothing
My short answer is "I don't"!
When it comes to kid's clothing (and adult clothing) I truly do not store much of anything outside the clothing we actually wear right now.
I don't buy ahead, we purge anything that's too small (grown ups too!), and we don't rotate clothing based on the season — we keep all our clothing in our closets and drawers all the time.
I realize this might sound crazy to some of you — but with the ages, sizes, and genders of our kids (and the fact that we have AMAZING thrift stores so close by), it just hasn't made much sense for me to buy ahead or save out-grown clothing… let me explain more!
Why I Don't Buy Clothes in Advance:
I guess part of my rationale for this is simply the fact that I don't want to store items for extended periods of time.
Plus, the few times when I actually did buy something ahead of time, the items rarely fit the right person at the appropriate time of year as the child grew faster or slower than I anticipated.
I have a friend who CONSTANTLY buys huge amounts of clothing for her children a full year in advance. She swears she saves tons of money buying clearance items at the end of the season, but I often hear her complain about the fact that so many items didn't end up fitting at the right time of year, so then she tries to sell them on Facebook or Craigslist (after storing them for an entire year!)
It just doesn't seem worth it to me when we can find anything we need or want at a local thrift store for $1 and know it fits RIGHT NOW and my kids actually like it RIGHT NOW, and will wear it RIGHT NOW!
I do have one drawer of too-big clothing for Clara (thanks to freebie hand-me downs from a neighbor and a friend from church). Any time these ladies give me clothes to look through, I keep the few items I'm almost positive will work (non seasonal items, jeggings, neutral shirts, etc.) and donate the rest.
I also have one small drawer of clothing Simon has grown out of that I'm almost positive will eventually work for James. However, as you'll read below, there aren't many clothing items that end up working for both boys.
Why I Don't Save Too-Small Clothing:
I've shared some of my reasons for purging all my kid's clothing before… but here are a few of the main reasons.
I don't like storing things I'm not using
Nothing from Nora will be cute or in-style 5-6 years later when Clara can finally wear it
Storing clothing for long periods of time seems to bring on stains and odors I can't wash out
Simon is very hard on his clothing, and since it's all used to begin with, it's in even worse shape when he's done with it
Simon and James have very different body types so pants don't pass down well (assuming they aren't already full of holes)
Simon's feet are "flat and fat" while James' feet are thin and narrow so shoes don't pass down well either
James is my youngest boy so we purge everything immediately after it's too small
Clara is my youngest girl so we purge everything immediately after it's too small
Since 99% of all our children's clothing are free hand-me-downs or $1 thrift store finds, I do not feel guilty purging all our outgrown items.
We give some of Nora's nicer clothing to our next door neighbor girl (the rest is donated).
Some of Simon's clothing is put in the drawer for James, but most of it goes in the trash (seriously, this boy ruins SO many clothes).
James clothes go to our nephew who lives just down the road.
Clara's clothes go to the thrift store.
How I Handle Off-Season Clothing:
As I mentioned above, our entire family keeps ALL our clothing in our closets and dressers all year long.
This is partly because it's a good way to make sure our clothing consumption doesn't get out of control (we purge when the closets get too full) but also because here in Michigan, it's not completely unheard of to need short sleeves at the beginning of the week and snow pants at the end of the week (this was literally the case last week!)
We truly do use and wear most of our clothing all year long — maybe not shorts in the winter, but we definitely get use out of pants and sweatshirts on cool summer nights.
As for swimming gear and snow gear, we keep that all in the mudroom all year long — the snow pants, hats, scarves, gloves, boots, etc. are on the left side of the closet. The swim suits, cover-ups, goggles, sunglasses, sun screen, and pool toys are on the right side of the closet. We keep towels and life jackets in the storage bench.
We also purge many of these items at the end of the season as I know they won't fit again the following year.
Yes, I could create a lot more space by storing off-season items in a different place, but we have plenty of storage space in our mudroom, and we get much more use out of our clothing by keeping it IN our closet and visible all year long.
Obviously, if buying ahead, handing clothing down to younger siblings, and rotating out seasonal clothing works for you, THEN KEEP DOING IT!
I grew up in a family of all girls, and we passed clothing down ALL the time… my mom also ALWAYS shopped ahead and bought clearance items many months in advance of when we would actually wear the clothing.
I don't think there's a right or wrong way to handle kid's clothing (except maybe just leaving it in piles on the floor!)
My main goal for this post is simply to share WHY I have chosen not to buy ahead, WHY I purge my kids outgrown clothing, and WHY I don't rotate clothing based on seasons, as these are questions I get asked ALL the time.
How do you (or did you) handle kid's clothing?